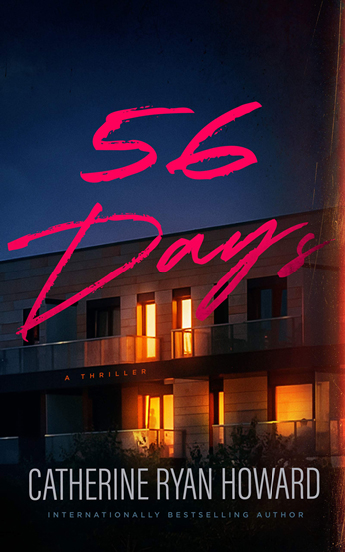 56 DAYS, Catherine Ryan Howard ($24.99). 56 DAYS AGO. Ciara and Oliver meet in a supermarket queue in Dublin and start dating the same week COVID-19 reaches Irish shores.
35 DAYS AGO. When lockdown threatens to keep them apart, Oliver suggests they move in together. Ciara sees a unique opportunity for a relationship to flourish without the scrutiny of family and friends. Oliver sees a chance to hide who — and what — he really is. TODAY. Detectives arrive at Oliver's apartment to discover a decomposing body inside. Can they determine what really happened, or has lockdown created an opportunity for someone to commit the perfect crime?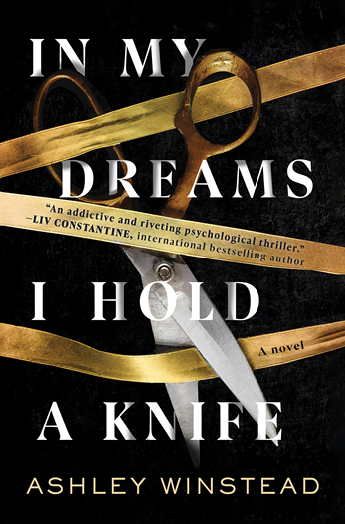 IN MY DREAMS I HOLD A KNIFE, Ashley Winstead ($26.99). Ten years after graduation, Jessica Miller has planned her triumphant return to her southern, elite Duquette University, down to the envious whispers that are sure to follow in her wake. Everyone is going to see the girl she wants them to see—confident, beautiful, indifferent. Not the girl she was when she left campus, back when Heather Shelby's murder fractured everything, including the tight bond linking the six friends she'd been closest to since freshman year. But not everyone is ready to move on. Not everyone left Duquette ten years ago, and not everyone can let Heather's murder go unsolved. Someone is determined to trap the real killer, to make the guilty pay. When the six friends are reunited, they will be forced to confront what happened that night—and the years' worth of secrets each of them would do anything to keep hidden.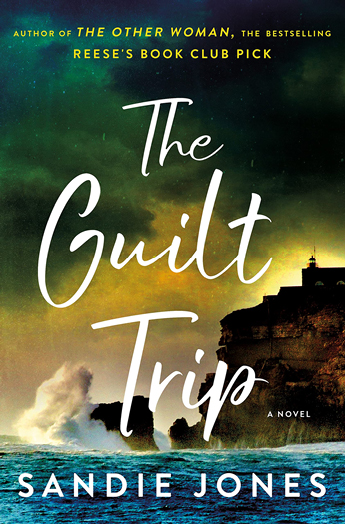 THE GUILT TRIP, Sandie Jones ($27.99). Rachel and Jack. Paige and Noah. Will and Ali. Five friends who've known each other for years. And Ali, Will's new fiancée. The three couples travel to Portugal for Ali and Will's destination wedding. Arriving at the gorgeous clifftop villa, the weekend away is a chance to relax and get to know Ali a little better. A newcomer to their group, she seems perfectly nice and Will seems happy after years of bad choices. But when Rachel discovers a shocking secret about Ali, everything changes. As the wedding weekend unfolds, the secrets each of them holds begin to spill, and friendships and marriages threaten to unravel.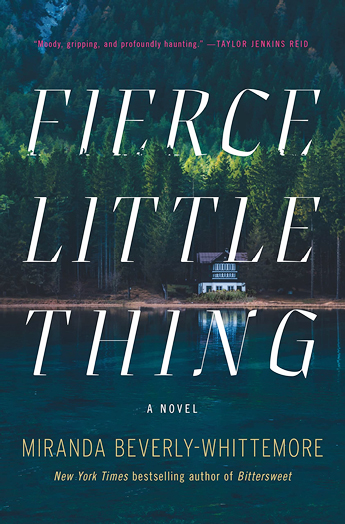 FIERCE LITTLE THING, Miranda Beverly-Whittemore ($27.99). Saskia was a damaged, lonely teenager when she arrived at the lakeside commune called Home. She was entranced by the tang of sourdough starter; the midnight call of the loons; the triumph of foraging wild mushrooms from the forest floor. But most of all she was taken with Abraham, Home's charismatic leader, the North Star to Saskia and the four other teens who lived there, her best and only friends.
Two decades later, Saskia is shuttered in her Connecticut estate, estranged from the others. Her carefully walled life is torn open by threatening letters. Unless she and her former friends return to the land in rural Maine, the terrible thing they did as teenagers – their last-ditch attempt to save Home – will be revealed. From vastly different lives, the five return to confront their blackmailer and reckon with the horror that split them apart. How far will they go to bury their secret forever?
Kirkus Starred Review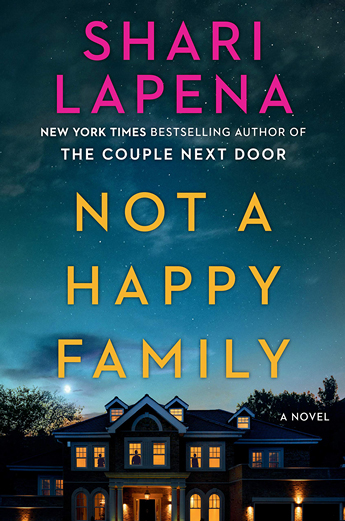 NOT A HAPPY FAMILY, Shari Lapena ($27.00). Brecken Hill in upstate New York is an expensive place to live. You have to be rich to have a house there, and Fred and Sheila Merton certainly are rich. But even all their money can't protect them when a killer comes to call. The Mertons are brutally murdered after a fraught Easter dinner with their three adult kids. Who, of course, are devastated. Or are they? They each stand to inherit millions. They were never a happy family, thanks to their vindictive father and neglectful mother, but perhaps one of the siblings is more disturbed than anyone knew. Did someone snap after that dreadful evening? Or did another person appear later that night with the worst of intentions? That must be what happened. After all, if one of the family were capable of something as gruesome as this, you'd know. Wouldn't you?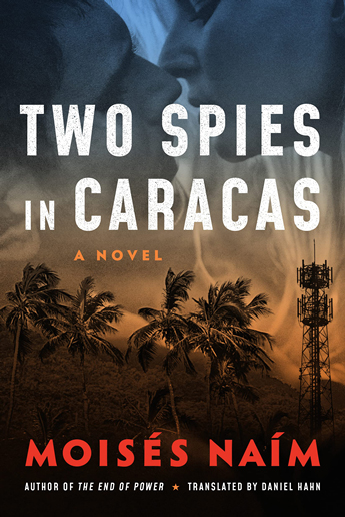 TWO SPIES IN CARACAS, Moises Naim ($14.95). Venezuela, 1992. Unknown colonel Hugo Chávez stages an ill-fated coup against a corrupt government, igniting the passions of Venezuela's poor and catapulting the oil-rich country to international attention. For two rival spies hurriedly dispatched to Caracas—one from Washington, DC, and the other from Fidel Castro's Cuba—this is a career-defining mission. Smooth-talking Iván Rincón of Cuba's Intelligence Directorate needs a rebel ally to secure the future of his own country. His job: support Chávez and the revolution by rallying the militants and neutralizing any opposing agents.
Meanwhile, the CIA's Cristina Garza will do everything in her power to cut Chávez's influence short. Her priority: stabilize the greatest oil reserves on the planet by ferreting out and eliminating Cuba's principal operative.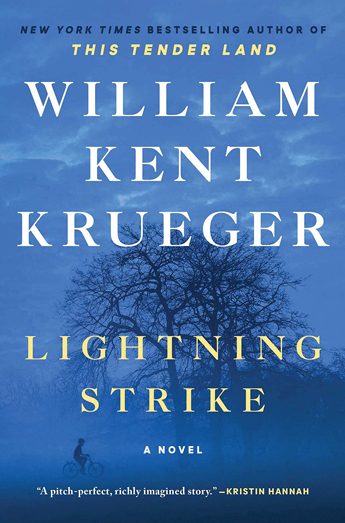 LIGHTNING STRIKE, William Kent Krueger ($27.00). Aurora is a small town nestled in the ancient forest alongside the shores of Minnesota's Iron Lake. In the summer of 1963, it is the whole world to twelve-year-old Cork O'Connor, its rhythms as familiar as his own heartbeat. But when Cork stumbles upon the body of a man he revered hanging from a tree in an abandoned logging camp, it is the first in a series of events that will cause him to question everything he took for granted about his hometown, his family, and himself. Cork's father, Liam O'Connor, is Aurora's sheriff and it is his job to confirm that the man's death was the result of suicide, as all the evidence suggests. In the shadow of his father's official investigation, Cork begins to look for answers on his own. Together, father and son face the ultimate test of choosing between what their heads tell them is true and what their hearts know is right. Library Journal Starred Review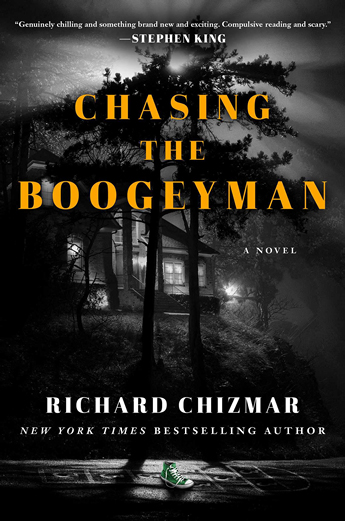 CHASING THE BOOGEYMAN, Richard Chizmar ($28.00).
In the summer of 1988, the mutilated bodies of several missing girls begin to turn up in a small Maryland town. The grisly evidence leads police to the terrifying assumption that a serial killer is on the loose in the quiet suburb. But soon a rumor begins to spread that the evil stalking local teens is not entirely human. Law enforcement, as well as members of the FBI are certain that the killer is a living, breathing madman—and he's playing games with them. For a once peaceful community trapped in the depths of paranoia and suspicion, it feels like a nightmare that will never end. Recent college graduate Richard Chizmar returns to his hometown just as a curfew is enacted and a neighborhood watch is formed. In the midst of preparing for his wedding and embarking on a writing career, he soon finds himself thrust into the real-life horror story. Inspired by the terrifying events, Richard writes a personal account of the serial killer's reign of terror, unaware that these events will continue to haunt him for years to come. Library Journal Starred Review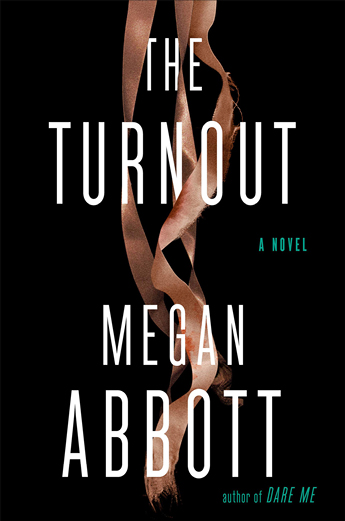 THE TURNOUT, Megan Abbott ($27.00). With their long necks and matching buns and pink tights, Dara and Marie Durant have been dancers since they can remember. Growing up, they were homeschooled and trained by their glamorous mother, founder of the Durant School of Dance. After their parents' death in a tragic accident nearly a dozen years ago, the sisters began running the school together, along with Charlie, Dara's husband and once their mother's prized student. Marie, warm and soft, teaches the younger students; Dara, with her precision, trains the older ones; and Charlie, sidelined from dancing after years of injuries, rules over the back office. Circling around one another, the three have perfected a dance, six days a week, that keeps the studio thriving. But when a suspicious accident occurs, just at the onset of the school's annual performance of The Nutcracker—a season of competition, anxiety, and exhilaration—an interloper arrives and threatens the sisters' delicate balance. Starred Reviews in Publisher's Weekly, Booklist and Library Journal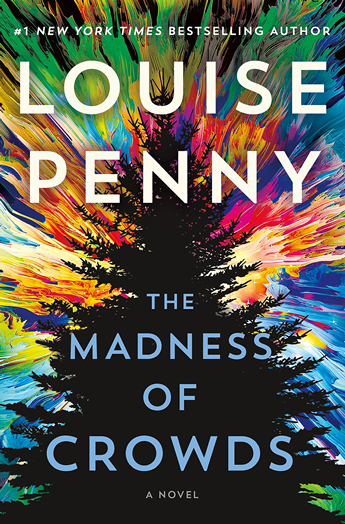 THE MADNESS OF CROWDS, Louise Penny ($28.99). While the residents of the Québec village of Three Pines take advantage of the deep snow to ski and toboggan, to drink hot chocolate in the bistro and share meals together, the Chief Inspector finds his holiday with his family interrupted by a simple request. He's asked to provide security for what promises to be a non-event. A visiting Professor of Statistics will be giving a lecture at the nearby university.
While he is perplexed as to why the head of homicide for the Sûreté du Québec would be assigned this task, it sounds easy enough. That is until Gamache starts looking into Professor Abigail Robinson and discovers an agenda so repulsive he begs the university to cancel the lecture. They refuse, citing academic freedom, and accuse Gamache of censorship and intellectual cowardice. Before long, Professor Robinson's views start seeping into conversations. Spreading and infecting. So that truth and fact, reality and delusion are so confused it's near impossible to tell them apart. When a murder is committed it falls to Armand Gamache, his second-in-command Jean-Guy Beauvoir, and their team to investigate the crime as well as this extraordinary popular delusion. Starred Reviews in Booklist, Kirkus, Library Journal and Publisher's Weekly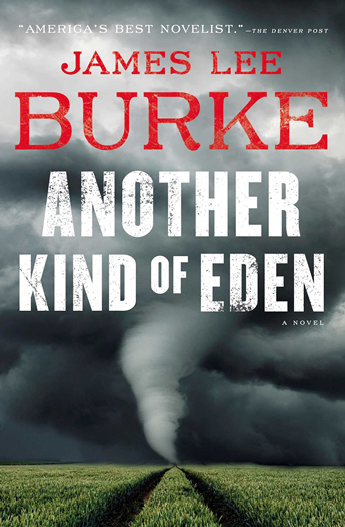 ANOTHER KIND OF EDEN, James Lee Burke ($27.00). The American West in the early 1960s appears to be a pastoral paradise: golden wheat fields, mist-filled canyons, frolicking animals. Aspiring novelist Aaron Holland Broussard has observed it from the open door of a boxcar, riding the rails for both inspiration and odd jobs. Jumping off in Denver, he finds work on a farm and meets Joanne McDuffy, an articulate and fierce college student and gifted painter. Their soul connection is immediate, but their romance is complicated by Joanne's involvement with a shady professor who is mixed up with a drug-addled cult. When a sinister businessman and his son who wield their influence through vicious cruelty set their sights on Aaron, drawing him into an investigation of grotesque murders, it is clear that this idyllic landscape harbors tremendous power—and evil. Followed by a mysterious shrouded figure who might not be human, Aaron will have to face down all these foes to save the life of the woman he loves and his own. Booklist Starred Review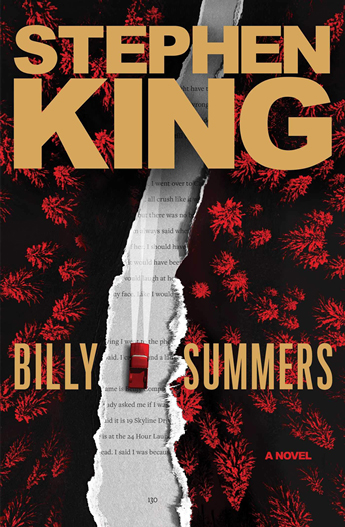 BILLY SUMMERS, Stephen King ($30.00). Billy Summers is a man in a room with a gun. He's a killer for hire and the best in the business. But he'll do the job only if the target is a truly bad guy. And now Billy wants out. But first there is one last hit. Billy is among the best snipers in the world, a decorated Iraq war vet, a Houdini when it comes to vanishing after the job is done. So what could possibly go wrong? How about everything. Starred Reviews in Kirkus, Booklist and Publisher's Weekly
CLARK AND DIVISION, Naomi Hirahara ($27.95). Chicago, 1944: Twenty-year-old Aki Ito and her parents have just been released from Manzanar, where they have been detained by the US government since the aftermath of Pearl Harbor, together with thousands of other Japanese Americans. The life in California the Itos were forced to leave behind is gone; instead, they are being resettled two thousand miles away in Chicago, where Aki's older sister, Rose, was sent months earlier and moved to the new Japanese American neighborhood near Clark and Division streets. But on the eve of the Ito family's reunion, Rose is killed by a subway train. Aki, who worshipped her sister, is stunned. Officials are ruling Rose's death a suicide. Aki cannot believe her perfect, polished, and optimistic sister would end her life. Her instinct tells her there is much more to the story, and she knows she is the only person who could ever learn the truth. Library Journal Starred Review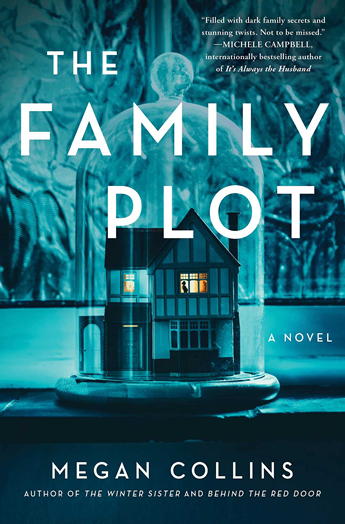 THE FAMILY PLOT, Megan Collins ($27.00). At twenty-six, Dahlia Lighthouse is haunted by her upbringing. Raised in a secluded island mansion deep in the woods and kept isolated by her true crime-obsessed parents, she is unable to move beyond the disappearance of her twin brother, Andy, when they were sixteen. After several years away and following her father's death, Dahlia returns to the house, where the family makes a gruesome discovery: buried in their father's plot is another body—Andy's, his skull split open with an ax. Dahlia is quick to blame Andy's murder on the serial killer who terrorized the island for decades, while the rest of her family reacts to the revelation in unsettling ways. Her brother, Charlie, pours his energy into creating a family memorial museum, highlighting their research into the lives of famous murder victims; her sister, Tate, forges ahead with her popular dioramas portraying crime scenes; and their mother affects a cheerfully domestic facade, becoming unrecognizable as the woman who performed murder reenactments for her children. As Dahlia grapples with her own grief and horror, she realizes that her eccentric family, and the mansion itself, may hold the answers to what happened to her twin.