And why should you care? Because he's one of those wonderful writers we sometimes stumble across despite the failure of major publishers to publish his works. Think Ian Hamilton and Jeff Siger. If you like those author's works you will most likely enjoy Jake Needham's.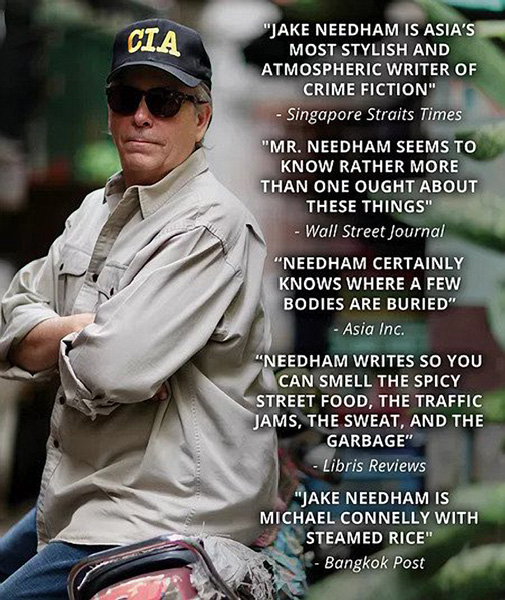 Jake Needham in his own words:
Once upon a time, I was a screen and television writer, but then I started writing crime novels when I realized I really didn't like movies and television all that much. Since then, I've published twelve books.
I may be an American novelist, but my books are far better known outside the United States than they are in it. My novels have been popular best-sellers in Europe and Asia going back for more than twenty years now, but none of them has ever been published in America. Maybe that's what Hong Kong Magazine meant by its slightly painful observation above about whatever public distinction my twelve books may have brought me. At least that's my story, and I'm sticking to it.
My wife, our two sons, and I have divided our lives for many years between homes in the US and Bangkok. The romantic notion of the American expatriate novelist living an exciting life in some exotic land pretty much disappeared nearly a century ago when Hemingway and Fitzgerald fled Paris, but there are still a few of us out there.
So what else would you like to know?
I was born in Texas, graduated from Rice University and the Georgetown University Law Center, and was subsequently admitted to the bar in Washington DC, New York, and Texas. After that, I practiced international law and eventually ended up living and working outside the United States for nearly thirty years.
A popular business magazine once said this about me: "Needham certainly knows where a few bodies are buried." Of course, I do. I'm the guy who buried them.
That's it. At least, that's all I'm going to tell you.
Jake has written twelve novels to date which have sold 750,000 copies worldwide. 
Series
Jack Shepherd, Honk Kong fixer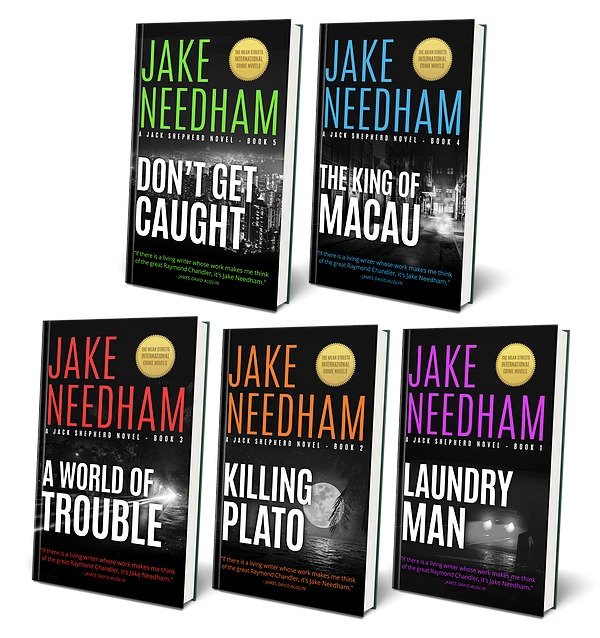 LAUNDRY MAN (2002)
KILLING PLATO (2011)
A WORLD OF TROUBLE (2012)
THE KING OF MACAU (2014)
DON'T GET CAUGHT (2017)
Inspector Samuel Tay, Singapore Police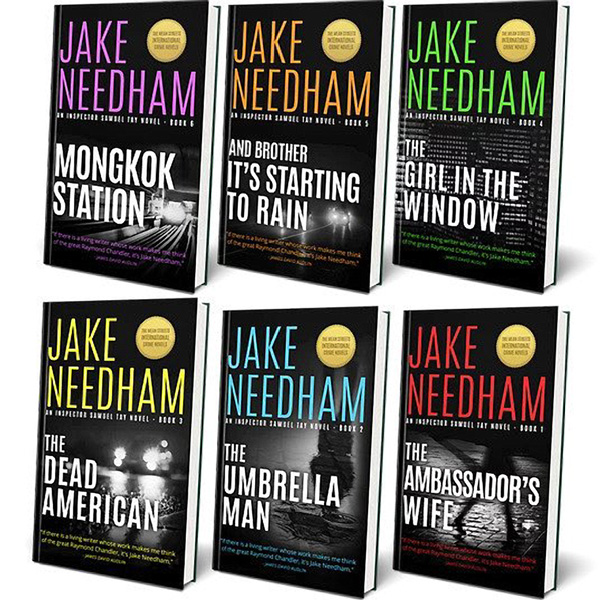 THE AMBASSADOR'S WIFE (2011)
THE UMBRELLA MAN (2014)
THE DEAD AMERICAN (2014)
THE GIRL IN THE WINDOW (2016)
AND BROTHER IT'S STARTING TO RAIN (2019)
MONGKOK STATION (2020)
Standalone
THE BIG MANGO (2011)

Here is my review and one by Steele Curry (who recommended it to me) of Jake's latest, MONGKOK STATION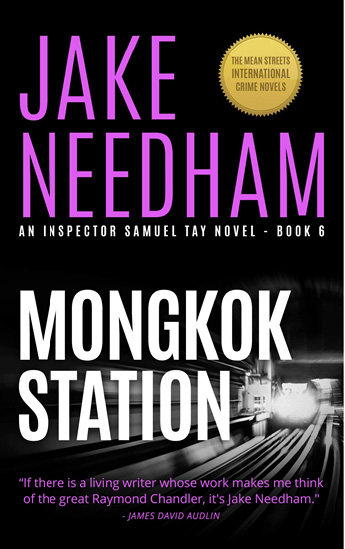 MONGKOK STATION
by Jake Needham
HP, $15.99
Rating: A-
Inspector Samuel Tay (now retired) is asked by some shady American "friends" to look into the disappearance of Emma Lau, a young, female medical student in Hong Kong. So the crusty, somewhat antisocial detective flies from his home in Singapore to the beleaguered city in the midst of demonstrations and riots. Since he is operating on unfamiliar ground, a local, Jack Shepherd (the star of Needham's other series), is brought in to help. And as backup, the extremely dangerous Claire is there to keep everyone safe.
The stakes: Emma Lau is the daughter of Hong Kong's Chief Executive. What only a handful of people know – Emma is also the secret daughter of the Vice President of the United States who has sanctioned this mission.
Emma seems to have disappeared one day in the crowded streets of the sketchy neighborhood of Mongkok. First order of business is to find out if one of the Chinese triads has kidnapped her. Once that question is answered, the investigative group gets an unexpected ally, a Chinese crime boss who willingly uses his vast resources to do some of the groundwork necessary.
The investigation turns up the fact that there are five other young women of privilege who have disappeared in Mongkok over the last year and a half. They have never been seen again. Could all of these "cases" be related?
As the story meanders along we get a lot of Tay's musings about life, women, smoking, Hong Kong and death – and most of all – coffee, coffee, coffee! A few days into the investigation he gets a personal medical surprise that takes some time away from the investigation to resolve.
My favorite part of this book and of the other one in the series that I read (THE GIRL IN THE WINDOW) is the appearance of Tay's deceased mother in the middle of the night. The sparring dialogue between them is absolutely hilarious. She says she is there to tell him two important things. Of course, Tay doesn't believe that his mother is actually communicating from beyond the veil. But then there is the question of the chair at the foot of his bed that wasn't there when he went to sleep.
Jake Needham is probably a name that many of you are unfamiliar with. He lives mostly in Asia and his books are not published by a major U.S. publisher. You probably won't find Jake Needham titles at your local bookstore (if it still exists) or your local library. He was at a Bouchercon a few years ago and that is where I met him and became interested in his work.
To get copies of his books, I would first try mysterymikes.com which has most of Jake's books and most of them are signed. They are also available on the big book websites.
His novels are well worth the small effort it takes to get them. They are well written and are loaded with wise observations and appropriately spaced humor. Tay is an intriguing character who is at once likeable and unlikeable. It keeps the readers on their toes. The Far East settings and customs are described in wonderful detail.
Steele Curry's Take on MONGKOK STATION
Inspector Samuel Tay Takes On Hong Kong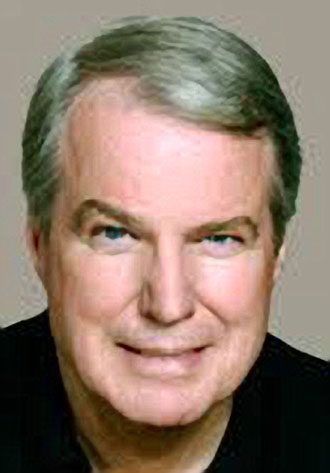 The recently retired senior homicide Singapore detective Samuel Tay is asked by his old friend John August to come to Hong Kong to track down a missing girl. Upon arriving, he finds out her mother is the Chinese-appointed Chief Executive of Hong Kong and her undisclosed father just happens to be the Vice President of the U.S. For political reasons, the search for the kidnapped girl has to be kept strictly under wraps. Tay reluctantly assumes the lead in the investigation with the support of August's close associate Claire, trouble-shooting lawyer Jack Shepherd and a senior member of the Hong Kong criminal Triad gangs.
The city of Hong Kong plays a prominent role in this novel. Since the turnover of Hong Kong by the British to China in 1997, the Chinese government has been steadily extinguishing the last remaining protections of Hong Kong's freedom. In response, the city of more than eight million residents has been constantly rocked by large democracy demonstrations. These have intensified since Beijing imposed a tough new security law on Hong Kong this past summer. To say that these actions have profoundly transformed the prior vibrant character of Hong Kong for the worse would be an understatement.
The author captures the current desperate atmosphere of Hong Kong superbly with a terrific storyline, a cast of colourful characters, and crisp, droll dialogue. As I've said before, Jake Needham's writing style reminds me a lot of Ross Thomas. I'm keenly looking forward to reading more about Inspector Tay. Rating: A