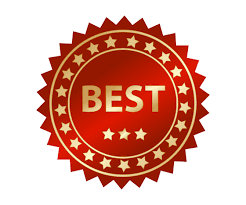 Titles listed below garnered starred reviews in one or more of the four library journals (Publisher's Weekly, Kirkus, Booklist and Library Journal) and a glowing review in Deadly Pleasures Mystery Magazine as indicated.
Please be patient as it takes a few months to get this list built up.
This list will be added to as the year progresses and more titles are published. Updated July 12, 2021. Any titles added after the last list to appear in an issue of DP will be highlighted by the title in italics and more ****preceding the title.
Best Novels
****FIND YOU FIRST by Linwood Barclay (Morrow, $27.99). Tech millionaire Miles Cookson has more money than he can ever spend, and everything he could dream of—except time. He has recently been diagnosed with a terminal illness, and there is a fifty percent chance that it can be passed on to the next generation. Two decades ago, a young, struggling Miles was a sperm donor. Somewhere out there, he has kids—nine of them. And they might be about to inherit both the good and the bad from him—maybe his fortune, or maybe something much worse.
As Miles begins to search for the children he's never known, aspiring film documentarian Chloe Swanson embarks on a quest to find her biological father, armed with the knowledge that twenty-two years ago, her mother used a New York sperm bank to become pregnant. When Miles and Chloe eventually connect, their excitement at finding each other is overshadowed by a series of mysterious and terrifying events. One by one, Miles's other potential heirs are vanishing—every trace of them wiped, like they never existed at all. PW & LJ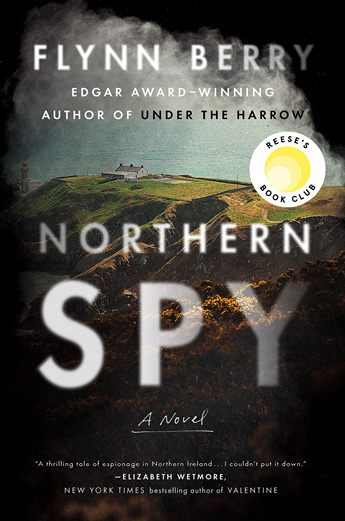 **NORTHERN SPY by Flynn Berry (Viking, $26.00). A producer at the BBC and mother to a new baby, Tessa is at work in Belfast one day when the news of another raid comes on the air. The IRA may have gone underground in the two decades since the Good Friday Agreement, but they never really went away, and lately bomb threats, security checkpoints, and helicopters floating ominously over the city have become features of everyday life. As the news reporter requests the public's help in locating those responsible for the robbery, security footage reveals Tessa's sister, Marian, pulling a black ski mask over her face. The police believe Marian has joined the IRA, but Tessa is convinced she must have been abducted or coerced; the sisters have always opposed the violence enacted in the name of uniting Ireland. And besides, Marian is vacationing on the north coast. Tessa just spoke to her yesterday. When the truth about Marian comes to light, Tessa is faced with impossible choices that will test the limits of her ideals, the bonds of her family, her notions of right and wrong, and her identity as a sister and a mother. Walking an increasingly perilous road, she wants nothing more than to protect the one person she loves more fiercely than her sister: her infant son, Finn. Kirkus & BL
****FALLEN, Linda Castillo ($27.99). When a young woman is found murdered in a Painters Mill motel, Chief of Police Kate Burkholder is shocked to discover she once knew the victim. Rachael Schwartz was a charming but troubled Amish girl who left the fold years ago and fled Painters Mill. Why was she back in town? And who would kill her so brutally? Kate remembers Rachael as the only girl who was as bad at being Amish as Kate was – and those parallels dog her. But the more Kate learns about Rachael's life, the more she's convinced that her dubious reputation was deserved. As a child, Rachael was a rowdy rulebreaker whose decision to leave devastated her parents and best friend. As an adult, she was charismatic and beautiful, a rabble-rouser with a keen eye for opportunity no matter who got in her way. Her no-holds-barred lifestyle earned her a lot of love and enemies aplenty – both English and Amish. As the case heats to a fever pitch and long-buried secrets resurface, a killer haunts Painters Mill. Someone doesn't want Rachael's past – or the mysteries she took with her to the grave – coming to light. As Kate digs deeper, violence strikes again, this time hitting close to home. Will Kate uncover the truth and bring a murderer to justice? Or will a killer bent on protecting a terrible past stop her once and for all –and let the fallen be forgotten? BL & PW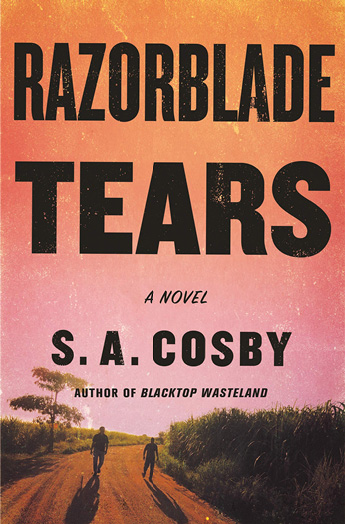 ****RAZORBLADE TEARS by S. A. Cosby (Flatiron, $26.99).
Ike Randolph has been out of jail for fifteen years, with not so much as a speeding ticket in all that time. The last thing he expects to hear is that his son Isiah has been murdered, along with Isiah's white husband, Derek. Ike had never fully accepted his son but is devastated by his loss. Derek's father Buddy Lee was almost as ashamed of Derek for being gay as Derek was ashamed his father was a criminal. Buddy Lee still has contacts in the underworld, though, and he wants to know who killed his boy. Ike and Buddy Lee, two ex-cons with little else in common other than a criminal past and a love for their dead sons, band together in their desperate desire for revenge. Booklist, Kirkus & DP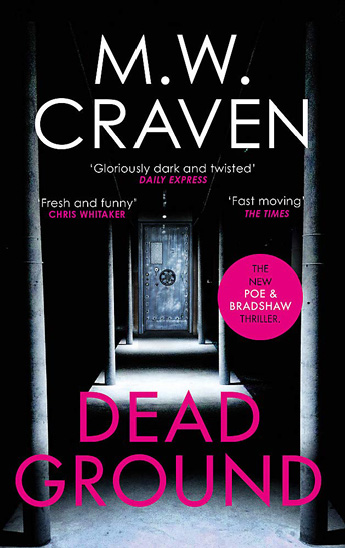 ****DEAD GROUND by M.C. Craven (Constable, £16.99, available only in the U.K. in June).
Detective Sergeant Washington Poe is in court, fighting eviction from his beloved and isolated croft, when he is summoned to a backstreet brothel in Carlisle where a man has been beaten to death with a baseball bat. Poe is confused — he hunts serial killers and this appears to be a straightforward murder-by-pimp – but his attendance was requested personally, by the kind of people who prefer to remain in the shadows. As Poe and the socially awkward programmer Tilly Bradshaw delve deeper into the case, they are faced with seemingly unanswerable questions: despite being heavily vetted for a high-profile job, why does nothing in the victim's background check out? Why was a small ornament left at the murder scene — and why did someone on the investigation team steal it? And what is the connection to a flawlessly executed bank heist three years earlier, a heist where nothing was taken. DP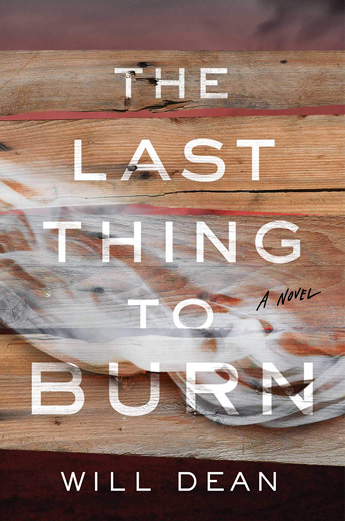 **THE LAST THING TO BURN by Will Dean (Atria, $27.00). On an isolated farm in the United Kingdom, a woman is trapped by the monster who kidnapped her seven years ago. When she discovers she is pregnant, she resolves to protect her child no matter the cost, and starts to meticulously plan her escape. But when another woman is brought into the fold on the farm, her plans go awry. Can she save herself, her child, and this innocent woman at the same time? Or is she doomed to spend the remainder of her life captive on this farm? PW
****WEDDING STATION by David Downing (Soho Crime, $27.95).
February 27, 1933. In this stunning prequel to the John Russell espionage novels, the Reichstag parliament building in Berlin is set ablaze. It's just a month after Hitler's inauguration as Chancellor of Germany, and the Nazis use the torching to justify a campaign of terror against their political opponents. John Russell's recent separation from his wife threatens his right to reside in Germany and any meaningful relationship with his six-year-old son, Paul. He has just secured work as a crime reporter for a Berlin newspaper, and the crimes which he has to report—the gruesome murder of a rent boy, the hit-and-run death of a professional genealogist, the suspicious disappearance of a Nazi-supporting celebrity fortune-teller—are increasingly entangled in the wider nightmare engulfing Germany. BL & DP

****THE KING OF INFINITE SPACE by Lyndsay Faye (Putnam, $27.00).
Meet Ben Dane: brilliant, devastating, devoted, honest to a fault (truly, a fault). His Broadway theater baron father is dead–but by purpose or accident? The question rips him apart. Unable to face alone his mother's ghastly remarriage to his uncle, Ben turns to his dearest friend, Horatio Patel, whom he hasn't seen since their relationship changed forever from platonic to something…other. Loyal to a fault (truly, a fault), Horatio is on the first flight to NYC when he finds himself next to a sly tailor who portends inevitable disaster. And who seems ominously like an architect of mayhem himself. A retelling of Shakespeare's Hamlet. PW & BL
**BEFORE SHE DISAPPEARED by Lisa Gardner (Dutton, $27.00). When Frankie Elkin, a recovering alcoholic on a mission to find missing people that the system has forgot, arrives in Mattapan, Boston and starts asking around about Angelique, a missing teenage girl, the locals and the detectives still on Angelique's floundering case are suspicious. But if Frankie's hard knock life taught her anything, it's that if you keep asking questions, someone is going to crack. As her amateur investigation starts to take shape, people around Mattapan start paying attention. And before long Frankie's quest to find Angelique turns into more than she, or anyone else, bargained for. BL & PW

**THE POSTSCRIPT MURDERS by Elly Griffiths (Houghton, Mifflin, $25.00). The death of a ninety-year-old woman with a heart condition should not be suspicious. Detective Sergeant Harbinder Kaur certainly sees nothing out of the ordinary when Peggy's caretaker, Natalka, begins to recount Peggy Smith's passing. But Natalka had a reason to be at the police station: while clearing out Peggy's flat, she noticed an unusual number of crime novels, all dedicated to Peggy. And each psychological thriller included a mysterious postscript: PS: for PS. When a gunman breaks into the flat to steal a book and its author is found dead shortly thereafter—Detective Kaur begins to think that perhaps there is no such thing as an unsuspicious death after all. BL & DP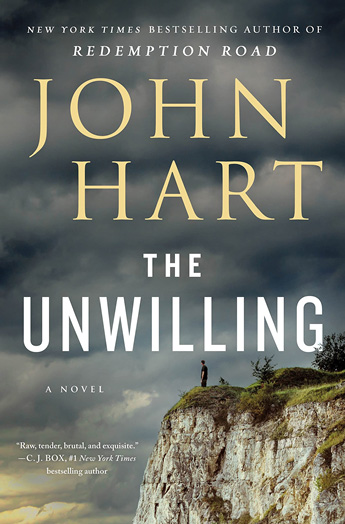 ****THE UNWILLING by John Hart (St. Martin's, $27.99).
Jason won't speak of the war or of his time behind bars, but he wants a relationship with the younger brother (Gibby) he hasn't known for years. Determined to make that connection, he coaxes Gibby into a day at the lake: long hours of sunshine and whisky and older women. But the day turns ugly when the four encounter a prison transfer bus on a stretch of empty road. Beautiful but drunk, one of the women taunts the prisoners, leading to a riot on the bus. The woman finds it funny in the moment, but is savagely murdered soon after. Given his violent history, suspicion turns first to Jason; but when the second woman is kidnapped, the police suspect Gibby, too. Determined to prove Jason innocent, Gibby must avoid the cops and dive deep into his brother's hidden life, a dark world of heroin, guns and outlaw motorcycle gangs. BL & DP

****THE PLOT by Jean Hanff Korelitz (Celadon, $28.00).
Jacob Finch Bonner was once a promising young novelist with a respectably published first book. Today, he's teaching in a third-rate MFA program and struggling to maintain what's left of his self-respect; he hasn't published anything decent in years. When Evan Parker, his most arrogant student, announces he doesn't need Jake's help because the plot of his book in progress is a sure thing, Jake is prepared to dismiss the boast as typical amateur narcissism. But then . . . he hears the plot. Jake braces himself for the supernova publication of Evan Parker's first novel: but it never comes. When he discovers that his former student has died, presumably without ever completing his book, Jake does what any self-respecting writer would do with a story like that. He writes and publishes it. In a few short years, all of Evan Parker's predictions have come true, but Jake is the author enjoying a wave of fame and wealth. Then an e-mail arrives, the first salvo in a terrifying, anonymous campaign: You are a thief, it says. PW
****THE MAIDENS by Alex Michaelidis (Celadon, $27.99). Edward Fosca is a murderer. Of this Mariana is certain. But Fosca is untouchable. A handsome and charismatic Greek tragedy professor at Cambridge University, Fosca is adored by staff and students alike—particularly by the members of a secret society of female students known as The Maidens. Mariana Andros is a brilliant but troubled group therapist who becomes fixated on The Maidens when one member, a friend of Mariana's niece Zoe, is found murdered in Cambridge. PW & BL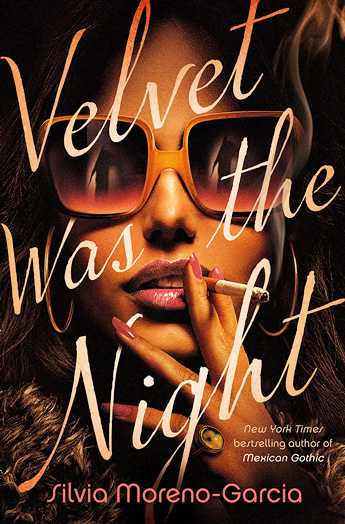 ****VELVET WAS THE NIGHT by Silvia Moreno-Garcia (DelRey, $28.00). 1970's Mexico City. Maite is a secretary who lives for one thing: the latest issue of Secret Romance. While student protests and political unrest consume the city, Maite escapes into stories of passion and danger. Her next-door neighbor, Leonora, a beautiful art student, seems to live a life of intrigue and romance that Maite envies. When Leonora disappears under suspicious circumstances, Maite finds herself searching for the missing. Meanwhile, someone else is also looking for Leonora at the behest of his boss, a shadowy figure who commands goon squads dedicated to squashing political activists. Elvis is an eccentric criminal who longs to escape his own life: He loathes violence and loves old movies and rock 'n' roll. But as Elvis searches for the missing woman, he watches Maite from a distance—and comes to regard her as a kindred spirit who shares his love of music and the unspoken loneliness of his heart. Now as Maite and Elvis come closer to discovering the truth behind Leonora's disappearance, they can no longer escape the danger that threatens to consume their lives, with hitmen, government agents, and Russian spies all aiming to protect Leonora's secrets—at gunpoint. BL, Kirkus, PW & LJ

**THE COMMITTED by Viet Thanh Nguyen (GroveAtlantic, $27.00). The Committed follows the Sympathizer as he arrives in Paris as a refugee. There he and his blood brother Bon try their hands to capitalism in one of its purest forms: drug dealing. The Sympathizer is both charmed and disturbed by Paris. As he falls in with a group of left-wing intellectuals and politicians who frequent dinner parties given by his French Vietnamese "aunt," he finds not just stimulation for his mind but also customers for his merchandise. But the new life he is making has dangers he has not foreseen, from the oppression of the state, to the self-torture of addiction, to the seemingly unresolvable paradox of how he can reunite his two closest friends, men whose worldviews put them in absolute opposition. Kirkus & PW

****THE KILLING HILLS by Chris Offutt (Grove Press, $26.00).
Mick Hardin, a combat veteran now working as an Army CID agent, is home on a leave that is almost done. His wife is about to give birth, but they aren't getting along. His sister, newly risen to sheriff, has just landed her first murder case, and local politicians are pushing for city police or the FBI to take the case. Are they convinced she can't handle it, or is there something else at work? She calls on Mick who, with his homicide investigation experience and familiarity with the terrain, is well-suited to staying under the radar. As he delves into the investigation, he dodges his commanding officer's increasingly urgent calls while attempting to head off further murders. And he needs to talk to his wife. PW & BL

**THE ART OF VIOLENCE by S. J. Rozan (Pegasus, $25.95). Former client Sam Tabor, just out of Greenhaven prison after a five-year homicide stint, comes to Bill Smith with a strange request. Sam is a colossally talented painter whose parole was orchestrated by art world movers and shakers, but Sam's is convinced that since he's been out he's killed two women. He doesn't remember the killings but he wants Smith, one of the few people he trusts, to investigate and prove him either innocent or guilty. PW & BL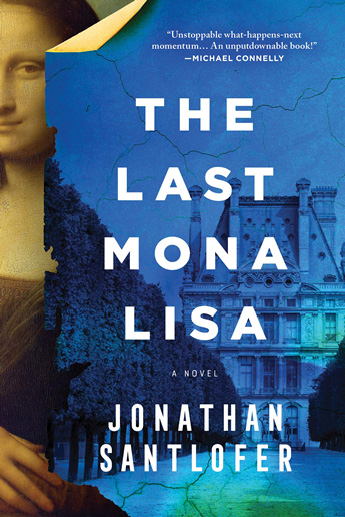 ****THE LAST MONA LISA by Jonathan Santlofer (Sourcebooks Landmark, $27.99 and $16.99). August, 1911: The Mona Lisa is stolen by Vincent Peruggia. Exactly what happens in the two years before its recovery is a mystery. Many replicas of the Mona Lisa exist, and more than one historian has wondered if the painting now returned to the Louvre is a fake, switched in 1911. Present day: Art professor Luke Perrone digs for the truth behind his most famous ancestor: Peruggia. His search attracts an Interpol detective with something to prove and an unfamiliar but curiously helpful woman. Soon, Luke tumbles deep into the world of art and forgery, a land of obsession and danger. PW & BL
**GONE FOR GOOD, Joanna Schaffhausen (Minotaur, $27.99). The Lovelorn Killer murdered seven women, ritually binding them and leaving them for dead before penning them gruesome love letters in the local papers. Then he disappeared, and after twenty years with no trace of him, many believe that he's gone for good. Not Grace Harper. A grocery store manager by day, at night Grace uses her snooping skills as part of an amateur sleuth group. She believes the Lovelorn Killer is still living in the same neighborhoods that he hunted in, and if she can figure out how he selected his victims, she will have the key to his identity. Detective Annalisa Vega lost someone she loved to the killer. Now she's at a murder scene with the worst kind of déjà vu: Grace Harper lies bound and dead on the floor, surrounded by clues to the biggest murder case that Chicago homicide never solved. PW & BL
****FALSE WITNESS, Karin Slaughter ($28.99). Leigh Collier has worked hard to build what looks like a normal life. She's an up-and-coming defense attorney at a prestigious law firm in Atlanta, would do anything for her sixteen-year-old daughter Maddy, and is managing to successfully coparent through a pandemic after an amicable separation from her husband Walter. But Leigh's ordinary life masks a childhood no one should have to endure … a childhood tarnished by secrets, broken by betrayal, and ultimately destroyed by a brutal act of violence. On a Sunday night at her daughter's school play, she gets a call from one of the firm's partners who wants Leigh to come on board to defend a wealthy man accused of multiple counts of rape. Though wary of the case, it becomes apparent she doesn't have much choice if she wants to keep her job. They're scheduled to go to trial in one week. When she meets the accused face-to-face, she realizes that it's no coincidence that he's specifically asked for her to represent him. She knows him. And he knows her. More to the point, he may know what happened over twenty years ago, and why Leigh has spent two decades avoiding her past. BL & PW
****THE PROJECT by Courtney Summers (Wednesday Books, $18.99).
Lo Denham is used to being on her own. After her parents died in a tragic car accident, her sister Bea joined the elusive community called The Unity Project, leaving Lo to fend for herself. Desperate not to lose the only family she has left, Lo has spent the last six years trying to reconnect with Bea, only to be met with radio silence. When Lo's given the perfect opportunity to gain access to Bea's reclusive life, she thinks they're finally going to be reunited. But it's difficult to find someone who doesn't want to be found, and as Lo delves deeper into The Project and its charismatic leader, she begins to realize that there's more at risk than just her relationship with Bea: her very life might be in danger. Kirkus, BL & DP

**CITY ON THE EDGE by David Swinson (Mulholland, $28.00). In 1973, 12-year-old Graham Sanderson, the narrator of this outstanding thriller from Swinson (the Frank Marr PI series), moves with his family to Beirut, Lebanon, where his father, a Foreign Service officer, is posted to the U.S. embassy. For Graham, it's an opportunity to make two expat friends who will help him explore the delights and occasional risks of a new place and different culture. Observant and inquisitive, Graham soon becomes aware of the underlying sense of danger and imminent violence that hangs over the city, the result of forces he can't understand. When Graham discovers that his father carries a gun and holds clandestine late-night rendezvous with strangers, the boy suspects he may be working for the CIA. Events take a darker turn after Graham secretly witnesses the murder of an Arab by a foreigner, possibly an American involved in illegal gunrunning. PW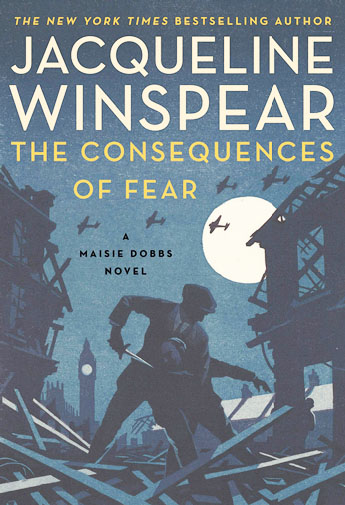 **THE CONSEQUENCES OF FEAR by Jacqueline Winspear (Harper;$). October, 1941. Daily bombing raids have made it perilous to move about London, yet among the Londoners "doing their bit" to aid the war effort are fleet-footed boys who run messages for government offices while dodging debris and aerial raids. On one such errand, a young runner witnesses a murder destined to send shock waves through the secret war plans of British and Free French agents. It will take psychologist and investigator Maisie Dobbs to prove the truth of the frightened boy's story and unravel the geopolitical significance of the killing. PW & BL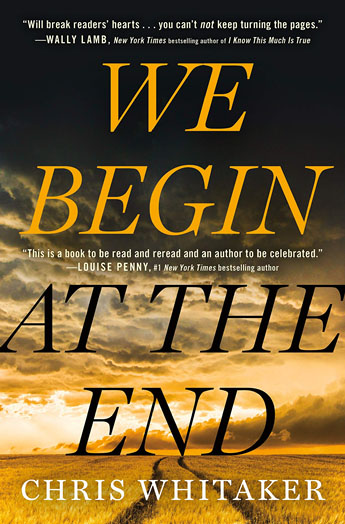 **WE BEGIN AT THE END by Chris Whitaker (Henry Holt, $27.99). Duchess Day Radley is a thirteen-year-old self-proclaimed outlaw. Rules are for other people. She is the fierce protector of her five-year-old brother, Robin, and the parent to her mother, Star, a single mom incapable of taking care of herself, let alone her two kids. Walk has never left the coastal California town where he and Star grew up. He may have become the chief of police, but he's still trying to heal the old wound of having given the testimony that sent his best friend, Vincent King, to prison decades before. And he's in overdrive protecting Duchess and her brother. Now, thirty years later, Vincent is being released. And Duchess and Walk must face the trouble that comes with his return. Kirkus, PW & DP
Best First Novels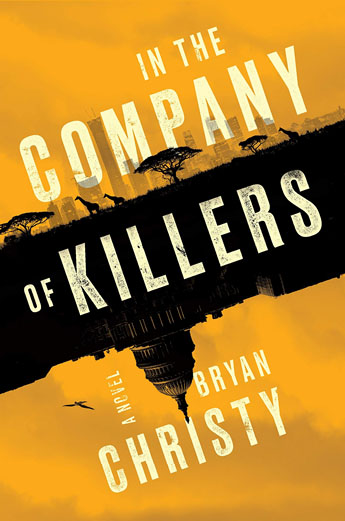 **IN THE COMPANY OF KILLERS by Bryant Christy (Putnam, $27.00). Tom Klay is a celebrated investigative wildlife reporter for the esteemed magazine The Sovereign. But Klay is not just a journalist. His reporting is cover for an even more dangerous job: CIA agent. Klay's press credentials make him a perfect spy–able to travel the globe, engage both politicians and warlords, and openly record what he sees. When he needs help, the Agency provides it to him, and asks little in return. But while on assignment in Kenya, Klay is attacked and his closest friend is murdered. Soon Klay's carefully constructed double life unravels as his ambition turns to revenge. PW, Kirkus, BL & DP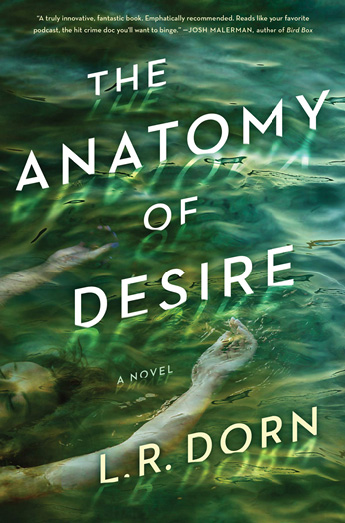 ****THE ANATOMY OF DESIRE by L. R. Dorn (Morrow, $27.99). Claire Griffith has it all, a thriving career, a gorgeous boyfriend, glamorous friends. She always knew she was destined for more than the life her conservative parents preached to her. Arriving in Los Angeles flat broke, she has risen to become a popular fitness coach and social media influencer. Having rebranded herself as Cleo Ray, she stands at the threshold of realizing her biggest dreams. One summer day, Cleo and a woman named Beck Alden set off in a canoe on a serene mountain lake. An hour later, Beck is found dead in the water and Cleo is missing. Authorities suspect foul play, and news of Cleo's involvement goes viral. Who was Beck? An infatuated follower? Were she and Cleo friends or lovers? Was Beck's death an accident . . . or murder? PW & LJ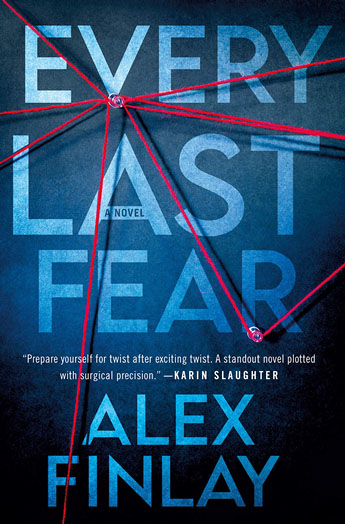 **EVERY LAST FEAR by Alex Finlay (Minotaur, $26.99). After a late night of partying, NYU student Matt Pine returns to his dorm room to devastating news: nearly his entire family?his mom, his dad, his little brother and sister?have been found dead from an apparent gas leak while vacationing in Mexico. The local police claim it was an accident, but the FBI and State Department seem far less certain – and they won't tell Matt why. The tragedy makes headlines everywhere because this isn't the first time the Pine family has been thrust into the media spotlight. Matt's older brother, Danny – currently serving a life sentence for the murder of his teenage girlfriend Charlotte – was the subject of a viral true crime documentary suggesting that Danny was wrongfully convicted. Though the country has rallied behind Danny, Matt holds a secret about his brother that he's never told anyone: the night Charlotte was killed Matt saw something that makes him believe his brother is guilty of the crime. When Matt returns to his small hometown to bury his parents and siblings, he's faced with a hostile community that was villainized by the documentary, a frenzied media, and memories he'd hoped to leave behind forever. Now, as the deaths in Mexico appear increasingly suspicious and connected to Danny's case, Matt must unearth the truth behind the crime that sent his brother to prison – putting his own life in peril and forcing him to confront his every last fear. DP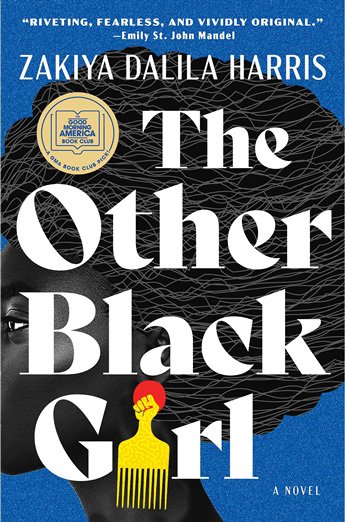 **THE OTHER BLACK GIRL by Zakiya Dalila Harris (Atria, $27.00). Twenty-six-year-old editorial assistant Nella Rogers is tired of being the only Black employee at Wagner Books. Fed up with the isolation and microaggressions, she's thrilled when Harlem-born and bred Hazel starts working in the cubicle beside hers. They've only just started comparing natural hair care regimens, though, when a string of uncomfortable events elevates Hazel to Office Darling, and Nella is left in the dust. Then the notes begin to appear on Nella's desk: LEAVE WAGNER. NOW. It's hard to believe Hazel is behind these hostile messages. But as Nella starts to spiral and obsess over the sinister forces at play, she soon realizes that there's a lot more at stake than just her career. PW, BL, Kirkus, LJ & DP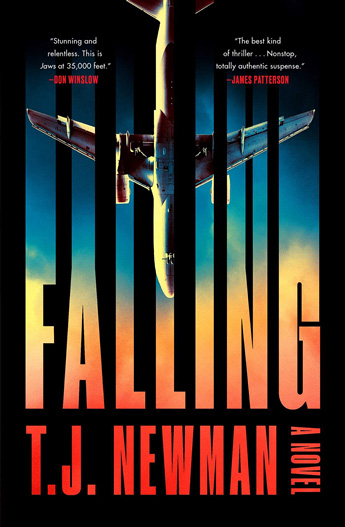 ****FALLING by T. J. Newman (Avid Reader Press/Simon & Schuster, $28.00). You just boarded a flight to New York. There are one hundred and forty-three other passengers onboard. What you don't know is that thirty minutes before the flight your pilot's family was kidnapped. For his family to live, everyone on your plane must die. The only way the family will survive is if the pilot follows his orders and crashes the plane. Enjoy the flight. LJ, BL & PW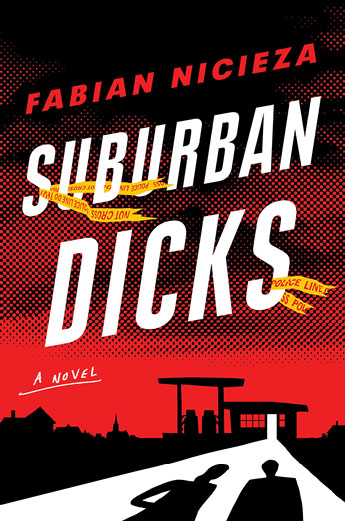 **SUBURBAN DICKS by Fabian Nicieza (Putnam, $27.00). Andie Stern thought she'd solved her final homicide. Once a budding FBI profiler, she gave up her career to raise her four (soon to be five) children in West Windsor, New Jersey. But one day, between soccer games, recitals, and trips to the local pool, a very pregnant Andie pulls into a gas station–and stumbles across a murder scene. An attendant has been killed, and the bumbling local cops are in way over their heads. Suddenly, Andie is obsessed with the case, and back on the trail of a killer, this time with kids in tow. She soon crosses paths with disgraced local journalist Kenneth Lee, who also has everything to prove in solving the case. A string of unusual occurrences–and, eventually, body parts–surface around town, and Andie and Kenneth uncover simmering racial tensions and a decades-old conspiracy. Kirkus, PW & DP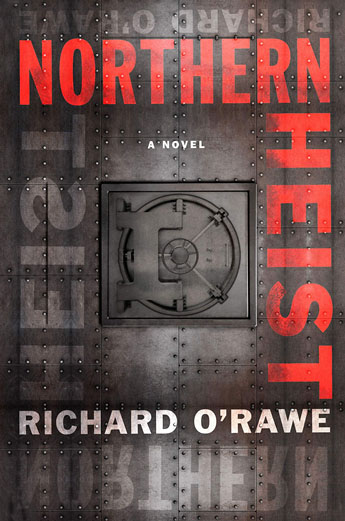 ****NORTHERN HEIST by Richard O'Rawe (Melville House, $26.99). Nobody robs banks in Belfast without the IRA getting a cut — not even former Provo James 'Ructions' O'Hare. But when word gets around O'Hare may be up to something, the pressure from the IRA begins.
Ructions' trusts his crack squad of former paramilitary compadres, and has full confidence in his audacious plan: To literally empty the biggest bank in Belfast by kidnapping the families of two employees – known as a "tiger" kidnapping — in order to force them to help Ructions and his crew get into the bank's vault. But keeping the plan — and the money — from the IRA is another plan entirely, one requiring all Ruction's cunning and skill. PW
Best Thrillers
**2034: A Novel of the Next World War by Elliot Akerman & James Stavridis (Penguin, $27.00). On March 12, 2034, US Navy Commodore Sarah Hunt is on the bridge of her flagship, the guided missile destroyer USS John Paul Jones, conducting a routine freedom of navigation patrol in the South China Sea when her ship detects an unflagged trawler in clear distress, smoke billowing from its bridge. On that same day, US Marine aviator Major Chris "Wedge" Mitchell is flying an F35E Lightning over the Strait of Hormuz, testing a new stealth technology as he flirts with Iranian airspace. By the end of that day, Wedge will be an Iranian prisoner, and Sarah Hunt's destroyer will lie at the bottom of the sea, sunk by the Chinese Navy. Iran and China have clearly coordinated their moves, which involve the use of powerful new forms of cyber weaponry that render US ships and planes defenseless. In a single day, America's faith in its military's strategic pre-eminence is in tatters. A new, terrifying era is at hand. Kirkus & BL

****DEAD BY DAWN by Paul Doiron (Minotaur, $27.99).
Mike Bowditch is fighting for his life. After being ambushed on a dark winter road, his Jeep crashes into a frozen river. Trapped beneath the ice in the middle of nowhere, having lost his gun and any way to signal for help, Mike fights his way to the surface. But surviving the crash is only the first challenge. Whoever set the trap that ran him off the road is still out there, and they're coming for him. BL, PW & DP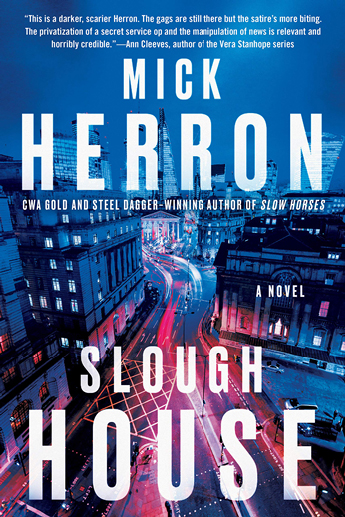 **SLOUGH HOUSE by Mick Herron (SohoCrime, $27.95). At Slough House—MI5's London depository for demoted spies—Brexit has taken a toll. The "slow horses" have been pushed further into the cold, Slough House has been erased from official records, and its members are dying in unusual circumstances, at an unusual clip. No wonder Jackson Lamb's crew is feeling paranoid. But are they actually targets? With a new populist movement taking hold of London's streets and the old order ensuring that everything's for sale to the highest bidder, the world's a dangerous place for those deemed surplus. Jackson Lamb and the slow horses are in a fight for their lives. BL & DP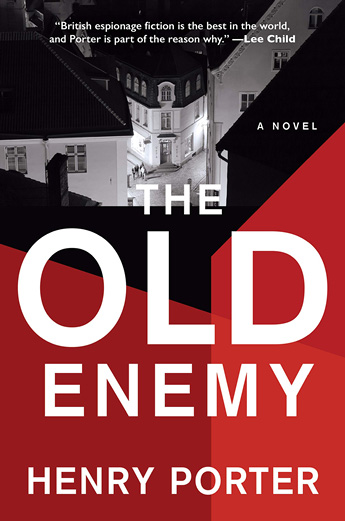 ****THE OLD ENEMY by Henry Porter (GroveAtlantic, $26.00).
Paul Samson is living in London, picking up extra work for a private security company tailing a mysterious employee of a powerful environmental NGO, when he is suddenly the target of more than one clumsy assassination attempt. As Samson works to figure out who is trying to kill him and why, he learns of other assassination attempts carried out on two of his former partners: legendary former spy Robert Harland has been murdered in a remote corner in Estonia; and the billionaire Denis Hisami has been poisoned with a nerve agent while testifying before Congress. With his life in danger, Samson goes on the run and tries to piece together what he, Harland, and Hisami could possibly know that's enough to get them killed. BL & DP
****STEEL FEAR by Brandon Webb & John David Mann ( Bantam, $28.00). The moment Navy SEAL sniper Finn sets foot on the USS Abraham Lincolnto hitch a ride home from the Persian Gulf, it's clear something is deeply wrong. Leadership is weak. Morale is low. And when crew members start disappearing one by one, what at first seems like a random string of suicides soon reveals something far more sinister: There's a serial killer on board. Suspicion falls on Finn, the newcomer to the ship. After all, he's being sent home in disgrace, recalled from the field under the dark cloud of a mission gone horribly wrong. He's also a lone wolf, haunted by gaps in his memory and the elusive sense that something he missed may have contributed to civilian deaths on his last assignment. Finding the killer offers a chance at redemption . . . if he can stay alive long enough to prove it isn't him. BL & PW
Best Paperback Originals
****THE LOST GIRLS by Jessica Chiarella (Putnam, $17.00).
It's been more than twenty years since Marti Reese's sister, Maggie, disappeared. Only eight-years-old at the time, Marti can't remember what happened, just that Maggie got into a car and never returned. After years of grief and countless false leads, Marti is coping as best she can: abandoning her marriage, drinking to forget, and documenting her never-ending search via a true-crime podcast. But when the podcast becomes an unexpected hit and Marti thinks she's finally ready to put it all behind her, a mysterious woman calls with new information that could lead her down a dangerous path. For years, Ava Vreeland has been fighting to overturn her brother's murder conviction. After finding strange similarities between the two cases, Ava is certain there's a connection between the murder and Maggie's disappearance, one that could prove her brother's innocence. PW & LJ

****THE GRANDMOTHER PLOT by Caroline B. Cooney (Poisoned Pen Press, $16.99).
A stoner glass blower and a gossip-mongering collector meet in a nursing home. Freddy and Laura make up two impossibly different sides of the exact same coin. Freddy leads a life of little responsibility; he's an affable bro who's fumbled into some shady side hustles to bolster his artistic ambitions. He's caring for grandma since everyone else in the family has a real job. Laura's doing right by Aunt Polly to make up for mom dying alone. You know, floating through life one day at a time. That is, until a fragile old woman, already close to death, is murdered in the room next door. Freddy freaks out and Laura starts snooping. PW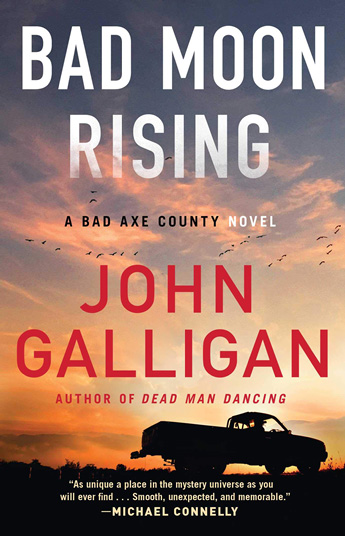 ****BAD MOON RISING by John Galligan (Atria, $17.00).
Sheriff Heidi Kick has a dead body on her hands, a homeless young man last seen alive miles from the Bad Axe. Chillingly, the medical examiner confirms what Sheriff Kick has been experiencing in her own reoccurring nightmares of late: the victim was buried alive. As the relentless summer heat bears down and more bodies are discovered, Sheriff Kick also finds herself embroiled in a nasty reelection campaign. These days her detractors call her "Sheriff Mommy"—KICK HER OUT holler the opposition's campaign signs—and as her family troubles become public, vicious rumors threaten to sway the electorate and derail her investigation. Enter Vietnam veteran Leroy Fanta, editor-in-chief of the local paper who believes Heidi's strange case might be tied to a reclusive man writing deranged letters to the opinions section for years. With his heart and liver on their last legs, Fanta drums up his old journalistic instincts in one last effort to help Heidi find a lead in her case, or at least a good story… Kirkus & DP
****ARSENIC AND ADOBO by Mia P. Manansala (Berkley, $16.00).
When Lila Macapagal moves back home to recover from a horrible breakup, her life seems to be following all the typical rom-com tropes. She's tasked with saving her Tita Rosie's failing restaurant, and she has to deal with a group of matchmaking aunties who shower her with love and judgment. But when a notoriously nasty food critic (who happens to be her ex-boyfriend) drops dead moments after a confrontation with Lila, her life quickly swerves from a Nora Ephron romp to an Agatha Christie case. LJ, PW & BL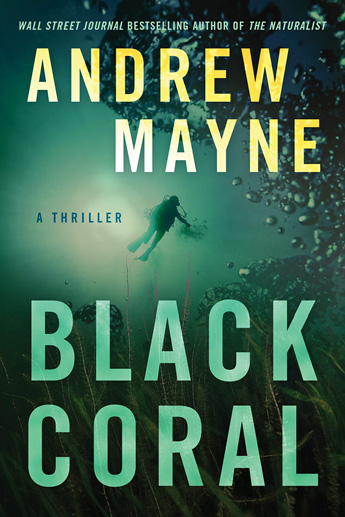 ****BLACK CORAL by Andrew Mayne (Thomas & Mercer, $15.95).
Sloan McPherson and the Underwater Investigation Unit have discovered a van at the bottom of a murky Florida pond. Sealed inside the watery tomb are the bodies of four teenagers who disappeared thirty years ago after leaving a rock concert. To authorities, it looks like a tragic accident. To Sloan, it looks like murder. Every piece of evidence is starting to connect to a string of cold case vanishings throughout Florida. Clue by clue, Sloan navigates the warm, dark waters where natural predators feed, knowing that the most dangerous one is still above the surface – nesting and dormant. Kirkus & DP
**SEARCH FOR HER by Rick Mofina (Mira, $9.99). At a truck stop near Las Vegas, fourteen-year-old Riley Jarrett vanishes from her family's RV, turning their cross-country dream of starting over into a nightmare. Investigators have their work cut out for them. The massive, bustling truck plaza in the desert is the perfect place for someone to disappear—or be taken. Detectives pursue every chilling lead as all eyes fall to the newly blended family with a tragic past. With the clock ticking down on the likelihood that Riley's alive, suspicions run deep. Everyone—from Riley's mom to her stepdad to her stepbrother and her ex-boyfriend—has something to hide. DP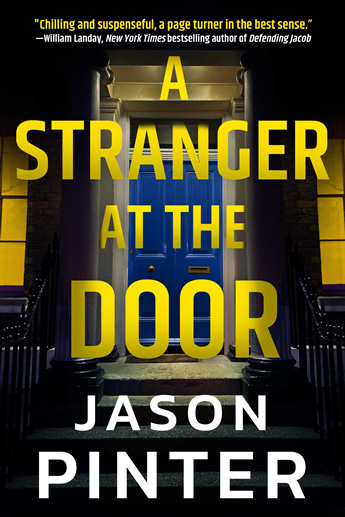 **STRANGER AT THE DOOR by Jason Pinter (Thomas & Mercer, $15.95). When Rachel Marin discovers an ominous email her son's teacher sent to her just before his murder, she knows she must help bring his killer to justice. But soon a figure from her past reappears, threatening to expose Rachel's darkest secrets if she doesn't tread lightly. And when her son is recruited by a shadowy businessman who may be connected to the murder, Rachel knows this has just gotten very, very personal. PW & BL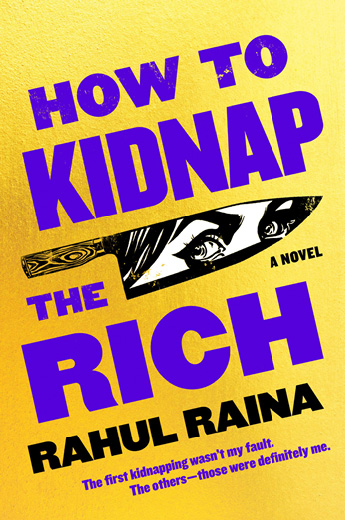 ****HOW TO KIDNAP THE RICH by Rahul Raina (HarperPerennial, $17.00).
Brilliant yet poor, Ramesh Kumar grew up working at his father's tea stall in the Old City of Delhi. Now, he makes a lucrative living taking tests for the sons of India's elite—a situation that becomes complicated when one of his clients, the sweet but hapless eighteen-year-old Rudi Saxena, places first in the All Indias, the national university entrance exams, thanks to him. Ramesh sees an opportunity—perhaps even an obligation—to cash in on Rudi's newfound celebrity, not knowing that Rudi's role on a game show will lead to unexpected love, followed by wild trouble when both young men are kidnapped. BL
---

Year's Best 2020 — The DP List
Best Novels
**AMNESTY by Aravind Adiga (Scribner, $26.00).
Danny—formerly Dhananjaya Rajaratnam—is an illegal immigrant in Sydney, Australia, denied refugee status after he fled from Sri Lanka. Working as a cleaner, living out of a grocery storeroom, for three years he's been trying to create a new identity for himself. And now, with his beloved vegan girlfriend, Sonja, with his hidden accent and highlights in his hair, he is as close as he has ever come to living a normal life. But then one morning, Danny learns a female client of his has been murdered. The deed was done with a knife, at a creek he'd been to with her before; and a jacket was left at the scene, which he believes belongs to another of his clients—a doctor with whom Danny knows the woman was having an affair. Suddenly Danny is confronted with a choice: Come forward with his knowledge about the crime and risk being deported? Or say nothing, and let justice go undone? PW, Kirkus & DP
**VICTIM 2117 by Jussi Adler-Olsen (Dutton, $28.00). The newspaper refers to the body only as Victim 2117—the two thousand one hundred and seventeenth refugee to die in the Mediterranean Sea. But to three people, the unnamed victim is so much more, and the death sets off a chain of events that throws Department Q, Copenhagen's cold cases division led by Detective Carl Mørck, into a deeply dangerous—and deeply personal—case. A case that not only reveals dark secrets about the past, but has deadly implications for the future. DP & BL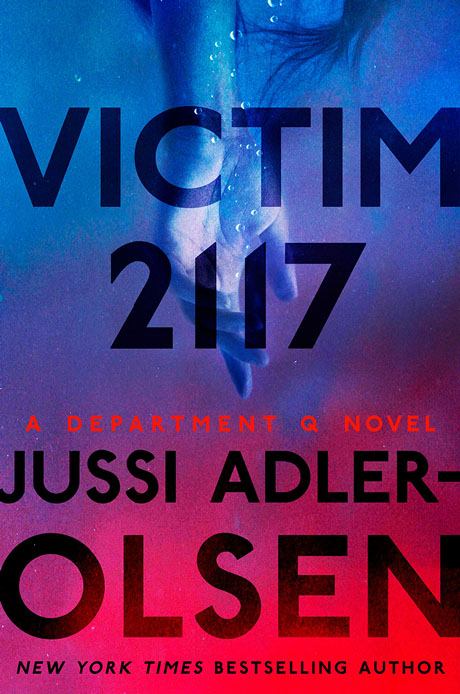 **THE RED HOUSE by James R. Benn (Soho Crime, $27.95). Just days after the Liberation of Paris, US Army Detective Billy Boyle and Lieutenant Kazimierz are brought to Saint Albans Convalescent Hospital in the English countryside. Kaz has been diagnosed with a heart condition, and Billy is dealing with emotional exhaustion and his recent methamphetamine abuse. Meanwhile, Billy's love, Diana Seaton, has been taken to Ravensbruck, the Nazi concentration camp for women, and Kaz's sister, Angelika, who he recently learned was alive and working with the Polish Underground, has also been captured and transported to the same camp. PW & DP
**A BEAUTIFUL CRIME by Christopher Bollen (Harper, $28.99). When Nick Brink and his boyfriend Clay Guillory meet up on the Grand Canal in Venice, they have a plan in mind—and it doesn't involve a vacation. Nick and Clay are running away from their turbulent lives in New York City, each desperate for a happier, freer future someplace else. Their method of escape? Selling a collection of counterfeit antiques to a brash, unsuspecting American living out his retirement years in a grand palazzo. With Clay's smarts and Nick's charm, their scheme is sure to succeed. LJ & PW
**CITY OF MARGINS by William Boyle (Pegasus, $25.95). In City of Margins, the lives of several lost souls intersect in Southern Brooklyn in the early 1990s. There's Donnie Parascandolo, a disgraced ex-cop with blood on his hands; Ava Bifulco, a widow whose daily work grind is her whole life; Nick, Ava's son, a grubby high school teacher who dreams of a shortcut to success; Mikey Baldini, a college dropout who's returned to the old neighborhood, purposeless and drifting; Donna Rotante, Donnie's ex-wife, still reeling from the suicide of their teenage son; Mikey's mother, Rosemarie, also a widow, who hopes Mikey won't fall into the trap of strong arm work; and Antonina Divino, a high school girl with designs on breaking free from Brooklyn. Uniting them are the dead: Mikey's old man, killed over a gambling debt, and Donnie and Donna's poor son, Gabe. PW & LJ
**A PRIVATE CATHEDRAL by James Lee Burke (Simon & Schuster, $28.00). When Robicheaux attends a concert by rock-and-roll heartthrob Johnny Shondell, New Iberia teenager Isolde Balangie is among the crowd of swooning girls. Despite all odds, Johnny and Isolde fall in love, and like Romeo and Juliet, their respective families go to extreme lengths to keep the young couple apart. The Shondell and Balangie families are longtime enemies in the New Iberia criminal underworld and show each other no mercy. The two run away together after Isolde is given as a sex slave to Johnny's uncle. When Robicheaux digs deeper to uncover why, he gets too close to both Isolde's mother and the mistress of her father, a venomous New Orleans mafioso whose jealousy knows no bounds. In retribution, he hires a mysterious assassin to go after Robicheaux and his longtime partner, Clete Purcel. BL & PW
**THE LAST FLIGHT by Julie Clark (Sourcebooks, $26.99). Claire Cook has a perfect life. Married to the scion of a political dynasty, with a Manhattan townhouse and a staff of ten, her surroundings are elegant, her days flawlessly choreographed, and her future auspicious. But behind closed doors, nothing is quite as it seems. That perfect husband has a temper that burns as bright as his promising political career, and he's not above using his staff to track Claire's every move, making sure she's living up to his impossible standards. But what he doesn't know is that Claire has worked for months on a plan to vanish LJ, Kirkus, PW & DP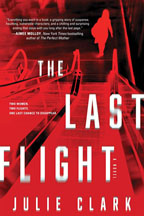 **THE BOY FROM THE WOODS by Harlan Coben (Grand Central, $29.00). Thirty years ago, Wilde was found as a boy living feral in the woods, with no memory of his past. Now an adult, he still doesn't know where he comes from, and another child has gone missing. No one seems to take Naomi Pine's disappearance seriously, not even her father-with one exception. Hester Crimstein, a television criminal attorney, knows through her grandson that Naomi was relentlessly bullied at school. Hester asks Wilde-with whom she shares a tragic connection-to use his unique skills to help find Naomi. Wilde can't ignore an outcast in trouble, but in order to find Naomi he must venture back into the community where he has never fit in LJ & DP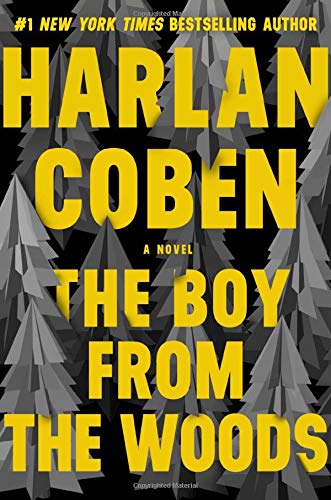 **FAIR WARNING by Michael Connelly (Little, Brown, $29.00). Veteran reporter Jack McEvoy has taken down killers before, but when a woman he had a one-night stand with is murdered in a particularly brutal way, McEvoy realizes he might be facing a criminal mind unlike any he's ever encountered. Jack investigates–against the warnings of the police and his own editor–and makes a shocking discovery that connects the crime to other mysterious deaths across the country. Undetected by law enforcement, a vicious killer has been hunting women, using genetic data to select and stalk his targets. Uncovering the murkiest corners of the dark web, Jack races to find and protect the last source who can lead him to his quarry. But the killer has already chosen his next target, and he's ready to strike. Kirkus & BL
**THE LAW OF INNOCENCE by Michael Connelly
(Little. Brown, $29.00). On the night he celebrates a big win, defense attorney Mickey Haller is pulled over by police, who find the body of a former client in the trunk of his Lincoln. Haller is immediately charged with murder but can't post the exorbitant $5 million bail slapped on him by a vindictive judge. Mickey elects to represent himself and is forced to mount his defense from his jail cell in the Twin Towers Correctional Center in downtown Los Angeles. All the while he needs to look over his shoulder—as an officer of the court he is an instant target. PW, BL & DP
**CUT TO THE BONE by Ellison Cooper (Minotaur, $27.99). After grieving the death of her fiancé and almost losing her job, Agent Sayer Altair is finally starting to rebuild her life. Her research into the minds of psychopaths is breaking new ground and her strange little family is thriving. But Sayer's newfound happiness is threatened when she is called in to investigate a girl's body left inside a circle of animal figurines below a cryptic message written in blood. When they discover that the dead girl is one of twenty-four missing high school students, Sayer quickly realizes that nothing in this case is what it seems. BL & PW
**FLORIDA MAN by Tom Cooper (Random House, $28.00). Florida, circa 1980. Reed Crowe, the eponymous Florida Man, is a middle-aged beach bum, beleaguered and disenfranchised, living on ill-gotten gains deep in the jungly heart of Florida. When sinkholes start opening on Emerald Island, not only are Reed Crowe's seedy businesses—a moribund motel and a shabby amusement park—endangered, but so are his secrets. Kirkus & PW
**BLACKTOP WASTELAND by S. A. Cosby (Flatiron, $26.99). Beauregard "Bug" Montage is an honest mechanic, a loving husband, and a hard-working dad. Bug knows there's no future in the man he used to be: known from the hills of North Carolina to the beaches of Florida as the best wheelman on the East Coast. He thought he'd left all that behind him, but as his carefully built new life begins to crumble, he finds himself drawn inexorably back into a world of blood and bullets. BL & LJ
**THE GOODBYE MAN by Jeffery Deaver (Putnam, $28.00). In the wilderness of Washington State, expert tracker Colter Shaw has located two young men accused of a terrible hate crime. But when his pursuit takes a shocking and tragic turn, Shaw becomes desperate to discover what went so horribly wrong and if he is to blame. Shaw's search for answers leads him to a shadowy organization that bills itself as a grief support group. But is it truly it a community that consoles the bereaved? Or a dangerous cult with a growing body count? BL & PW
**THE BLAZE by Chad Dundas (Putnam, $26.00). Having lost much of his memory from a traumatic brain injury sustained in Iraq, army veteran Matthew Rose is called back to Montana after his father's death to settle his affairs, and hopefully to settle the past as well. It's not only a blank to him, but a mystery. Why as a teen did he suddenly become sullen and vacant, abandoning the activities and people that had meant most to him? Then on his first night back, Matthew sees a house go up in flames, and it turns out a local college student has died inside. And this event sparks a memory of a different fire, an unsolved crime from long ago, a part of Matthew's past that might lead to all the answers he's been searching for. Kirkus, PW, BL
**THE FAMILIAR DARK by Amy Engel (Dutton, $26.00). Set in the poorest part of the Missouri Ozarks, in a small town with big secrets, The Familiar Dark opens with a murder. Eve Taggert, desperate with grief over losing her daughter, takes it upon herself to find out the truth about what happened. Eve is no stranger to the dark side of life, having been raised by a hard-edged mother whose lessons Eve tried not to pass on to her own daughter. But Eve may need her mother's cruel brand of strength if she's going to face the reality about her daughter's death and about her own true nature. Her quest for justice takes her from the seedy underbelly of town to the quiet woods and, most frighteningly, back to her mother's trailer for a final lesson. PW & BL
**HIS & HERS by Alice Feeney (Flatiron, $27.99).
When a woman is murdered in Blackdown, a quintessentially British village, newsreader Anna Andrews is reluctant to cover the case. Detective Jack Harper is suspicious of her involvement, until he becomes a suspect in his own murder investigation. PW & DP
**THE SEARCHER by Tana French (Viking, $27.00).
Cal Hooper thought a fixer-upper in a bucolic Irish village would be the perfect escape. After twenty-five years in the Chicago police force and a bruising divorce, he just wants to build a new life in a pretty spot with a good pub where nothing much happens. But when a local kid whose brother has gone missing arm-twists him into investigating, Cal uncovers layers of darkness beneath his picturesque retreat, and starts to realize that even small towns shelter dangerous secrets. LJ & PW
**RUNNING OUT OF ROAD by Daniel Friedman (Minotaur, $26.99). Once, Detective Buck Schatz patrolled the city of Memphis, chasing down robbers and killers with a blackjack truncheon and a .357. But he's been retired for decades. Now he's frail and demented, and Rose, his wife of 72 years, is ill and facing a choice about her health care that Buck is terrified to even consider. But Buck's past is under attack as well. After 35 years on death row, convicted serial killer Chester March finally has an execution date. Chester is the oldest condemned man in the United States, and his case has attracted the attention of NPR producer Carlos Watkins, who believes Chester was convicted on the strength of a coerced confession. Chester's conviction is the capstone on Buck's storied career, and, to save Chester's life, Watkins is prepared to tear down Buck's reputation and legacy. PW & Kirkus
**THE NIGHT SWIM by Megan Goldin (St. Martin's, $27.99). The new season of Rachel Krall's podcast has brought her to a small town being torn apart by a devastating rape trial. A local golden boy, a swimmer destined for Olympic greatness, has been accused of raping the beloved granddaughter of the police chief. Under pressure to make Season 3 a success, Rachel throws herself into her investigation. And she also gets frequent mysterious letters about a 25-year-old death which the writer claims was a murder. BL & PW
**THE CABINETS OF BARNABY MAYNE by Elsa Hart (Minotaur, $26.99).
London, 1703. In a time when the old approaches to science coexist with the new, one elite community attempts to understand the world by collecting its wonders. Sir Barnaby Mayne, the most formidable of these collectors, has devoted his life to filling his cabinets. While the curious-minded vie for invitations to study the rare stones, bones, books, and artifacts he has amassed, some visitors come with a darker purpose. LJ & PW
**LITTLE SECRETS by Jennifer Hillier (Minotaur, $26.99).
Marin had the perfect life. Married to her college sweetheart, she owns a chain of upscale hair salons, and Derek runs his own company. They're admired in their community and are a loving family?until their world falls apart the day their son Sebastian is taken. A year later, Marin is a shadow of herself. The FBI search has gone cold. The publicity has faded. She and her husband rarely speak. She hires a P.I. to pick up where the police left off, but instead of finding Sebastian, she learns that Derek is having an affair with a younger woman. This discovery sparks Marin back to life. She's lost her son; she's not about to lose her husband, too. DP
**THE MIST by Ragnar Jonasson (Minotaur, $27.99). 1987. An isolated farm house in the east of Iceland. The snowstorm should have shut everybody out. But it didn't. The couple should never have let him in. But they did. An unexpected guest, a liar, a killer. Not all will survive the night. And Detective Hulda will be haunted forever. LJ, Kirkus & PW
**LONE JACK TRAIL by Owen Laukkanen (Mulholland, $28.00). When a body washes up outside Deception Cove, Washington, Jess Winslow-once a US Marine, now a trainee sheriff's deputy-is assigned to investigate. But when she realizes it's "Bad" Brock Boyd, a hometown celebrity lately fallen from grace, things become complicated. The last person seen with Boyd was her own boyfriend, Mason Burke. An ex-convict and newcomer in town, Mason is one of the only people who can understand Jess's haunting memories of her time in Afghanistan-and her love for Lucy, her devoted service dog. Finding one another in Deception Cove has been the best thing to happen to either of them in years. So Jess knows Mason could never be guilty of murder-doesn't she? Kirkus & PW
**HAMMER TO FALL by John Lawton (GroveAtlantic, $26.00). Wilderness is reprimanded with a posting to remote northern Finland, under the guise of a cultural exchange program to promote Britain abroad. Bored by his work, with nothing to spy on, Wilderness finds another way to make money, this time by smuggling vodka across the rather porous border into the USSR. He strikes a deal with his old KGB pal Kostya, who explains to him there is, no joke, a vodka shortage in the Soviet Union, following a grain famine caused by Khrushchev's new agricultural policies. But there is something fishy about why Kostya has suddenly turned up in Finland?and MI6 intelligence from London points to a connection to the mining of cobalt in the region, a critical component in the casing of the atomic bomb. Wilderness's posting is getting more interesting by the minute, but more dangerous too. PW, BL & Kirkus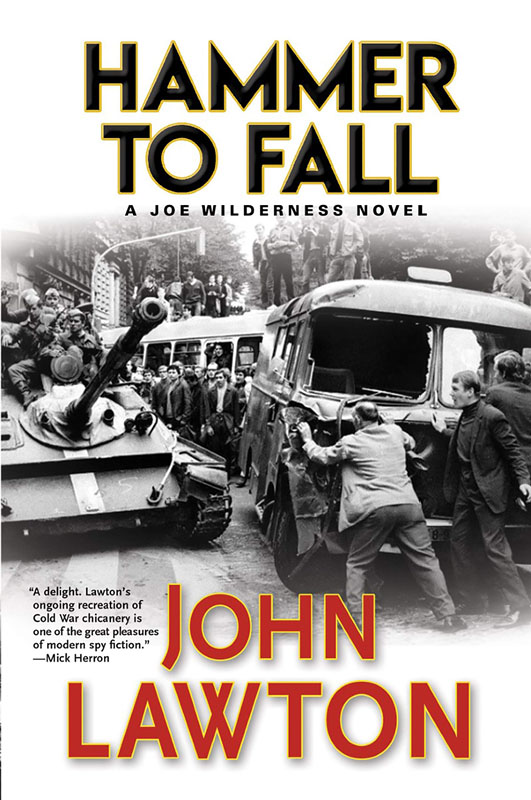 **ONCE YOU GO THIS FAR by Kristen Lepionka (Minotaur, $26.99). Junior-high school nurse Rebecca Newsome was an experienced hiker, until she plummeted to her death at the bottom of a ravine in a Columbus metro park. Her daughter, Maggie, doesn't believe it was an accident, and Rebecca's ex-husband is her prime suspect. But he's a well-connected ex-cop and Maggie is certain that's the reason no one will listen to her. PI Roxane Weary quickly uncovers that the dead woman's ex is definitely a jerk, but is he a murderer? BL & PW
**THE FINISHER by Peter Lovesey (Soho Press, $27.95). Through a particularly ill-fated series of events, couch potato Maeve Kelly, an elementary school teacher whose mother always assured her "curvy" girls shouldn't waste their time trying to be fit, has been forced to sign up for the Other Half, Bath's springtime half marathon. The training is brutal, but she must disprove her mother and collect pledges for her aunt's beloved charity. What Maeve doesn't know is just how vicious some of the other runners are. Meanwhile, Detective Peter Diamond is tasked with crowd control on the raucous day of the race—and catches sight of a violent criminal he put away a decade ago, and who very much seems to be up to his old tricks now that he is paroled. DP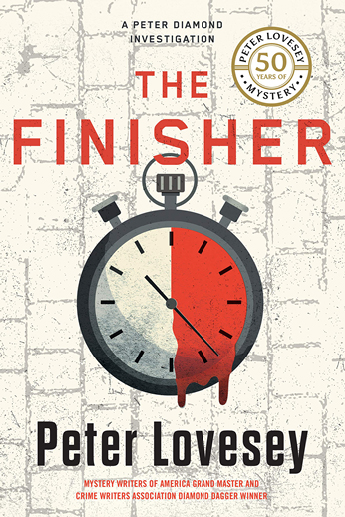 **THE LAST HUNT by Deon Meyer (Atlantic Monthly, $27.00). When a cold case dossier lands on Captain Benny Griessel's desk, he and his partner Vaughn Cupido, fellow member of the Hawks elite police unit in South Africa, reluctantly set to work reviewing the evidence of the disappearance?and possible murder?of ex-cop Johnson Johnson on the world's most luxurious train line. Two fellow travelers might have the answers Griessel and Cupido need?but they too seem to have disappeared into thin air, and the few clues that exist suggest a cover-up. Meanwhile, Daniel Darret has settled into a new, quiet life in Bordeaux, far from his native South Africa and his revolutionary past. But when a man from that past reappears to commission his unique skills one more time, Daniel is forced to decide whether to remain anonymous or to strike a forceful blow against a corrupt government. PW, BL & DP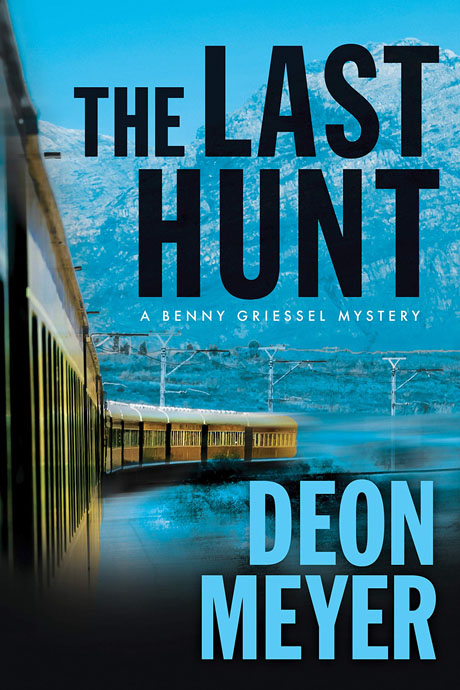 **THE HOLDOUT by Graham Moore (Random House, $28.00). Fifteen-year-old Jessica Silver, heiress to a billion-dollar real estate fortune, vanishes on her way home from school, and her teacher, Bobby Nock, a twenty-five-year-old African American man, is the prime suspect. It's an open-and-shut case for the prosecution, and a quick conviction seems all but guaranteed—until Maya Seale, a young woman on the jury, convinced of Nock's innocence, persuades the rest of the jurors to return the verdict of not guilty. Flash forward ten years. A true-crime docuseries reassembles the jury, with particular focus on Maya, now a defense attorney herself. When one of the jurors is found dead in Maya's hotel room, all evidence points to her as the killer. Now, she must prove her own innocence—by getting to the bottom of a case that is far from closed. PW & LJ
**LONG BRIGHT RIVER by Liz Moore (Riverhead, $26.00). In a Philadelphia neighborhood rocked by the opioid crisis, two once-inseparable sisters find themselves at odds. One, Kacey, lives on the streets in the vise of addiction. The other, Mickey, walks those same blocks on her police beat. Then Kacey disappears, suddenly, at the same time that a mysterious string of murders begins in Mickey's district, and Mickey becomes dangerously obsessed with finding the culprit–and her sister–before it's too late. BL & LJ
**DEATH IN THE EAST by Abir Mukherjee (Pegasus, $25.95). 1905, London. As a young constable, Sam Wyndham is on his usual East London beat when he comes across an old flame, Bessie Drummond, attacked in the streets. The next day, when Bessie is found brutally beaten in her own room, locked from the inside, Wyndham promises to get to the bottom of her murder. But the case will cost the young constable more than he ever imagined. 1922, India. Leaving Calcutta, Captain Sam Wyndham heads for the hills of Assam, to the ashram of a sainted monk where he hopes to conquer his opium addiction. But when he arrives, he sees a ghost from his life in London—a man thought to be long dead, a man Wyndham hoped he would never see again. PW, LJ & DP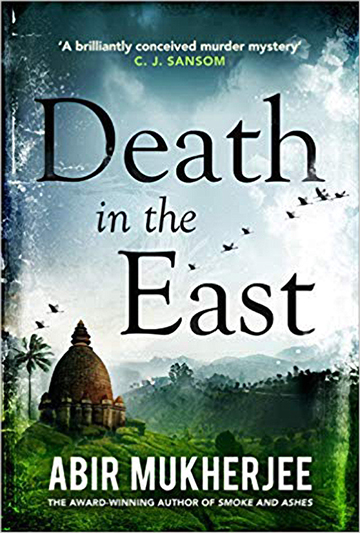 **THE KINGDOM by Jo Nesbo (Knopf, $28.95).
Roy has never left the quiet mountain town he grew up in, unlike his little brother Carl who couldn't wait to get out and escape his troubled past. Just like everyone else in town, Roy believed Carl was gone for good. But Carl has big plans for his hometown. And when he returns with a mysterious new wife and a business opportunity that seems too good to be true, simmering tensions begin to surface and unexplained deaths in the town's past come under new scrutiny. BL & Kirkus
**THE SHADOWS by Alex North (Celadon, $26.99).
You knew a teenager like Charlie Crabtree. A dark imagination, a sinister smile–always on the outside of the group. Some part of you suspected he might be capable of doing something awful. Twenty-five years ago, Crabtree did just that, committing a murder so shocking that it's attracted that strange kind of infamy and inspired more than one copycat. Paul Adams remembers the case all too well: Crabtree–and his victim–were Paul's friends. Paul comes home to take care of his mother and it's not long before things start to go wrong. Paul learns that Detective Amanda Beck is investigating another copycat that has struck in the nearby town of Featherbank. PW & BL
**HARD CASH VALLEY by Brian Panowich (Minotaur, $26.99). Dane Kirby is a broken man and no stranger to tragedy. As a life-long resident and ex-arson investigator for McFalls County, Dane has lived his life in one of the most chaotic and crime-ridden regions of the south. When he gets called in to consult on a brutal murder in a Jacksonville, Florida, motel room, he and his FBI counterpart, Special Agent Roselita Velasquez, begin an investigation that leads them back to the criminal circles of his own backyard. BL & LJ
**ALL THE DEVILS ARE HERE by Louise Penny (Minotaur, $28.99). On their first night in Paris, the Gamaches gather as a family for a bistro dinner with Armand's godfather, the billionaire Stephen Horowitz. Walking home together after the meal, they watch in horror as Stephen is knocked down and critically injured in what Gamache knows is no accident, but a deliberate attempt on the elderly man's life. When a strange key is found in Stephen's possession it sends Armand, his wife Reine-Marie, and his former second-in-command at the Sûreté, Jean-Guy Beauvoir, from the top of the Tour d'Eiffel, to the bowels of the Paris Archives, from luxury hotels to odd, coded, works of art. It sends them deep into the secrets Armand's godfather has kept for decades. BL, PW & LJ
**UNDER PRESSURE by Robert Pobi (Minotaur, $26.99). On a beautiful October evening, New York City's iconic Guggenheim Museum is closed for a tech company's private gala. Until an explosion rocks the night, instantly killing 702 people. An explosion of that precision was no accident and, in response, the FBI mobilizes its entire team — but the sheer number of victims strains their resources. Were all 702 victims in the wrong place at the wrong time, or was there only one target and 701 unlucky bystanders? Brett Kehoe, Special Agent in Charge of Manhattan, decides that he can't do this without more computational power. Enter Dr. Lucas Page, astrophysicist, university professor, and former FBI agent, who is uniquely gifted for the task at hand – he can visualize a crime scene as if he was a bystander and can break down any set of data at a glance. Even though Page wants nothing to do with the FBI, with his city under attack and his family at risk, he steps in to find a killer in a haystack before they strike again. PW & DP
**THESE WOMEN by Ivy Pochoda (Ecco, $27.99). This novel features five very different women whose lives are steeped in danger and anguish. They're connected by one man and his deadly obsession, though not all of them know that yet. There's Dorian, still adrift after her daughter's murder remains unsolved; Julianna, a young dancer nicknamed Jujubee, who lives hard and fast, resisting anyone trying to slow her down; Essie, a brilliant vice cop who sees a crime pattern emerging where no one else does; Marella, a daring performance artist whose work has long pushed boundaries but now puts her in peril; and Anneke, a quiet woman who has turned a willfully blind eye to those around her for far too long. LJ & PW
**WHEN SHE WAS GOOD by Michael Robotham (Scribner, $26.00). Who is Evie, the girl with no past, running from? She was discovered hiding in a secret room in the aftermath of a terrible crime. Her ability to tell when someone is lying helped Cyrus crack an impenetrable case in Good Girl, Bad Girl. Now, the closer Cyrus gets to uncovering answers about Evie's dark history, the more he exposes Evie to danger, giving her no choice but to run. Ultimately, both will have to decide if some secrets are better left buried and some monsters should never be named.. Kirkus, BL & DP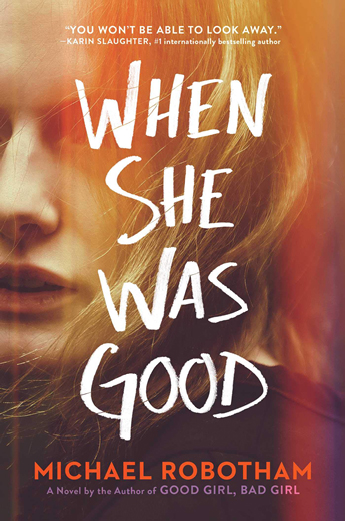 **DAUGHTERS OF DARKNESS by Sally Spencer (Severn House, $28.99). Oxford, 1975. Three years ago, world-renowned anthropologist Grace Stockton was slain in a brutal, unprovoked attack. Despite a large-scale police investigation, the identity of the prime suspect was never uncovered . . . and neither was the location of Grace's head. But Grace's daughter, the wealthy academic Julia Pemberton, refuses to accept that the trail has run cold. Determined to find out who killed her mother, she knows just the woman for the job: private investigator Jennie Redhead. Who was the woman caught on CCTV visiting Grace's isolated home on the day of the murder? And why did she cut off her victim's head? Jennie's search for answers takes her on a dark, disturbing journey into the past, from the ancient tribal customs of Papua New Guinea, to war-torn 1940's London, and to a dark tangle of secrets and scandal that someone is desperate should never be revealed . PW & BL
**EIGHT PERFECT MURDERS by Peter Swanson (Morrow, $27.99). Years ago, bookseller and mystery aficionado Malcolm Kershaw compiled a list of the genre's most unsolvable murders, those that are almost impossible to crack—which he titled "Eight Perfect Murders"—chosen from among the best of the best including Agatha Christie's A. B. C. Murders, Patricia Highsmith's Strangers on a Train, Ira Levin's Death Trap, A. A. Milne's Red House Mystery, Anthony Berkeley Cox's Malice Aforethought, James M. Cain's Double Indemnity, John D. Macdonald's The Drowner, and Donna Tartt's A Secret History. But no one is more surprised than Mal, now the owner of the Old Devils Bookstore in Boston, when an FBI agent comes knocking on his door one snowy day in February. She's looking for information about a series of unsolved murders that look eerily similar to the killings on Mal's old list. BL, PW, Kirkus & DP
**TIE DIE by Max Tomlinson (Oceanview, $26.95). Steve Cook was a musical sensation in the '60s; now he's divorced with an 11-year-old daughter and works construction in San Francisco. Life takes an unexpected turn when his daughter is kidnapped. Rather than seeking help from the police, he turns to unlicensed p.i. (and ex-con) Colleen Hayes. It doesn't take Colleen long to realize something fishy is going on with the kidnapping of Melanie Cook. What transpires is a harrowing journey through a music industry rife with corruption and crime. BL & DP
**THE DEVIL AND THE DARK WATER by Stuart Turton (Sourcebooks, $26.90).
It's 1634 and Samuel Pipps, the world's greatest detective, is being transported to Amsterdam to be executed for a crime he may, or may not, have committed. Travelling with him is his loyal bodyguard, Arent Hayes, who is determined to prove his friend innocent. Kirkus & PW
CONFESSIONS ON THE 7:45 by Lisa Unger (Park Row, $27.99). Selena Murphy is commuting home from her job in the city when the train stalls out on the tracks. She strikes up a conversation with a beautiful stranger in the next seat. The woman introduces herself as Martha and confesses that she's been stuck in an affair with her boss. Selena, in turn, confesses that she suspects her husband is sleeping with the nanny. When the train arrives at Selena's station, the two women part ways, presumably never to meet again. But days later, Selena's nanny disappears. Soon Selena finds her once-perfect life upended. BL & PW
**THE SHOOTING AT CHATEAU ROCK by Martin Walker (Knopf, $25.95). It's summer in the Dordogne. The heirs of a Périgordian sheep farmer learn that they have been disinherited, and their father's estate sold to an insurance company in return for a policy that will place him in a five-star retirement home for the rest of his life. But the farmer never gets his life of luxury–he dies before moving in. Was it a natural death? Was there foul play? Bruno begins the investigation that leads him to several shadowy insurance companies owned by a Russian oligarch with a Cypriot passport. PW
**ONE BY ONE by Ruth Ware (Gallery/Scout Press, $27.99). Evoking the snowy seclusion of In a Dark, Dark Wood; the luxe environs of The Woman in Cabin 10; and the cutting edge technology of The Turn of the Key, Ruth Ware returns with an ultramodern locked-door thriller about an ill-fated corporate ski retreat in the French Alps – where survival soon trumps synergy. When the cofounder of trendy social music app Snoop upends the agenda of a week-long getaway by pushing a lucrative but contentious buyout offer, tensions simmer and loyalties are tested. After staff and guests are cut off from all access to the outside world by a devastating avalanche, resentments are laid bare as the corporate food chain unravels and office politics take a deadly turn. LJ & BL
**HOLD YOUR BREATH, CHINA by Qiu Xiaolong (Severn House, $28.99). Chief Inspector Chen and Detective Yu Guangming are brought into a serial murder case when the Homicide squad proves incapable of solving it. But before Chen can make a start, he is called away by a high-ranking Party member for a special assignment: to infiltrate a group of environmental activists meeting to discuss the pollution levels in the country and how to prompt the government into action. Chen knows it will be a far from simple task, especially when he discovers the leader of the group is a woman from his past. Meanwhile, Yu is left to investigate a serial murder case on his own. BL & PW
Best First Novels
**THE OPIUM PRINCE by Jasmine Aimaq (Soho Crime, $27.95).
On the drive out of Kabul for an anniversary trip with his wife, Daniel accidentally hits and kills a young Kochi girl named Telaya. He is let off with a nominal fine, in part because nomad tribes are ignored in the eyes of the law, but also because a mysterious witness named Taj Maleki intercedes on his behalf. Wracked with guilt and visions of Telaya, Daniel begins to unravel, running from his crumbling marriage and escalating threats from Taj, who turns out to be a powerful opium khan willing to go to extremes to save his poppies. PW & BL
**THE FINDERS by Jeffrey B. Burton (Minotaur, $26.99). Mason "Mace" Reid lives on the outskirts of Chicago and specializes in human remains detection. He trains dogs to hunt for the dead. Reid's coming off a taxing year – mourning the death of a beloved springer spaniel as well as the dissolution of his marriage. He adopts a rescue dog with a mysterious past – a golden retriever named Vira. And when Reid begins training Vira as a cadaver dog, he comes to realize just how special the newest addition to his family truly is. BL & LJ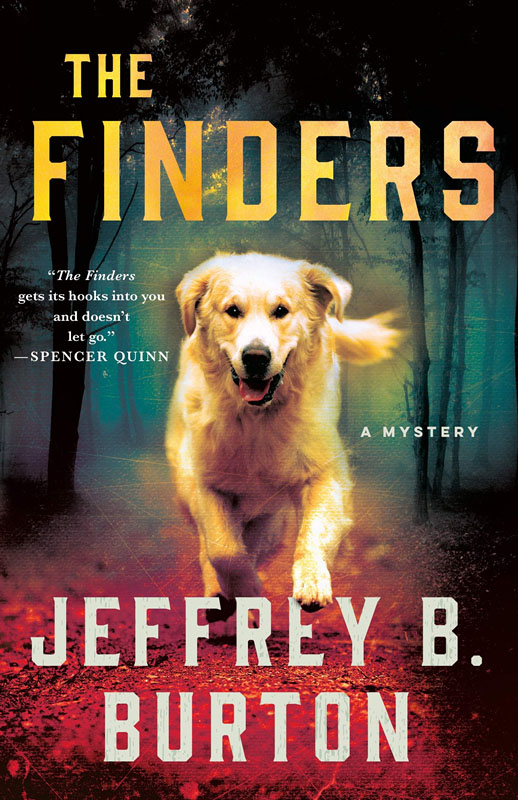 **HOW QUICKLY SHE DISAPPEARS by Raymond Fleischmann (Berkley, $26.00). It's been twenty years since Elisabeth's twin sister, Jacqueline, disappeared without a trace. Now thirty-year-old Elisabeth is living far from home in a small Alaskan town. She's in a loveless marriage and has a precocious young daughter she loves more than anything but who reminds her too much of her long-missing sister. But then Alfred, a dangerous stranger with a plan of his own, arrives in town and commits an inexplicable act of violence. And he offers a startling revelation: He knows exactly what happened to Elisabeth's sister, but he'll reveal this truth only if she fulfills his three requests. BL
**A BURNING by Megha Majumdar (Knopf, $25.95). Jivan is a Muslim girl from the slums, determined to move up in life, who is accused of executing a terrorist attack on a train because of a careless comment on Facebook. PT Sir is an opportunistic gym teacher who hitches his aspirations to a right-wing political party, and finds that his own ascent becomes linked to Jivan's fall. Lovely–an irresistible outcast whose exuberant voice and dreams of glory fill the novel with warmth and hope and humor–has the alibi that can set Jivan free, but it will cost her everything she holds dear. LJ, BL & DP
**THE THURSDAY MURDER CLUB by Richard Osman (Pamela Dorman Books/Viking, $26.00). In a peaceful retirement village, four unlikely friends meet weekly in the Jigsaw Room to discuss unsolved crimes; together they call themselves The Thursday Murder Club. When a local developer is found dead with a mysterious photograph left next to the body, the Thursday Murder Club suddenly find themselves in the middle of their first live case. As the bodies begin to pile up, can our unorthodox but brilliant gang catch the killer, before it's too late? Kirkus & PW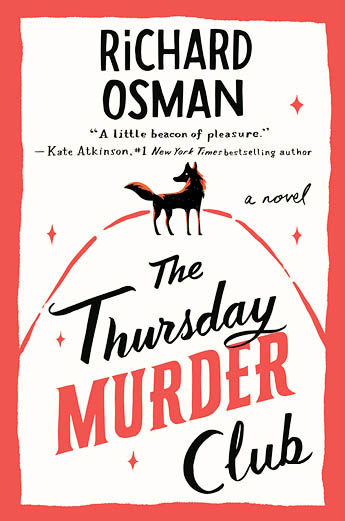 **FORTUNE FAVORS THE DEAD by Stephen Spotswood (Doubleday, $26.95).
It's 1942 and Willowjean "Will" Parker is a scrappy circus runaway whose knife-throwing skills have just saved the life of New York's best, and most unorthodox, private investigator, Lillian Pentecost. When the dapper detective summons Will a few days later, she doesn't expect to be offered a life-changing proposition: Lillian's multiple sclerosis means she can't keep up with her old case load alone, so she wants to hire Will to be her right-hand woman. Then along comes the Collins case… PW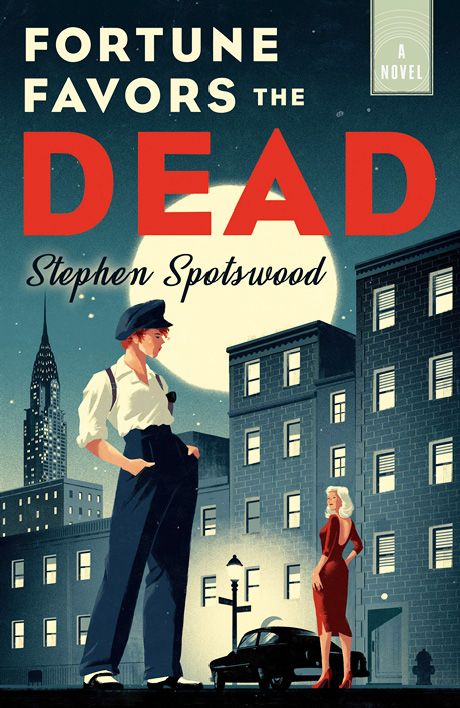 **FIREWATCHING by Russ Thomas (Putnam, $26.00). Someone is setting fire to Sheffield. It starts with small things – dustbins and abandoned sheds – so people don't notice at first. But the calling card is there if you look for it. Soon the fires spread to offices, homes, people. The Firewatcher's followers are growing and they have one particular blaze in mind – one that the police would do well to pay attention to.But D/S Adam Tyler is distracted by a case, one that he is unknowingly connected to. And if he can't discover the link between the fires and himself, he will burn – along with the entire city. PW & LJ
**WINTER COUNTS by David Heska Wanbli Weiden (Ecco, $27.99). Virgil Wounded Horse is the local enforcer on the Rosebud Indian Reservation in South Dakota. When justice is denied by the American legal system or the tribal council, Virgil is hired to deliver his own punishment, the kind that's hard to forget. But when heroin makes its way into the reservation and finds Virgil's nephew, his vigilantism suddenly becomes personal. He enlists the help of his ex-girlfriend and sets out to learn where the drugs are coming from, and how to make them stop. PW & DP
Best Thrillers
**INSIDIOUS by Brett Battles (Independently published, $14.95). "That way." It's such a simple request that Nate doesn't think twice about turning down the path Liz suggests. But when he finds the body, he realizes he should have known better. Liz has the habit of pointing him toward those who need his help, even if they are no longer living. His deceased girlfriend isn't the only one pushing him to solve the dead woman's murder. After his best friend Jar discovers the woman's true identity, she insists they need to investigate. Nate is not as sure. The police are on the case, after all, and if he and Jar intervene, they would only get in the way. But when more dead bodies begin stacking up, it becomes clear Nate and Jar are the only ones who can unravel the devious plot behind the young woman's murder, and the trail of death meant to cover it up. DP
**WITHOUT SANCTION by Don Bentley (Berkley, $27.00). Defense Intelligence Agency operative Matt Drake broke a promise. A promise that cost three people their lives and crippled his best friend. Three months later, he's paralyzed by survivor's guilt and haunted by the memories of the fallen. In the midst of his self-imposed exile, Matt is dragged back into the world of espionage and assets that he tried to forget. A Pakistani scientist working for an ISIS splinter cell has created a terrifying weapon of mass destruction. The scientist offers to defect with the weapon, but he trusts just one man to bring him out of Syria alive—Matt Drake. BL & DP
**THREE HOURS IN PARIS by Cara Black (Soho, $27.95). Kate Rees, a young American markswoman, has been recruited by British intelligence to drop into Paris with a dangerous assignment: assassinate the Führer. Wrecked by grief after a Luftwaffe bombing killed her husband and infant daughter, she is armed with a rifle, a vendetta, and a fierce resolve. But other than rushed and rudimentary instruction, she has no formal spy training. Thrust into the red-hot center of the war, a country girl from rural Oregon finds herself holding the fate of the world in her hands. When Kate misses her mark and the plan unravels, Kate is on the run for her life—all the time wrestling with the suspicion that the whole operation was a set-up. Kirkus, LJ & BL
**DOUBLE AGENT by Tom Bradby (Atlantic Monthly, $26.00).
Kidnapped in Venice by a Russian defector, Kate Henderson knows she's in trouble. But when he offers her conclusive evidence that the British Prime Minister is a live agent working for Moscow, Kate's holiday quickly becomes the start of her next mission. The defector has proof of the PM involved in a sordid scandal?a video supposedly used to blackmail him into Russian service decades prior?and a financial paper trail that undeniably links him to the Russians, but his motives are anything but clear. Riddled with doubt that the evidence she is presented with may not in fact be as bulletproof as it seems, Kate reopens the investigation into the PM. As she works through the case, Kate runs up against key people at the heart of the British Establishment who refuse to acknowledge the reality in front of them. And, more worryingly, clear signs that there's still a mole in her department. BL & DP
**HOUSE ON FIRE by Joseph Finder (Dutton, $28.00). Nick Heller is at the top of his game when he receives some devastating news: his old army buddy Sean has died of an overdose. Sean, who once saved Nick's life, got addicted to opioids after returning home wounded from war. Then at Sean's funeral, a stranger approaches Nick with a job, and maybe also a way for Nick to hold someone accountable. The woman is the daughter of a pharmaceutical kingpin worth billions. Now she wants to become a whistleblower, exposing her father and his company for burying evidence that its biggest money-maker was dangerously addictive. BL & PW
**ONE MINUTE OUT by Mark Greaney (Berkley, $28.00). While on a mission to Croatia, Court Gentry uncovers a human trafficking operation. The trail leads from the Balkans all the way back to Hollywood. Court is determined to shut it down, but his CIA handlers have other plans. The criminal ringleader has actionable intelligence about a potentially devastating terrorist attack on the US. The CIA won't move until they have that intel. It's a moral balancing act with Court at the pivot point. PW & DP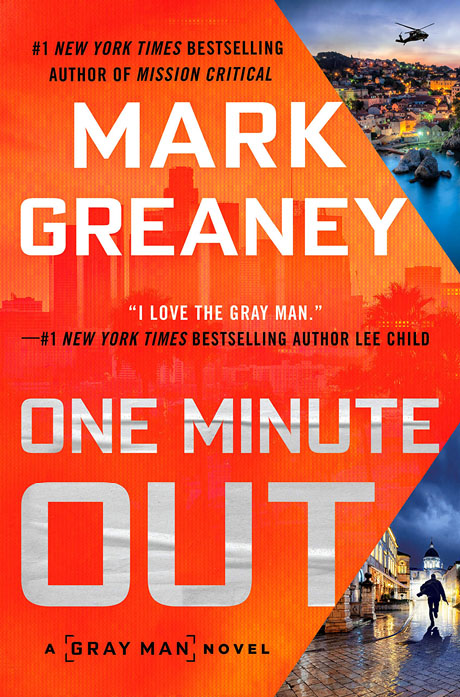 **HOUSE PRIVILEGE by Mike Lawson (Grove Atlantic, $26.00). Fifteen-year-old Cassie Russell, the only daughter of a mega-rich Boston couple, is the sole survivor of a plane crash that killed her parents. She's also the goddaughter of the newly elected Speaker of the House, John Mahoney, and Mahoney becomes her legal guardian. Normally, Mahoney would send his kind-hearted wife to deal with his new ward, but she's unavailable so he dispatches his fixer, Joe DeMarco, to make sure the girl's okay. DeMarco's job is only to put things into a holding pattern until Mrs. Mahoney is able to step in and take charge—but DeMarco unintentionally flips over a rock and out from under it crawls a lawyer, the one managing Cassie's vast estate PW, BL & DP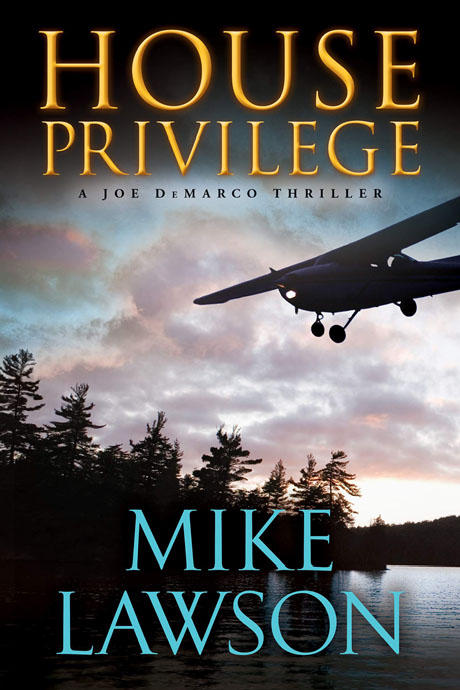 **THE WILD ONE by Nick Petrie (Putnam, $26.00). From the northernmost European capital to a rustbound fishing vessel to a remote farm a stone's throw from the arctic, Peter must confront his growing PTSD and the most powerful Icelandic snowstorm in a generation to find a killer, save an eight-year-old boy, and keep himself out of an Icelandic prison–or a cold Icelandic grave. PW & DP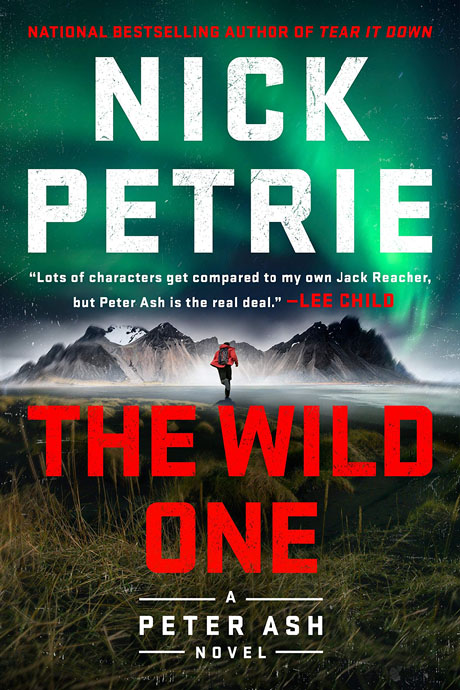 **THE ORDER by Daniel Silva (Harper, $28.99). Gabriel Allon has slipped quietly into Venice for a much-needed holiday with his wife and two young children. But when Pope Paul VII dies suddenly, Gabriel is summoned to Rome by the Holy Father's loyal private secretary, Archbishop Luigi Donati. A billion Catholic faithful have been told that the pope died of a heart attack. Donati, however, has two good reasons to suspect his master was murdered. The Swiss Guard who was standing watch outside the papal apartments the night of the pope's death is missing. So, too, is the letter the Holy Father was writing during the final hours of his life. A letter that was addressed to Gabriel. While researching in the Vatican Secret Archives, I came upon a most remarkable book … The book is a long-suppressed gospel that calls into question the accuracy of the New Testament's depiction of one of the most portentous events in human history. Kirkus & BL
**THE LAST TOURIST by Olen Steinhauer (Minotaur, $27.99). Reluctant CIA agent Milo Weaver thought he had finally put "Tourists," CIA-trained assassins to bed. A decade later, Milo is hiding out in Western Sahara when a young CIA analyst arrives to question him about a series of suspicious deaths and terrorist chatter linked to him. Their conversation is soon interrupted by a new breed of Tourists intent on killing them both, forcing them to run. BL & PW
**THE COLDEST WARRIOR by Paul Vidich (Pegasus, $25.95). In 1953, Dr. Charles Wilson, a government scientist, died when he "jumped or fell" from the ninth floor of a Washington hotel. As his wife and children grieve, the details of the incident remain buried for twenty-two years. With the release of the Rockefeller Commission report on illegal CIA activities in 1975, the Wilson case suddenly becomes news again. Wilson's family and the public are demanding answers, especially as some come to suspect the CIA of foul play. Enter agent Jack Gabriel, an old friend of the Wilson family who is instructed by the CIA director to find out what really happened to Wilson. It's Gabriel's last mission before he retires from the agency and his most perilous. Key witnesses connected to the case die from suspicious causes. LJ & PW
**THE END OF OCTOBER by Lawrence Wright (Knopf, $27.95). At an internment camp in Indonesia, forty-seven people are pronounced dead with acute hemorrhagic fever. When Henry Parsons–microbiologist, epidemiologist–travels there on behalf of the World Health Organization to investigate, what he finds will soon have staggering repercussions across the globe: an infected man is on his way to join the millions of worshippers in the annual Hajj to Mecca. Now, Henry joins forces with a Saudi prince and doctor in an attempt to quarantine the entire host of pilgrims in the holy city. BL & PW
Best Paperback Originals
**THE DECENT INN OF DEATH by Rennie Airth (Penguin, $16.00). On a trip into Winchester, former chief inspector Angus Sinclair learns of a tragedy that has taken place in the village he is staying in. Beloved church organist Greta Hartmann has slipped and fallen to her death in a shallow creek, and while investigations conclude it to be an accident, her friend and housemate, Vera, remains unconvinced. After learning that Greta was the widow of a prominent anti-Nazi German preacher, Sinclair meets with the distraught Vera, and he resolves to dig deeper into the story. His investigations lead him to the stately manor of Julia Lesage, where she lives with her devoted staff that includes her secretary, cook, and driver. PW
**WHEN NO ONE IS WATCHING by Alyssa Cole (Harper, $16.99).
Sydney and Theo's deep dive into the history of their Brooklyn neighborhood quickly becomes a dizzying descent into paranoia and fear. Their neighbors may not have moved to the suburbs after all, and the push to revitalize the community may be more deadly than advertised. PW & BL
**BAD DAY AT THE VULTURE CLUB by Vaseem Khan (Redhook Books, $15.99). The Parsees are among the oldest, most secretive and most influential communities in the city of Mumbai: respected, envied and sometimes feared. When prominent industrialist Cyrus Zorabian is murdered on holy ground, his body dumped inside a Tower of Silence — where the Parsee dead are consumed by vultures — the police dismiss it as a random killing. But his daughter is unconvinced. Chopra, uneasy at entering this world of power and privilege, is soon plagued by doubts about the case. DP
**RUNNING FROM THE DEAD by Mike Knowles (ECW, $15.95). Private eye Sam Jones is at a coffee shop when he spots some blood on his cuff. Mystified he goes to the washroom to wash it off. Then he notices a message written on the wall in eyebrow pencil. It's a cry for help from a young girl. Kirkus, PW & BL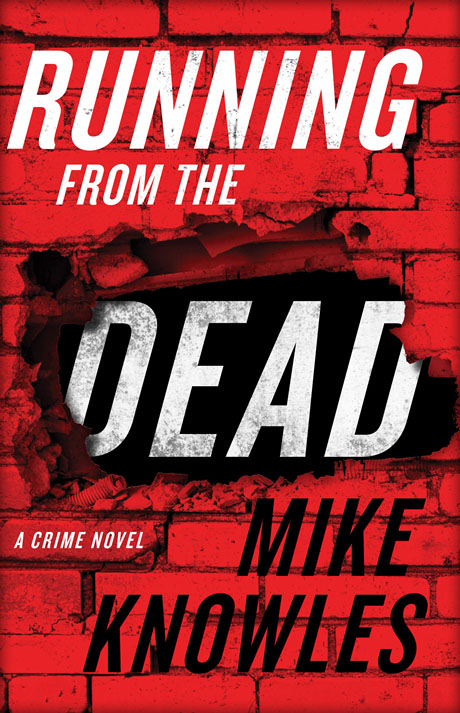 **HIDE AWAY by Jason Pinter (Thomas & Mercer, $15.95). On the surface, Rachel Marin is an ordinary single mother; on the inside, she's a fierce, brilliant vigilante. After an unspeakable crime shatters her life, she changes her identity and moves to a small town in Illinois, hoping to spare her children from further trauma…or worse. But crime follows her everywhere. When the former mayor winds up dead, Rachel can't help but get involved. Where local detectives see suicide, she sees murder. BL, LJ & DP
**THE SILENCE OF THE WHITE CITY by Eva Garcia Saenz (Vintage Crime/Black Lizard, $16.95). Young Inspector Unai López de Ayala, known as "Kraken," is charged with investigating a series of ritualistic murders. The murders are eerily similar to ones that rattled the citizens of Vitoria twenty years earlier. But back then, police were sure they had discovered the killer, a prestigious archaeologist who is currently in jail. Now Kraken must race to determine whether the killer had an accomplice or whether the wrong man has been incarcerated for two decades. This fast-paced, unrelenting thriller weaves in and out of mythology and legends of the Basque country as it hurtles to its shocking conclusion. PW & Kirkus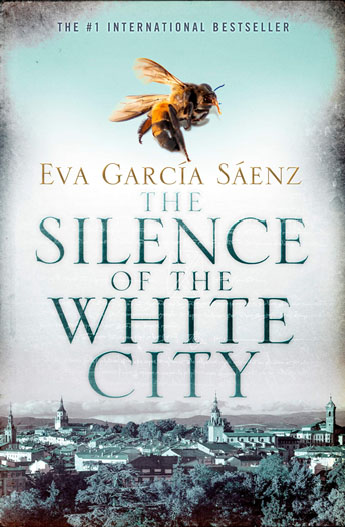 **THE SUN DOWN MOTEL by Simone St. James (Berkley, $16.00).
Upstate New York, 1982. Viv Delaney wants to move to New York City, and to help pay for it she takes a job as the night clerk at the Sun Down Motel in Fell, New York. But something isn't right at the motel, something haunting and scary. Upstate New York, 2017. Carly Kirk has never been able to let go of the story of her aunt Viv, who mysteriously disappeared from the Sun Down before she was born. She decides to move to Fell and visit the motel, where she quickly learns that nothing has changed since 1982. And she soon finds herself ensnared in the same mysteries that claimed her aunt. BL
**DARKNESS FOR LIGHT by Emma Viskic (Allen & Unwin) After a lifetime of bad decisions troubled PI Caleb Zelic is finally making good ones. He's in therapy, reconnecting with the Deaf community, and reconciling with his beloved wife. But he can't escape his past. A violent confrontation forces Caleb back into contact with his double-crossing partner, Frankie. When her niece is kidnapped, Frankie and Caleb must work together to save the child's life. But their efforts will risk everything, including their own lives. DP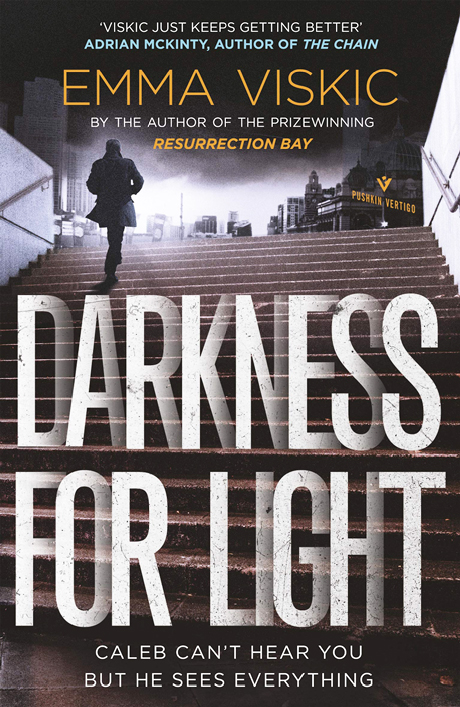 **THE NAMES OF THE DEAD by Kevin Wignall (Thomas & Mercer, $15.95). Former CIA officer James 'Wes' Wesley paid the ultimate price for his patriotism when he was locked up in a French jail for an anti-terror operation gone wrong—abandoned by the Agency he served. Now he is shattered by the news that his ex-wife, Rachel, a State Department analyst, has been killed in a terrorist attack in Spain. He also discovers that his young son, Ethan, is missing. But Wes didn't know he had a son—until now. Granted early release, Wes takes flight across Europe to search for the truth and exact his revenge. DP