A Memorium
by George Easter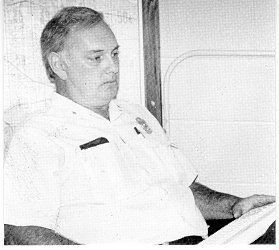 Barry Wilson Gardner passed away while reading in his easy chair at his Dallas home on July 19, 1996. His wife, Ellen, had run a errand and was gone for about an hour. When she returned home she was shocked to find him slumped over in his den.
The week before he had enjoyed the company of many of his "mystery" friends during the ClueFest '96 mystery convention held in Dallas. He and two of his best friends (and booksellers) Bruce Taylor (San Francisco Mystery Bookstore) and Steven Stillwell (Once Upon a Crime, Minneapolis, Minnesota) took a short "booking" trip to the environs around Dallas. The day after putting them on planes he died. We can only assume that he died happy, just having spent a week doing what he most loved doing and being with some of his favorite people.Five years ago Barry had an angioplasty but seemed to have been in general good health, having passed his doctor's stress test just days before his death.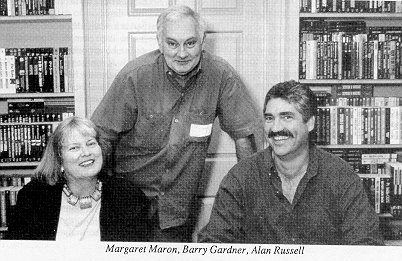 Barry was born and raised in a small Texas town. In 1958 he began work as a firefighter in Dallas. He worked his way up through the ranks of the Dallas Fire Department and was always the youngest person in whatever position he served.He took a two-year leave of absence to serve in the Army and after returning to the fire department eventually became the assistant fire chief of the Dallas Fire Department in 1976. He remained in that position for five years before serving as deputy fire chief until his retirement in 1989. A cousin of Barry, also a firefighter in Asheville, North Carolina, said of Barry "His dedication and courage was of the highest rank. "

Once retired, Barry had time to devote to some of his avocations. He published a newsletter, Uncommon Lodgings, that reviewed bed and breakfast inns throughout the country. But it was his introduction to mystery fandom. in 1991 that brought him true joy. He once confided in me that making fast friends with so many in the mystery field (fans and authors) made him feel that he "had come home." As a lifelong reader of not only mystery fiction, but also science fiction, he began to use this wide experience by reviewing crime novels for a number of publications, including Mystery News, Mostly Murder, The Armchair Detective, The Criminal Record and Deadly Pleasures. He was a faithful and entertaining contributor to Dapa-Em, CADS and Mystery & Detective Monthly.
In the short space of four years, Barry had become one of the best book reviewers in the country, respected by all who read his reviews. In conversations with "mystery" friends one would often hear "Well, Barry liked that book." It was a conversation stopper. The definitive words had been spoken.
He had a knack for knowing what was going on in the mystery field way before it became general knowledge. I would get a book from the publisher, offer it to Barry for review and find that he had already read an advance a couple of months before. He read about 250 mysteries a year, more than most reviewers (except for perhaps Don Sandstrom) and had a real "feel" for what was being published; what was good and what wasn't. Barry was always fair with how he treated the books which he reviewed. He wrote the following in his first column for Deadly Pleasures:
I'm a bear for what I call internal reality. By that I mean that if an author sets a story in the real world, and obviously intends his or her characters to be real people, I expect them to act like real people in their circumstances would act. To give you just a couple of examples of types that send me searching for the trash can, one is what I call urban/suburban fantasy; usually but not always with a female lead, utter disregard for the reality of police work, police bringing civilians into cases and unburdening themselves heart and soul, and on into the night. Another is what I call macho fantasy, and usually has one or two good guys taking on the entrenched might of the Mafia or some similar menace, and winning out without much problem. No offense if you happen to like these sorts of things, y'unnerstand; chacun a son gout, and all that, and godspeed to you. Just be aware that I don't, and when I run across them I'm likely to be unkind. Of course, I'm not likely to review them if I recognize them in time. And there are exceptions, of course; with someone like Kinky Friedman, or David Pierce, reality isn't part of the recipe, and you know that going in. And I like both of them a lot.I'm not a really big fan of the classic detective story, a' la Ellery Queen, and I don't demand clues dropped here and there and utter fair play. However: I don't like rabbits pulled out of a hat at the end of a story, with a denouement that can be believed only by accepting actions by a character that are utterly at odds with what has been established over the course of a book, And if an author is going to use a background such as business, medicine, zoo-keeping, or whatever, then I expect him or her to have done enough research to keep egregious errors of fact from creeping in; particularly when they are integral to the plot.I look for — and will generally comment on – three things in any mystery I read: decent narrative skill, believable (and in general, likable) characters, and a plot that I can at least choke down.
Really, I like a lot more than I don't, and though my tastes tend toward the harder edged, I like a lot of different stuff. I think crime fiction is the single best repository of good storytelling in fiction today, and there's nothing I like more than telling someone about a good example. I hope you enjoy reading about them.
[Not a bad code for a mystery reader/reviewer.]
He was supported in all his activities by his wife of 23 years, Ellen Gardner, who retired from school teaching in 1997. She would host parties at her house each year during Cluefest. I'm sure that she had to put up with piles of books in odd places in her house and "Shhh! I'm on the last page of this book." It isn't always easy to be married to a certifiable book addict (at least it isn't for my wife). But I know from conversations with Barry that there was a lot of love there.
The last time I (George Easter) saw Barry was a breakfast we shared at Bouchercon. We had gotten to know each other pretty well by this point, so we were surprised to find out that we were both big folk music fans (the Limeliters, Peter, Paul & Mary, the Kingston Trio, et.al.) and we spent some time discussing our favorites. The name of the Womenfolk (which would be taboo nowadays) came up and we were shocked that we both were not only familiar with this obscure folk singing group, but that we both were big fans of their amazing harmonies. I often think of Barry with fondness when I pick up a certain book that I know he liked or play a Limeliters or Womenfolk album.
At the 2019 Bouchercon in Dallas, where Barry was honored as a Dallas native and super mystery fan/reviewer, I was shocked and surprised to receive an award from the Dallas Fire Department for keeping the memory of Barry Gardner alive. I will always treasure it.