I found this list too top-heavy with Domestic Suspense/ Psychological Suspense. If that is your preferred sub-genre' of mystery, you should be in 7th heaven.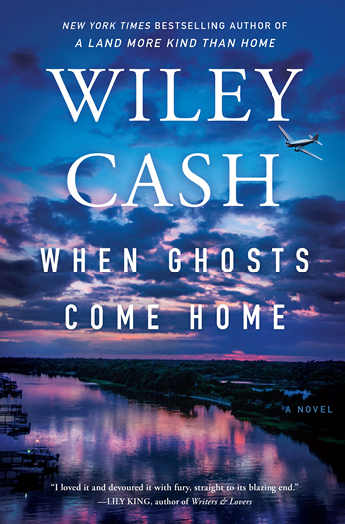 WHEN GHOSTS COME HOME, Wiley Cash ($28.99). When the roar of a low-flying plane awakens him in the middle of the night, Sheriff Winston Barnes knows something strange is happening at the nearby airfield on the coast of North Carolina. But nothing can prepare him for what he finds: a large airplane has crash-landed and is now sitting sideways on the runway, and there are no signs of a pilot or cargo. When the body of a local man is discovered—shot dead and lying on the grass near the crash site—Winston begins a murder investigation that will change the course of his life and the fate of the community that he has sworn to protect.
Everyone is a suspect, including the dead man. As rumors and accusations fly, long-simmering racial tensions explode overnight, and Winston, whose own tragic past has followed him like a ghost, must do his duty while facing the painful repercussions of old decisions. Winston also knows that his days as sheriff may be numbered. He's up for re-election against a corrupt and well-connected challenger, and his deputies are choosing sides. As if these events weren't troubling enough, he must finally confront his daughter Colleen, who has come home grieving a shattering loss she cannot fully articulate. Booklist Starred Review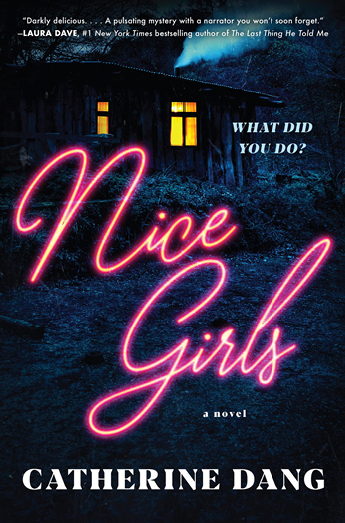 NICE GIRLS, Catherine Dang ($27.99). What did you do? Mary used to be such a nice girl. She was the resident whiz kid of Liberty Lake, Minnesota—the quiet, chubby teen with the scholarship to an Ivy League school. But three years later, "Ivy League Mary" is back—a thinner, cynical, restless failure who was kicked out of Cor-nell at the beginning of her senior year and won't tell anyone why. Taking a job at the local grocery store, Mary tries to make sense of her life's sharp downward spiral.
Then beautiful, magnetic Olivia Willand goes missing. A rising social media star, Olivia is admired by everyone in Liberty Lake—except Mary. Once Olivia's best friend, Mary knows better than anyone that behind the Instagram persona hides a willful, manipulative girl with sharp edges. As the town obsesses over perfect, lovely Olivia, Mary wonders if her disappearance might be tied to another missing person: nineteen-year-old DeMaria Jackson, whose case has been widely dismissed as a runaway.
Who is the real Olivia Willand, and where did she go? What happened to DeMaria? As Mary pries at the cracks in the careful facades surrounding the two missing girls, old wounds will bleed fresh and force her to confront a horrible truth. Maybe there are no nice girls, after all.
THE NIGHT SHE DISAPPEARED, Lisa Jewell ($28.00). On a beautiful summer night in a charming English suburb, a young woman and her boyfriend disappear after partying at the massive country estate of a new college friend.
One year later, a writer moves into a cottage on the edge of the woods that border the same estate. Known locally as the Dark Place, the dense forest is the writer's favorite area for long walks and it's on one such walk that she stumbles upon a mysterious note that simply reads, "DIG HERE."
Could this be a clue towards what has happened to the missing young couple? And what exactly is buried in this haunted ground?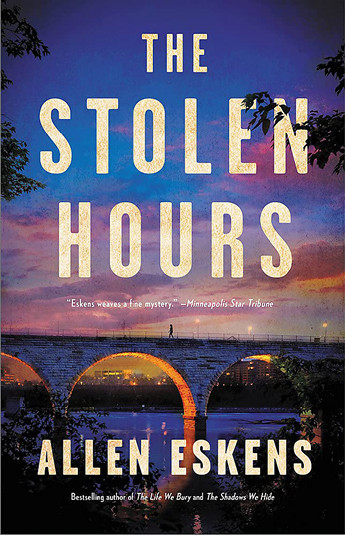 THE STOLEN HOURS, Allen Eskens ($28.00). Lila Nash is on the verge of landing her dream job—working as a prosecutor under the Hennepin County Attorney—and has settled into a happy life with her boyfriend, Joe Talbert. But when a woman is pulled from the Mississippi River, barely alive, things in the office take a personal turn.
The police believe the woman's assailant is local photographer Gavin Spenser, but the case quickly flounders as the evidence wears thin. It seems Gavin saw this investigation coming—and no one can imagine how carefully he has prepared.
The more determined Lila is to put Gavin behind bars, the more elusive justice becomes. Battling a vindictive new boss and haunted by the ghosts of her own unspeakable attack, which she's kept a dark secret for eight long years, Lila knows the clock is ticking down. In a race against an evil mastermind, it will take everything Lila's got to outsmart a killer—and to escape the dark hold of her own past. Kirkus Starred Review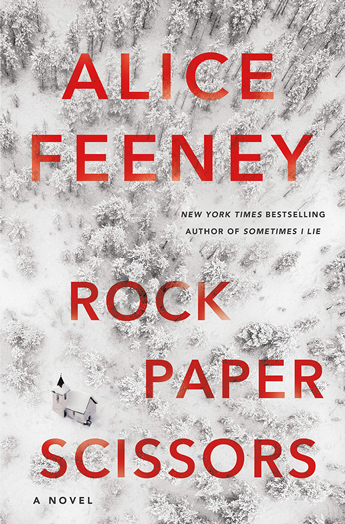 ROCK PAPER SCISSORS, Alice Feeney ($27.99). Things have been wrong with Mr and Mrs Wright for a long time. When Adam and Amelia win a weekend away to Scotland, it might be just what their marriage needs. Self-confessed workaholic and screenwriter Adam Wright has lived with face blindness his whole life. He can't recognize friends or family, or even his own wife.
Every anniversary the couple exchange traditional gifts–paper, cotton, pottery, tin–and each year Adam's wife writes him a letter that she never lets him read. Until now. They both know this weekend will make or break their marriage, but they didn't randomly win this trip. One of them is lying, and someone doesn't want them to live happily ever after.
Ten years of marriage. Ten years of secrets. And an anniversary they will never forget.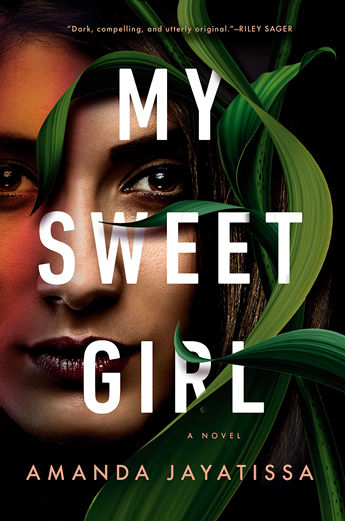 MY SWEET GIRL, Amanda Jayatissa ($26.00). Ever since she was adopted from a Sri Lankan orphanage, Paloma has had the best of everything—schools, money, and parents so perfect that she fears she'll never live up to them.
Now at thirty years old and recently cut off from her parents' funds, she decides to sublet the second bedroom of her overpriced San Francisco apartment to Arun, who recently moved from India. Paloma has to admit, it feels good helping someone find their way in America—that is until Arun discovers Paloma's darkest secret, one that could jeopardize her own fragile place in this country.
Before Paloma can pay Arun off, she finds him face down in a pool of blood. She flees the apartment but by the time the police arrive, there's no body—and no evidence that Arun ever even existed in the first place.
Paloma is terrified this is all somehow tangled up in the desperate actions she took to escape Sri Lanka so many years ago. Did Paloma's secret die with Arun or is she now in greater danger than ever before?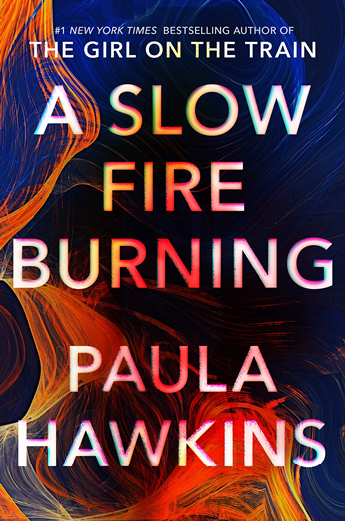 A SLOW FIRE BURNING, Paula Hawkins ($28.00). When a young man is found gruesomely murdered in a London houseboat, it triggers questions about three women who knew him. Laura is the troubled one-night-stand last seen in the victim's home. Carla is his grief-stricken aunt, already mourning the recent death of yet another family member. And Miriam is the nosy neighbor clearly keeping secrets from the police. Three women with separate connections to the victim. Three women who are – for different reasons – simmering with resentment. Who are, whether they know it or not, burning to right the wrongs done to them. When it comes to revenge, even good people might be capable of terrible deeds. How far might any one of them go to find peace? How long can secrets smolder before they explode into flame?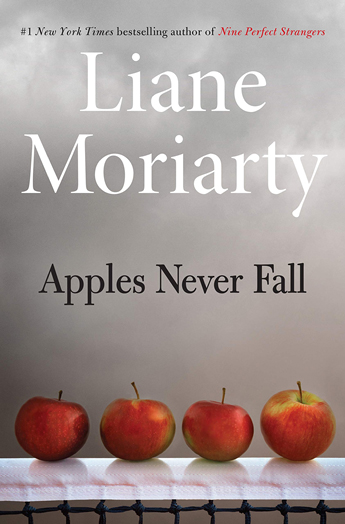 APPLES NEVER FALL, Liane Moriarty (28.99). f your mother was missing, would you tell the police? Even if the most obvious suspect was your father? This is the dilemma facing the four grown Delaney siblings.
The Delaneys are fixtures in their community. The parents, Stan and Joy, are the envy of all of their friends. They're killers on the tennis court, and off it their chemistry is palpable. But after fifty years of marriage, they've finally sold their famed tennis academy and are ready to start what should be the golden years of their lives. So why are Stan and Joy so miserable?
The four Delaney children – Amy, Logan, Troy, and Brooke – were tennis stars in their own right, yet as their father will tell you, none of them had what it took to go all the way. But that's okay, now that they're all successful grown-ups and there is the wonderful possibility of grandchildren on the horizon.
One night a stranger named Savannah knocks on Stan and Joy's door, bleeding after a fight with her boyfriend. The Delaneys are more than happy to give her the small kindness she sorely needs. If only that was all she wanted.
Later, when Joy goes missing, and Savannah is nowhere to be found, the police question the one person who remains: Stan. But for someone who claims to be innocent, he, like many spouses, seems to have a lot to hide. Two of the Delaney children think their father is innocent, two are not so sure – but as the two sides square off against each other in perhaps their biggest match ever, all of the Delaneys will start to reexamine their shared family history in a very new light. Kirkus Starred Review, Booklist Starred Review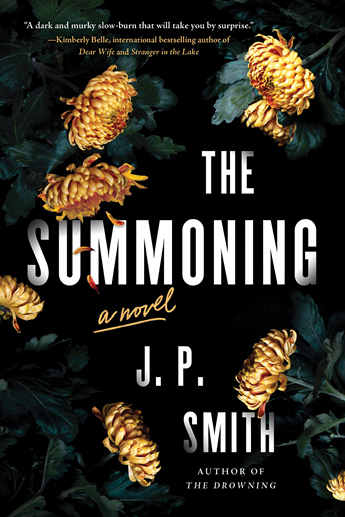 THE SUMMONING, J. P. Smith ($16.99). When it comes to contacting the dead, it's easy to go a step too far.
Every year, as the anniversary of 9/11 inches closer on the calendar, Kit Capriol scans the memorials published in the New York Times. It's a simple thing to look up a name and phone number, to reach out to surviving family members who might still be yearning for connection with their lost loved one…to offer assistance. After her husband went down in the North Tower, Kit scraped by as an actress, barely supporting herself and her daughter. But now Zoey is in the hospital, bills are due, and the acting work has dried up. Becoming a medium is almost too easy for someone used to pretending for a living?and desperate clients aren't hard to come by.
Now, though, something has changed. The seances Kit holds in her apartment are starting to feel unsettlingly real, and the intriguing man she met at a local bar could be more complicated than he seems. As the voices of the dead grow louder in her head and the walls of her apartment close in, Kit realizes that despite her daughter's absence, she hasn't been quite as alone as she thought. Publishers Weekly Starred Review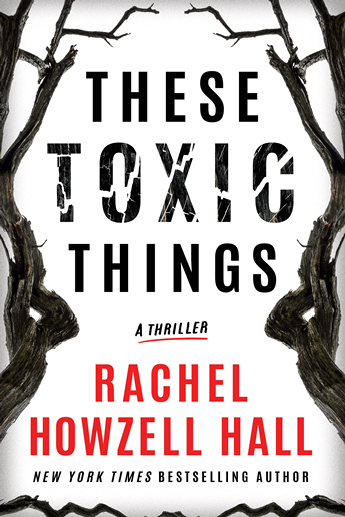 THESE TOXIC THINGS, Rachel Howzell Hall ($24.95). Mickie Lambert creates "digital scrapbooks" for clients, ensuring that precious souvenirs aren't forgotten or lost. When her latest client, Nadia Denham, a curio shop owner, dies from an apparent suicide, Mickie honors the old woman's last wish and begins curating her peculiar objets d'art. A music box, a hair clip, a key chain?twelve mementos in all that must have meant so much to Nadia, who collected them on her flea market scavenges across the country.
But these tokens mean a lot to someone else, too. Mickie has been receiving threatening messages to leave Nadia's past alone.
It's becoming a mystery Mickie is driven to solve. Who once owned these odd treasures? How did Nadia really come to possess them? Discovering the truth means crossing paths with a long-dormant serial killer and navigating the secrets of a sinister past. One that might, Mickie fears, be inescapably entwined with her own. Booklist Starred Review, Publishers Weekly Starred Review
THE NECKLACE, Matt Witten ($26.95). Susan Lentigo's daughter was murdered twenty years ago—and now, at long last, this small-town waitress sets out on a road trip all the way from Upstate New York to North Dakota to witness the killer's execution.
On her journey she discovers shocking new evidence that leads her to suspect the condemned man is innocent—and the real killer is still free. Even worse, her prime suspect has a young daughter who's at terrible risk. With no money and no time to spare, Susan sets out to uncover the truth before an innocent man gets executed and another little girl is killed.
But the FBI refuses to reopen the case. They—and Susan's own mother—believe she's just having an emotional breakdown. Reaching deep, Susan finds an inner strength she never knew she had. With the help of two unlikely allies—a cynical, defiant teenage girl and the retired cop who made the original arrest—Susan battles the FBI to put the real killer behind bars. Will she win justice for the condemned man—and her daughter—at last?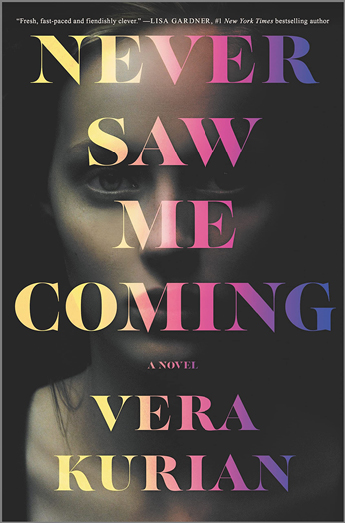 NEVER SAW ME COMING, Vera Kurian ($27.99). You should never trust a psychopath. But what if you had no choice?
It would be easy to underestimate Chloe Sevre… She's a freshman honor student, a legging-wearing hot girl next door, who also happens to be a psychopath. She spends her time on yogalates, frat parties and plotting to kill Will Bachman, a childhood friend who grievously wronged her.
Chloe is one of seven students at her DC-based college who are part of an unusual clinical study of psychopaths—students like herself who lack empathy and can't comprehend emotions like fear or guilt. The study, led by a renowned psychologist, requires them to wear smart watches that track their moods and movements.
When one of the students in the study is found murdered in the psychology building, a dangerous game of cat and mouse begins, and Chloe goes from hunter to prey. As she races to identify the killer and put her own plan for revenge into action, she'll be forced to decide if she can trust any of her fellow psychopaths—and everybody knows you should never trust a psychopath. Booklist Starred Review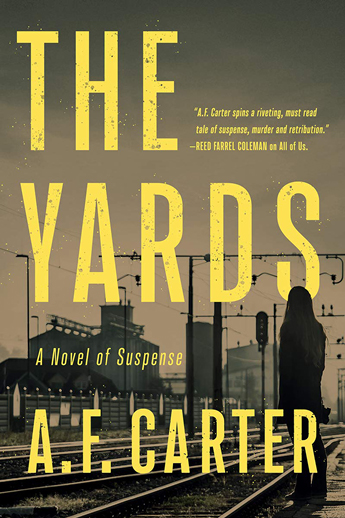 THE YARDS, A. F. Carter ($25.95). Git O'Rourke is from the wrong side of the tracks—even if, in the depressed Rust Belt town of Baxter, it's not always clear where that designation begins. A single mother, she works hard to support her daughter Charlie, but still finds time to cut loose every once in a while, to go to a local bar, drink martinis and find a companion for the night. Which is exactly how she ends up in a hotel room with a strange man passed out on heroin, and how she comes to possess the bag of money and guns that he left open as he got his fix.
When the dead body is discovered at the Skyview Motor Court, a bullet through its forehead, officer Delia Mariola is one of the first on the scene. She recognizes the victim as the perpetrator in an earlier crime—a domestic violence call—but that does little to explain how he ended up in the situation in which they find him. She knows he's connected to the local mob, but the crime scene doesn't exactly resemble their typical hit. Instead, all signs point to a pick-up gone wrong. Which means that all signs point to Git.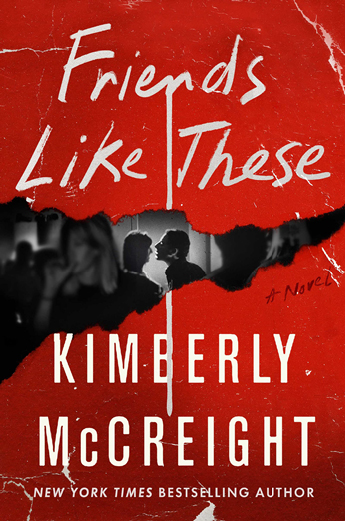 FRIENDS LIKE THESE, Kimberly McCreight (27.99). Everyone has those friends. Doesn't matter how long it's been, or how badly they've occasionally behaved, or how late it is when that call finally comes—you show up. No questions asked.
Honestly, that's how the five of us ended up here in the Catskills. We did have the best of intentions. Especially after what happened to Alice all those years ago, we can't bear to think of losing anyone else. In fact, we'll do anything to make sure that doesn't happen. We'll go so much farther than we ever thought we would.
In the end, maybe that's what caught up with us. That, and the fact that we're such a complicated group—so much history and so many big personalities. Secrets, too, that can slip out at the most inopportune moments. Of course, we love each other despite all of those things. We love each other no matter what.
There's something so beautiful about that kind of unconditional love. It can turn ugly, though. Or maybe that's just us. After all, we've already been through so much together. And we have so very much to hide.