In an ordinary year the winners of the Barry Awards would be announced during the Opening Ceremonies of Bouchercon at the end of August, 2021. But this year is no ordinary one and the recent flare-up of Covid cases due to the Delta Variant has caused Bouchercon to be cancelled. Hence, I see no reason to delay the announcement of the Barry Award winners.
As always, we are greatly indebted to the expertise and reading of our Barry Award nominating committees. So I say a heartfelt "thank you" to you all (see list at end of this post). The process is an enjoyable one as we discuss our favorite reads of the year and come to some consensus. We all have "favorites" that don't win and that is perfectly o.k. We hope that the nominees that don't win also feel a certain pride in making a Barry Award shortlist.
And thank you, our readers, for your Barry Award votes. You are the ones that choose the winners and you do a bang-up job every year!
Congratulations to all of the winners for writing such wonderful novels. You make our lives so much richer by the experience of reading your excellent writings.
Best Novel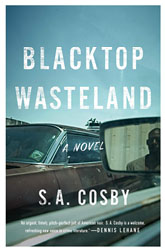 BLACKTOP WASTELAND, S. A. Cosby (Flatiron Books) – Winner
Shawn Cosby sent this message: "I'm so honored to have won this award. Growing up in Virginia I never thought my dreams would become reality. I never thought my stories would find an audience. The Barry is confirmation that people get my work and for that I am immensely, humbly grateful. Writing is the one thing I truly believe unites us across the ocean and around the world. Thank you so so much."
Other Nominees
THE BOY FROM THE WOODS, Harlan Coben (Grand Central)
THE LAW OF INNOCENCE, Michael Connelly (Little, Brown)
AND NOW SHE'S GONE, Rachel Howzell Hall (Forge)
MOONFLOWER MURDERS, Anthony Horowitz (Harper)
ALL THE DEVILS ARE HERE, Louise Penny (Minotaur)
Best First Novel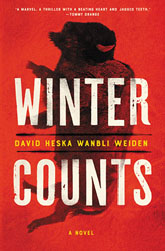 WINTER COUNTS, David Heska Wanbli Weiden (Ecco) – Winner
David sent this missive: "I'm deeply honored to have won the Barry Award for Best First Novel. This means so much to me because the editors, writers, and readers of Deadly Pleasures Mystery Magazine are among the most knowledgeable and dedicated in the business. My sincere thanks to George Easter, Larry Gandle, and the contributors to Deadly Pleasures, as well as every single person who read and enjoyed WINTER COUNTS. Wopila! "
Other Nominees
DEEP STATE, Chris Hauty (Atria/Emily Bester)
MURDER IN OLD BOMBAY by Nev March (MInotaur)
THE THURSDAY MURDER CLUB, Richard Osman (Viking\Pamela Dorman)
THE EIGHTH DETECTIVE, Alex Pavesi (Henry Holt)
DARLING ROSE GOLD, Stephanie Wrobel (Berkley)
Best Paperback Original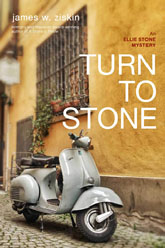 TURN TO STONE, James W. Ziskin (Seventh Street Books) – Winner
Jim is likewise grateful: "I want to express my heartfelt thanks to George Easter, the Deadly Pleasures crew, and the readers for this award. I am surprised, humbled, and so very honored to receive the Barry Award.
I'd also like to congratulate my fellow nominees, Alyssa Cole, Jake Needham, Jason Pinter, James Swain, and Emma Viskic. Such talented and accomplished writers, all of whom I admire. I was proud to see my name listed alongside yours.
Finally, thanks to my editor, Dan Mayer, for his support over the past eight years and seven Ellie Stone books."
Other Nominees
WHEN NO ONE IS WATCHING, Alyssa Cole (Morrow)
MONGKOK STATION, Jake Needham (HP)
HIDE AWAY, Jason Pinter (Thomas & Mercer)
BAD NEWS TRAVELS FAST, James Swain (Thomas & Mercer)
DARKNESS FOR LIGHT, Emma Viskic (Pushkin Vertigo)
Best Thriller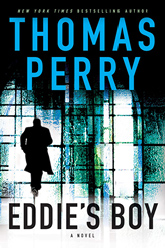 EDDIE'S BOY, Thomas Perry (Mysterious Press) – Winner
Tom sends this along: "I would like to send my sincere thanks to you and Deadly Pleasures Mystery Magazine for your many years of supporting and promoting mystery and thriller literature, and helping to foster a large, sophisticated, and well-informed readership. But today in particular I want you to know I'm grateful to you for selecting my novel EDDIE'S BOY for the Barry Award.  Nobody writes in the hope of being given awards, but when awards come along, they certainly inspire us to work harder, think of more ambitious projects, and try to get better at telling stories, because knowledgeable people are out there paying attention.  Thanks again.  This is a great way to end what's been a difficult period for us all."
Other Nominees
DOUBLE AGENT, Tom Bradby (Atlantic Monthly)
BLIND VIGIL, Matt Coyle (Oceanview)
ONE MINUTE OUT, Mark Greaney (Berkley)
THE LAST HUNT, Deon Meyer (Atlantic Monthly)
THE WILD ONE, Nick Petrie
---
---
Barry Award Nominating Committee Members
George Easter
Larry Gandle
Maggie Mason
Ali Karim
Kristopher Zgorski
Oline Cogdill
Kris Schorer
Jeff Popple
Mike Bursaw
Mike Dillman
Don Longmuir
Donus Roberts
Steele Curry