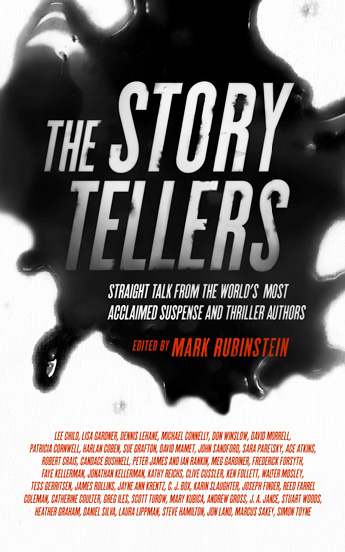 Every few years there comes along a collection of interviews with mystery writers that catches my attention. But there hasn't been such a collection for quite some time now. Along comes THE STORY TELLERS, edited by Mark Rubenstein (Blackstone, trade paperback, $16.99, published on July 20, 2021. It contains interviews by quite an impressive lineup of writers (see full list below).
Here are the press release talking points about the book:
"Have you ever read a suspense novel so good you had to stop and think to yourself, "How did the author come up with this idea? Their characters? Is some of this story real?" For over five years, Mark Rubinstein, physician, psychiatrist, and mystery and thriller writer, had the chance to ask the most well-known authors in the field just these kinds of questions in interviews for the Huffington Post.
"Collected here are interviews with forty-seven accomplished authors, including Michael Connelly, Ken Follett, Meg Gardiner, Dennis Lehane, Laura Lippman, and Don Winslow. These are their personal stories in their own words, much of the material never before published. How do these writers' life experiences color their art? Find out their thoughts, their inspirations, their candid opinions. Learn more about your favorite authors, how they work and who they truly are."
List of 47 Authors Interviewed:
Lee Child
Lisa Gardner
Dennis Lehane
Michael Connelly
Don Winslow
David Morrell
Patricia Cornwell
Harlan Coben
Sue Grafton
David Mamet
John Sandford
Sara Paretsky
Ace Atkins
Robert Crais
Candace Bushnell
Peter James
Ian Rankin
Meg Gardiner
Frederick Forsyth
Faye Kellerman
Jonathan Kellerman
Kathy Reichs
Clive Cussler
Ken Follett
Walter Mosley
Tess Gerritsen
James Rollins
Jayne Ann Krentz
C. J. Box
Karin Slaughter
Joseph Finder
Reed Farrel Coleman
Catherine Coulter
Greg Iles
Scott Turow
Mary Kubica
Andrew Gross
J. A. Jance
Stuart Woods
Heather Graham
Daniel Silva
Laura Lippman
Steve Hamilton
Jon Land
Markus Sakey
Simon Toyne