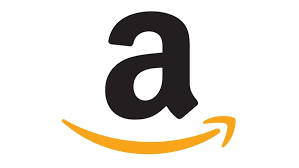 Why I post Amazon's Monthly "Best" Lists. My perception of amazon.com was not that of a site populated by knowledgeable booksellers, the kind you would find in a good independent bookstore. But I have changed my mind. Last year's Best Mystery List was very well put together and Larry Gandle and I are finding the same applies to Amazon's Best Mystery and Thriller Monthly Lists. And of course, you can always purchase these books from a favorite independent bookstore or bookseller – if that is what you prefer. This is NOT an attempt to promote amazon sales.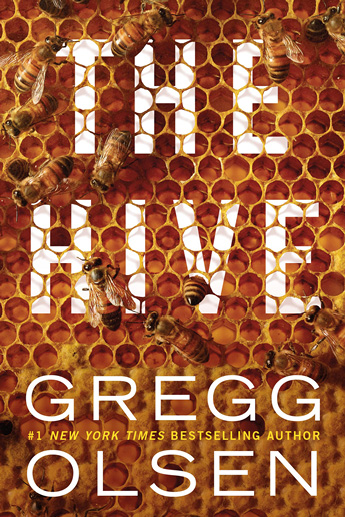 ---
THE HIVE, Gregg Olson (15.95). In the Pacific Northwest, detective Lindsay Jackman is investigating the murder of a young journalist found at the bottom of a ravine. Lindsay soon learns that the victim was writing an exposé. Her subject: a charismatic wellness guru who's pulled millions into her euphoric orbit…
---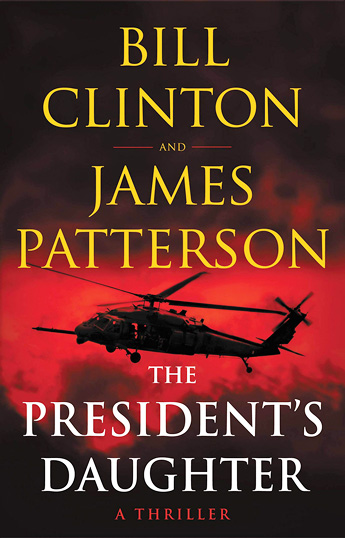 ---
THE PRESIDENT'S DAUGHTER, James Patterson & Bill Clinton (Little, Brown, $30.00).
Matthew Keating, a one-time Navy SEAL—and a past president—has always defended his family as staunchly as he has his country. Now those defenses are under attack. A madman abducts Keating's teenage daughter, Melanie—turning every parent's deepest fear into a matter of national security. As the world watches in real time, Keating embarks on a one-man special-ops mission that tests his strengths: as a leader, a warrior, and a father.
---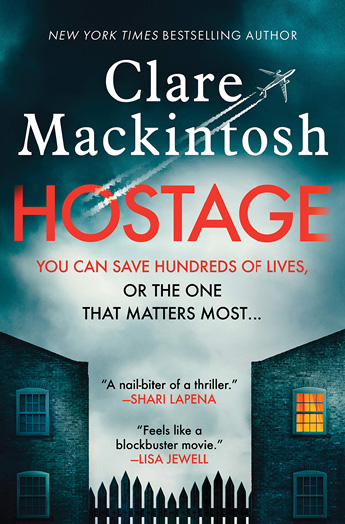 ---
HOSTAGE, Clare Mackintosh (SourcebooksLandmark, $26.99). A claustrophobic thriller set over 20 hours on-board the inaugural nonstop flight from London to Sydney. Mina is trying to focus on her job as a flight attendant, not the problems with her five-year-old daughter back home, or the fissures in her marriage. But the plane has barely taken off when Mina receives a chilling note from an anonymous passenger, someone intent on ensuring the plane never reaches its destination: "The following instructions will save your daughter's life…" Someone needs Mina's assistance and knows exactly how to make her comply. When one passenger is killed and then another, Mina knows she must act. But which lives does she save: Her passengers…or her own daughter and husband who are in grave distress back at home? Publishers' Weekly Starred Review
---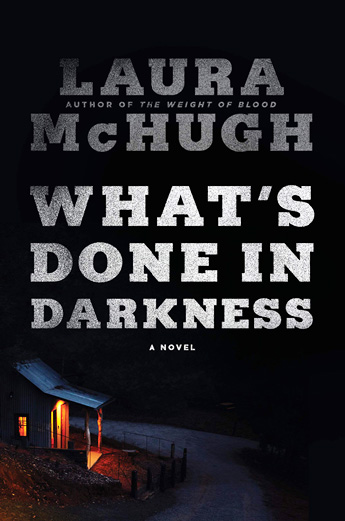 ---
WHAT'S DONE IN DARKNESS, Laura McHugh (Random House, $27.00). Seventeen-year-old Sarabeth has become increasingly rebellious since her parents found God and moved their family to a remote Arkansas farmstead where she's forced to wear long dresses, follow strict rules, and grow her hair down to her waist. She's all but given up on escaping the farm when a masked man appears one stifling summer morning and snatches her out of the cornfield. A week after her abduction, she's found alongside a highway in a bloodstained dress—alive—but her family treats her like she's tainted, and there's little hope of finding her captor, who kept Sarabeth blindfolded in the dark the entire time, never uttering a word.
---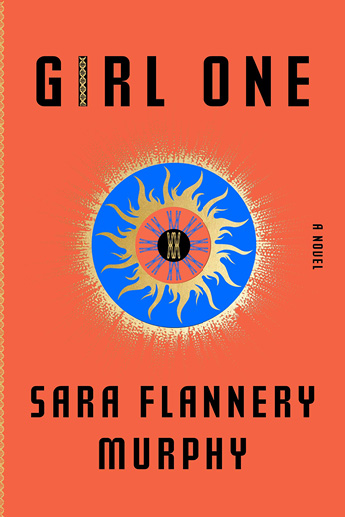 ---
GIRL ONE, Sara Flannery Murphy (MCD, $27.00). Josephine Morrow is Girl One, the first of nine "Miracle Babies" conceived without male DNA, raised on an experimental commune known as the Homestead. When a suspicious fire destroys the commune and claims the lives of two of the Homesteaders, the remaining Girls and their Mothers scatter across the United States and lose touch. Years later, Margaret Morrow goes missing, and Josie sets off on a desperate road trip, tracking down her estranged sisters who seem to hold the keys to her mother's disappearance.
---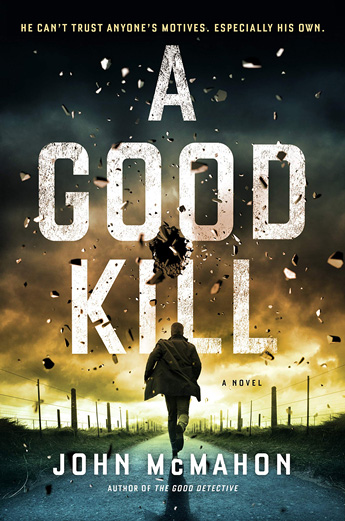 ---
A GOOD KILL, John McMahon (Putnam, $27.00). In the years since the mysterious deaths of his wife and child, P.T. Marsh, a police detective in the small Georgia town of Mason Falls, has faced demons–both professional and personal. But when he is called to the scene of a school shooting, the professional and personal become intertwined, and he suspects that whoever is behind the crime may be connected to his own family tragedy. Publishers' Weekly Starred Review
---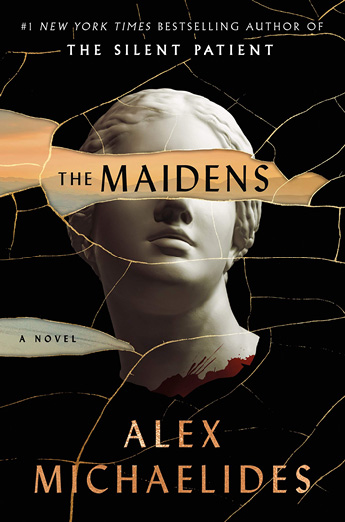 ---
THE MAIDENS, Alex Michaelidis (Celadon, $27.99). Edward Fosca is a murderer. Of this Mariana is certain. But Fosca is untouchable. A handsome and charismatic Greek tragedy professor at Cambridge University, Fosca is adored by staff and students alike—particularly by the members of a secret society of female students known as The Maidens. Mariana Andros is a brilliant but troubled group therapist who becomes fixated on The Maidens when one member, a friend of Mariana's niece Zoe, is found murdered in Cambridge. Publishers' Weekly Starred Review, Booklist Starred Review
---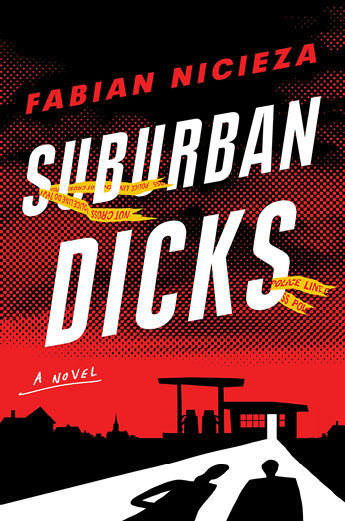 ---
SUBURBAN DICKS by Fabian Nicieza (Putnam, $27.00). Andie Stern thought she'd solved her final homicide. Once a budding FBI profiler, she gave up her career to raise her four (soon to be five) children in West Windsor, New Jersey. But one day, between soccer games, recitals, and trips to the local pool, a very pregnant Andie pulls into a gas station–and stumbles across a murder scene. An attendant has been killed, and the bumbling local cops are in way over their heads. Suddenly, Andie is obsessed with the case, and back on the trail of a killer, this time with kids in tow. She soon crosses paths with disgraced local journalist Kenneth Lee, who also has everything to prove in solving the case. A string of unusual occurrences–and, eventually, body parts–surface around town, and Andie and Kenneth uncover simmering racial tensions and a decades-old conspiracy. Kirkus Starred Review, Publishers' Weekly Starred Review
---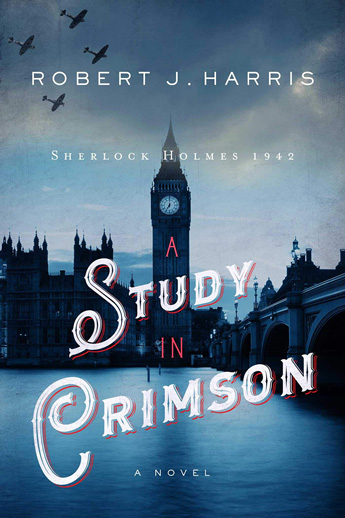 ---
A STUDY IN CRIMSON: Sherlock Holmes 1942 (Pegasus, $25.95). London, 1942. A killer going by the name of "Crimson Jack" is stalking the wartime streets of London, murdering women on the exact dates of the infamous Jack the Ripper killings of 1888. Has the Ripper somehow returned from the grave? Is the self-styled Crimson Jack a descendant of the original Jack—or merely a madman obsessed with those notorious killings? In desperation Scotland Yard turn to Sherlock Holmes, the world's greatest detective. Publishers' Weekly Starred Review
---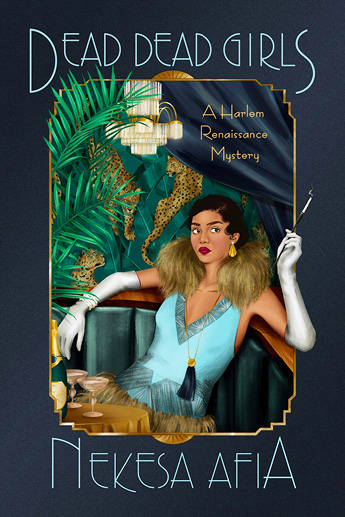 ---
DEAD DEAD GIRLS, Nekesa Afia (Berkley, $16.00). Harlem, 1926. Young Black women like Louise Lloyd are ending up dead. Following a harrowing kidnapping ordeal when she was in her teens, Louise is doing everything she can to maintain a normal life. She's succeeding, too. She spends her days working at Maggie's Café and her nights at the Zodiac, Harlem's hottest speakeasy. Louise's friends, especially her girlfriend, Rosa Maria Moreno, might say she's running from her past and the notoriety that still stalks her, but don't tell her that. When a girl turns up dead in front of the café, Louise is forced to confront something she's been trying to ignore—two other local Black girls have been murdered in the past few weeks.
---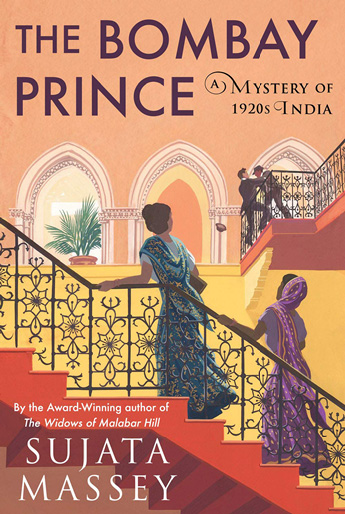 ---
THE BOMBAY PRINCE, Sujata Massey (Soho Crime, $27.95). November 1921. Edward VIII, Prince of Wales and future ruler of India, is arriving in Bombay to begin a four-month tour. The Indian subcontinent is chafing under British rule, and Bombay solicitor Perveen Mistry isn't surprised when local unrest over the royal arrival spirals into riots. But she's horrified by the death of Freny Cuttingmaster, an eighteen-year-old female Parsi student, who falls from a second-floor gallery just as the prince's grand procession is passing by her college. Freny had come for a legal consultation just days before her death, and what she confided makes Perveen suspicious that her death was not an accident. Publishers' Weekly Starred Review
---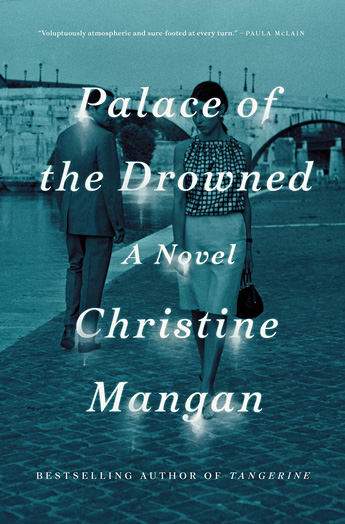 ---
PALACE OF THE DROWNED, Christine Mangan (Flatiron, $27.99). It's 1966 and Frankie Croy retreats to her friend's vacant palazzo in Venice. Years have passed since the initial success of Frankie's debut novel and she has spent her career trying to live up to the expectations. Now, after a particularly scathing review of her most recent work, alongside a very public breakdown, she needs to recharge and get re-inspired. Then Gilly appears. A precocious young admirer eager to make friends, Gilly seems determined to insinuate herself into Frankie's solitary life. But there's something about the young woman that gives Frankie pause. How much of what Gilly tells her is the truth? As a series of lies and revelations emerge, the lives of these two women will be tragically altered as the catastrophic 1966 flooding of Venice ravages the city.
---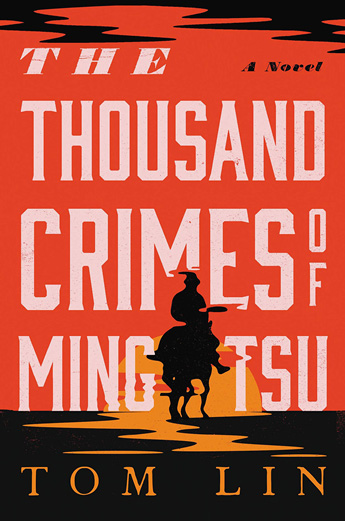 ---
THE THOUSAND CRIMES OF MING TSU, Tom Lin (Little, Brown, $28.00). Orphaned young, Ming Tsu, the son of Chinese immigrants, is raised by the notorious leader of a California crime syndicate, who trains him to be his deadly enforcer. But when Ming falls in love with Ada, the daughter of a powerful railroad magnate, and the two elope, he seizes the opportunity to escape to a different life. Soon after, in a violent raid, the tycoon's henchmen kidnap Ada and conscript Ming into service for the Central Pacific Railroad. Battered, heartbroken, and yet defiant, Ming partners with a blind clairvoyant known only as the prophet. Together the two set out to rescue his wife and to exact revenge on the men who destroyed Ming, aided by a troupe of magic-show performers, some with supernatural powers, whom they meet on the journey. Booklist Starred Review
---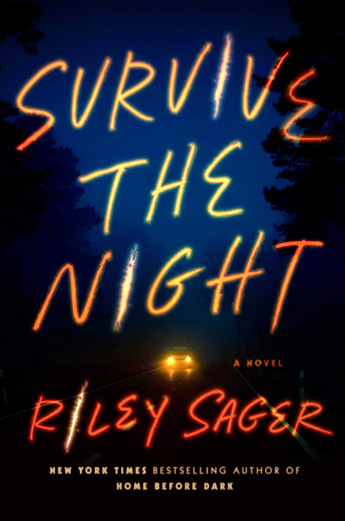 ---
SURVIVE THE NIGHT, Riley Sager (Dutton, $27.00). It's November 1991. Nirvana's in the tape deck, George H. W. Bush is in the White House, and movie-obsessed college student Charlie Jordan is in a car with a man who might be a serial killer. Josh Baxter, the man behind the wheel, is a virtual stranger to Charlie. They met at the campus ride board, each looking to share the long drive home to Ohio. Both have good reasons for wanting to get away. For Charlie, it's guilt and grief over the shocking murder of her best friend, who became the third victim of the man known as the Campus Killer. For Josh, it's to help care for his sick father—or so he says. Publishers' Weekly Starred Review