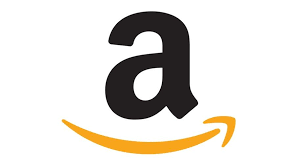 Why I post Amazon's Monthly "Best" Lists. My perception of amazon.com was not that of a site populated by knowledgeable booksellers, the kind you would find in a good independent bookstore. But I have changed my mind. Last year's Best Mystery List was very well put together and Larry Gandle and I are finding the same applies to Amazon's Best Mystery and Thriller Monthly Lists. And of course, you can always purchase these books from a favorite independent bookstore or bookseller – if that is what you prefer. This is NOT an attempt to promote amazon sales.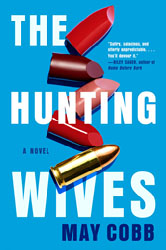 THE HUNTING WIVES, May Cobb (Berkley, $26.00). Sophie O'Neill left behind an envy-inspiring career and the stressful, competitive life of big-city Chicago to settle down with her husband and young son in a small Texas town. It seems like the perfect life with a beautiful home in an idyllic rural community. But Sophie soon realizes that life is now too quiet, and she's feeling bored and restless. Then she meets Margot Banks, an alluring socialite who is part of an elite clique secretly known as the Hunting Wives. Sophie finds herself completely drawn to Margot and swept into her mysterious world of late-night target practice and dangerous partying. As Sophie's curiosity gives way to full-blown obsession, she slips farther away from the safety of her family and deeper into this nest of vipers. PW starred review.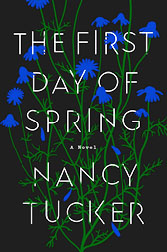 THE FIRST DAY OF SPRING, Nancy Tucker (Riverhead, $27.00). Chrissie is eight and she has a secret: she has just killed a boy. The feeling made her belly fizz like soda pop. Her playmates are tearful and their mothers are terrified, keeping them locked indoors. But Chrissie rules the roost — she's the best at wall-walking, she knows how to get free candy, and now she has a feeling of power that she never gets at home, where food is scarce and attention scarcer.
Twenty years later, adult Chrissie is living in hiding under a changed name. A single mother, all she wants is for her daughter to have the childhood she herself was denied. That's why the threatening phone calls are so terrifying. People are looking for them, the past is catching up, and Chrissie fears losing the only thing in this world she cares about, her child. PW starred review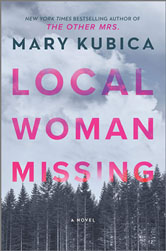 LOCAL WOMAN MISSING, Mary Kubica (Park Row, $27.99). Shelby Tebow is the first to go missing. Not long after, Meredith Dickey and her six-year-old daughter, Delilah, vanish just blocks away from where Shelby was last seen, striking fear into their once-peaceful community. Are these incidents connected? After an elusive search that yields more questions than answers, the case eventually goes cold. Now, eleven years later, Delilah shockingly returns. Everyone wants to know what happened to her, but no one is prepared for what they'll find.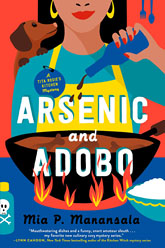 ARSENIC AND ADOBO, Mia P. Manansala (Berkley, $16.00). When Lila Macapagal moves back home to recover from a horrible breakup, her life seems to be following all the typical rom-com tropes. She's tasked with saving her Tita Rosie's failing restaurant, and she has to deal with a group of matchmaking aunties who shower her with love and judgment. But when a notoriously nasty food critic (who happens to be her ex-boyfriend) drops dead moments after a confrontation with Lila, her life quickly swerves from a Nora Ephron romp to an Agatha Christie case. LJ starred review, PW starred review, BL starred review.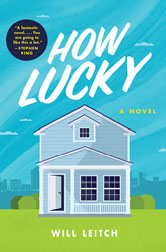 HOW LUCKY, Will Leitch (Harper, $25.99). Daniel leads a rich life in the university town of Athens, Georgia. He's got a couple close friends, a steady paycheck working for a regional airline, and of course, for a few glorious days each Fall, college football tailgates. He considers himself to be a mostly lucky guy—despite the fact that he's suffered from a debilitating disease since he was a small child, one that has left him unable to speak or to move without a wheelchair.
Largely confined to his home, Daniel spends the hours he's not online communicating with irate air travelers observing his neighborhood from his front porch. One young woman passes by so frequently that spotting her out the window has almost become part of his daily routine. Until the day he's almost sure he sees her being kidnapped. BL Starred review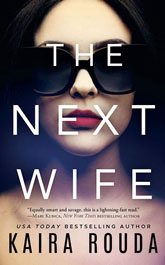 THE NEXT WIFE, Kaira Rouda (Thomas & Mercer, $15.95). Kate Nelson had it all. A flourishing company founded with her husband, John; a happy marriage; and a daughter, Ashlyn. The picture-perfect family. Until John left for another woman. Tish is half his age. Ambitious. She's cultivated a friendship with Ashlyn. Tish believes she's won. She's wrong.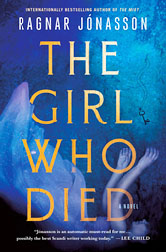 THE GIRL WHO DIED, Ragnar Jonasson (Minotaur, $27.99). Una wants nothing more than to teach, but she has been unable to secure steady employment in Reykjavík. Her savings are depleted, her love life is nonexistent, and she cannot face another winter staring at the four walls of her shabby apartment. Celebrating Christmas and ringing in 1986 in the remote fishing hamlet of Skálar seems like a small price to pay for a chance to earn some teaching credentials and get her life back on track. But Skálar isn't just one of Iceland's most isolated villages, it is home to just ten people. Una's only students are two girls aged seven and nine. Teaching them only occupies so many hours in a day and the few adults she interacts with are civil but distant. She only seems to connect with Thór, a man she shares an attraction with but who is determined to keep her at arm's length. As darkness descends throughout the bleak winter, Una finds herself more often than not in her rented attic space?the site of a local legendary haunting?drinking her loneliness away. She is plagued by nightmares of a little girl in a white dress singing a lullaby. And when a sudden tragedy echoes an event long buried in Skálar's past, the villagers become even more guarded, leaving a suspicious Una seeking to uncover a shocking truth that's been kept secret for generations.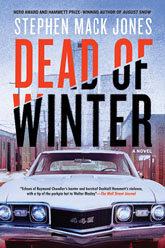 DEAD OF WINTER, Stephen Mack Jones (Soho Crime, $27.95). Detroit ex-cop and Mexicantown native August Snow has been invited for a business meeting at Authentico Foods. Its owner, Ronaldo Ochoa, is dying, and is being blackmailed into selling the company to an anonymous entity. Worried about his employees, Ochoa wants August to buy it. August has no interest in running a tortilla empire, but he does want to know who's threatening his neighborhood. Quickly, his investigation takes a devastating turn and he and his loved ones find themselves ensnared in a dangerous net of ruthless billionaire developers. BL starred review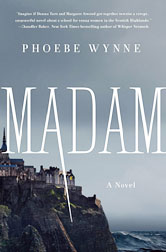 MADAM, Phoebe Wynne (St. Martin's, $27.99). For 150 years, high above rocky Scottish cliffs, Caldonbrae Hall has sat untouched, a beacon of excellence in an old ancestral castle. A boarding school for girls, it promises that the young women lucky enough to be admitted will emerge "resilient and ready to serve society." Into its illustrious midst steps Rose Christie: a 26-year-old Classics teacher, Caldonbrae's new head of the department, and the first hire for the school in over a decade. At first, Rose is overwhelmed to be invited into this institution, whose prestige is unrivaled. But she quickly discovers that behind the school's elitist veneer lies an impenetrable, starkly traditional culture that she struggles to reconcile with her modernist beliefs–not to mention her commitment to educating "girls for the future." It also doesn't take long for Rose to suspect that there's more to the secret circumstances surrounding the abrupt departure of her predecessor–a woman whose ghost lingers everywhere–than anyone is willing to let on.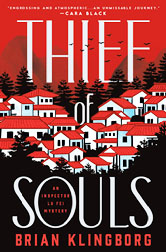 THIEF OF SOULS, Brian Klingborg (Minotaur, $27.99). Lu Fei is a graduate of China's top police college but he's been assigned to a sleepy backwater town in northern China, where almost nothing happens and the theft of a few chickens represents a major crime wave. That is until a young woman is found dead, her organs removed, and joss paper stuffed in her mouth. The CID in Beijing?headed by a rising political star?is on the case but in an increasingly authoritarian China, prosperity and political stability are far more important than solving the murder of an insignificant village girl. As such, the CID head is interested in pinning the crime on the first available suspect rather than wading into uncomfortable truths, leaving Lu Fei on his own. As Lu digs deeper into the gruesome murder, he finds himself facing old enemies and creating new ones in the form of local Communist Party bosses and corrupt business interests. Despite these rising obstacles, Lu remains determined to find the real killer, especially after he links the murder to other unsolved homicides.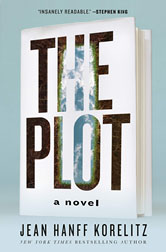 THE PLOT, Jean Hanff Korelitz (Celadon, $28.00). Jacob Finch Bonner was once a promising young novelist with a respectably published first book. Today, he's teaching in a third-rate MFA program and struggling to maintain what's left of his self-respect; he hasn't written?let alone published?anything decent in years. When Evan Parker, his most arrogant student, announces he doesn't need Jake's help because the plot of his book in progress is a sure thing, Jake is prepared to dismiss the boast as typical amateur narcissism. But then . . . he hears the plot. Jake returns to the downward trajectory of his own career and braces himself for the supernova publication of Evan Parker's first novel: but it never comes. When he discovers that his former student has died, presumably without ever completing his book, Jake does what any self-respecting writer would do with a story like that?a story that absolutely needs to be told. In a few short years, all of Evan Parker's predictions have come true, but Jake is the author enjoying the wave. He is wealthy, famous, praised and read all over the world. But at the height of his glorious new life, an e-mail arrives, the first salvo in a terrifying, anonymous campaign: You are a thief, it says. PW starred review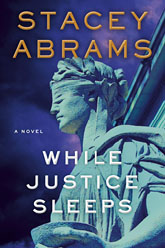 WHILE JUSTICE SLEEPS, Stacey Abrams (Doubleday, $28.00). Avery Keene, a brilliant young law clerk for the legendary Justice Howard Wynn, is doing her best to hold her life together—excelling in an arduous job with the court while also dealing with a troubled family. When the shocking news breaks that Justice Wynn—the cantankerous swing vote on many current high-profile cases—has slipped into a coma, Avery's life turns upside down. She is immediately notified that Justice Wynn has left instructions for her to serve as his legal guardian and power of attorney. Plunged into an explosive role she never anticipated, Avery finds that Justice Wynn had been secretly researching one of the most controversial cases before the court—a proposed merger between an American biotech company and an Indian genetics firm, which promises to unleash breathtaking results in the medical field. She also discovers that Wynn suspected a dangerously related conspiracy that infiltrates the highest power corridors of Washington. As political wrangling ensues in Washington to potentially replace the ailing judge whose life and survival Avery controls, she begins to unravel a carefully constructed, chesslike sequence of clues left behind by Wynn. She comes to see that Wynn had a much more personal stake in the controversial case and realizes his complex puzzle will lead her directly into harm's way in order to find the truth. BL starred review