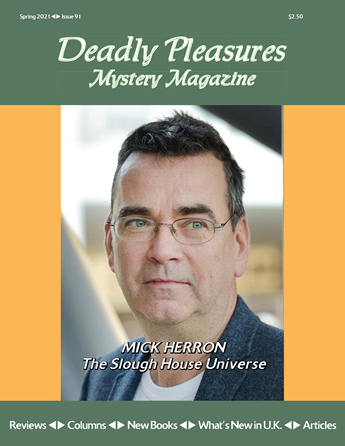 As you can tell, the cover article of DP #91 will be about Mick Herron and his Slow Horses series. I've put off reading this series because there were other DP reviewers reading and reviewing it. I knew I would like it when I got around to reading it and I do. Now I'm regretting my procrastination. (I did read two of the novellas in the series previously). I'm 4-1/2 books in and 2-1/2 books to go. The pandemic shutdown has given me the opportunity and I'm loving it. The article will contain not only reviews by me, but also by Kristopher Zgorski (who is reading the series for his blog — bolobooks), Larry Gandle and Jeff Popple. By the way, Larry has experienced a total conversion from disliking the series to really appreciating it. He says that the key to liking it is to get to know and understand the characters. I agree. That's what it took for me.
I would encourage all of you who haven't read this series to pick up a copy of SLOW HORSES, which is out in a special 10th Anniversary trade paperback edition from Soho Crime. This deluxe edition includes a foreword by the author, discussion questions for book clubs, and an exclusive short story featuring the slow horses. It is important that you read this series in order.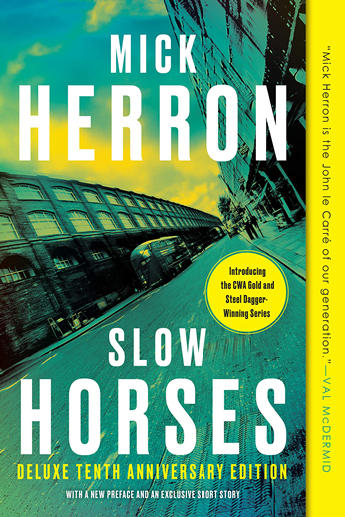 Even if you don't care for espionage fiction, I would recommend this series. There's not all that much espionage going on. It's about the fascinating characters and the entertaining humor. This is a series that every crime fiction aficionado worth his/her salt should read. Period.
To reiterate, the key to enjoying this series is to get all of the characters straight in your head. They come at you fast and furious in the first book. To help you, I'm giving you a shortened version of the complete character list that will appear in DP #91. Keep this Cast of Characters handy as you read the first book SLOW HORSES. Be patient — the first 1/4 of the book can be confusing. But stick with it and you will be rewarded.
SLOW HORSES Cast of Characters
At Slough House (where MI5 screw-ups and rejects are sent). Its residents are called "Slow Horses."
Jackson Lamb, the world's worst boss, was a noted Cold War spy, stationed principally in the Zoo (Berlin). Lamb is a chain-smoker who is overweight, slovenly irreverent, politically incorrect to the max, insulting, flatulent and dismissive. His only redeeming qualities seem to be a sly cunning, an impressive memory and a fierce protectiveness of his domain. Lamb is totally unpredictable and often makes deductions that rival Sherlock Holmes. Mick Herron admits that Jackson Lamb was inspired by Reginald Hill's Andy Dalziel.
"I look at Jackson Lamb and think: My God, did I write that? My mother reads this stuff!" – Mick Herron
All the residents of Slough House, when they first arrive at their new assignment, are initially suspected to be plants sent to spy on the Slow Horses for Diana Taverner (Regent's Park).
River Cartwright is young, white, fair haired with grey eyes and a mole on his upper lip. River crashed King's Cross at rush hour during a training exercise. Everyone thinks it was a colossal blunder, but River later discovers he was sabotaged by a rival. River's grandfather, David Cartwright ("OB") is a legend at MI5 so River is kept on out of respect to the retired spy.
Roderick Ho is a computer whiz and is socially obnoxious. Hacking skills – 99%, people skills – 1 %, but still better at people skills than Jackson Lamb. Sent to the Slow Horses not because he did anything wrong but because no one can stand to be around him. Ho exhibits some sociopathic tendencies and has an imaginary girlfriend named Kim. Self-awareness is not his strong suit.
Catherine Standish isan alcoholic who was former secretary to the head of MI5 (Charles Partner). She is the administrative force that keeps Slough House running. Catherine was not relegated to Slough House but came at a request from Jackson Lamb. She sees it as penance for past sins and her alcoholism, and soldiers on with quiet dignity and a deep sense of loneliness. Catherine is very perceptive and isn't cowed by Jackson Lamb.
Min Harper left a classified disk on a train. He is divorced with two children. He teams up with Louisa Guy.
Louisa Guy messed up surveillance of a small arms dealer. Guns got into the wrong hands. She is possibly the most competent of the Slow Horses. Min Harper and Louisa have an affair that is revealed in the second novel, DEAD LIONS.
Sid Baker, a young, attractive agent who is sent to the Slow Horses for murky reasons. She is injured in the line of duty (bullet to the head) and is spirited to parts unknown at the end of SLOW HORSES. She reappears in the seventh novel, SLOUGH HOUSE.
Jed Moody, former "dog," put out to pasture with the Slow Horses.
At Regent's Park (MI5 Headquarters)
Dame Ingrid Tearney, 1st Desk at MI5, She is a middle-aged woman with a squat body, who wears fashionable wigs. Adept at playing power games, she will not be easy prey for Lady Di who seeks to replace her.
Diana Tavener ("Lady Di") – 2nd Desk (Ops), this is one of five top positions that all report to the 1st Desk. Supremely ambitious, Lady Di raises scheming to an art form. She plays a major role in each book in the series. She and Jackson Lamb are in an eternal struggle to outwit each other. She directly supervises Slough House, the Hub (operations agents and analysts), the Dogs (internal police) and the Achievers (door breakers, nose breakers, boots on the ground).
James Webb ("Spider") – former friend to River Cartwright. It is later discovered he betrayed River Cartwright to gain professional advancement. He is not as smart as he thinks he is
Nick Duffy, head of the Dogs, MI5's internal investigative unit.
"The position was more akin to enforcer than executive, and the Dogs were kept on a pretty long leash, so Duffy's role basically meant that he could bite whoever he liked, and not expect more than a tap on the nose."
Molly Doran, keeper of the paper records (and secrets) in the basement archives. She is missing her legs and gets around in a wheelchair. Her mind and memory are impressive. She is the antithesis of the "Beast," the digitized databases of MI5.
Other Characters
Peter Judd – an unscrupulous, ambitious and amoral politician. By the third book he is Home Secretary (over MI5), who is very critical of Regents Park and bears them a grudge because they wouldn't hire him as a young man. His plans to take MI5 down a peg in REAL TIGERS goes awry, much to the delight of the Slow Horses.