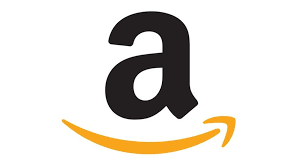 When Larry Gandle and I were looking around in December of last year for the "Best Mysteries of 2020″ lists we were both impressed by the list that amazon.com came up with. It was impressive and I have to admit that I was surprised. My perception of amazon.com is not that of a site populated by knowledgeable booksellers, the kind you would find in a good independent bookstore. But its Best of 2021 list proved me wrong.
Then Larry said that amazon.com puts out a monthly list of best mysteries, thrillers and suspense novels that he consults each month. It is not easy to find unless you know where to go. On the amazon homepage there is a black band of links under its masthead and directly underneath them there is a white band of links. On the white band, look for "Best Books of the Month." Click on that and then scroll down to "Best Books by Category" and click on "Mystery & Thrillers."
Here is what the "Editors" at amazon came up with. I'd say its is a good and diverse list. I will post these monthly lists from time to time so we can become better acquainted with new books coming out.
QUIET IN HER BONES by Nalini Singh
When socialite Nina Rai disappeared without a trace, everyone wrote it off as another trophy wife tired of her wealthy husband. But now her bones have turned up in the shadowed green of the forest that surrounds her elite neighborhood, a haven of privilege and secrets that's housed the same influential families for decades.
BLOOD GROVE by Walter Mosley – an Easy Rawlins mystery – to be reviewed in next issue
It is 1969, and flames can be seen on the horizon, protest wafts like smoke though the thick air, and Easy Rawlins, the Black private detective whose small agency finally has its own office, gets a visit from a white Vietnam veteran. The young man comes to Easy with a story that makes little sense. He and his lover, a beautiful young woman, were attacked in a citrus grove at the city's outskirts. He may have killed a man, and the woman is now missing. Inclined to turn down what sounds like nothing but trouble, Easy takes the case when he realizes how damaged the young vet is from his war experiences—the bond between veterans superseding all other considerations.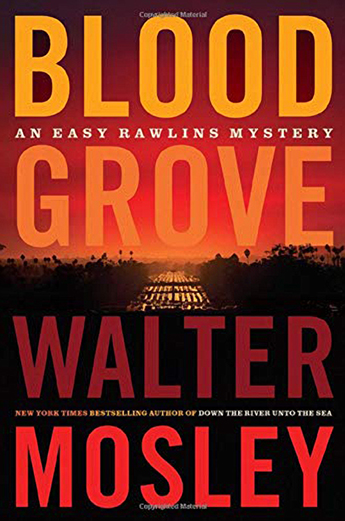 THE UNWILLING by John Hart
Gibby's older brothers have already been to war. One died there. The other came back misunderstood and hard, a decorated killer now freshly released from a three-year stint in prison.
Jason won't speak of the war or of his time behind bars, but he wants a relationship with the younger brother he hasn't known for years. Determined to make that connection, he coaxes Gibby into a day at the lake: long hours of sunshine and whisky and older women.
But the day turns ugly when the four encounter a prison transfer bus on a stretch of empty road. Beautiful but drunk, one of the women taunts the prisoners, leading to a riot on the bus. The woman finds it funny in the moment, but is savagely murdered soon after.
THE SANTORIUM by Sarah Pearse
Le Sommet has always been a sinister place. Long plagued by troubling rumors, the former abandoned sanatorium has since been renovated into a five-star minimalist hotel.
An imposing, isolated getaway spot high up in the Swiss Alps is the last place Elin Warner wants to be. But Elin's taken time off from her job as a detective, so when her estranged brother, Isaac, and his fiancée, Laure, invite her to celebrate their engagement at the hotel, Elin really has no reason not to accept.
Arriving in the midst of a threatening storm, Elin immediately feels on edge–there's something about the hotel that makes her nervous. And when they wake the following morning to discover Laure is missing, Elin must trust her instincts if they hope to find her.
SLOUGH HOUSE by Mick Herron – to be reviewed in next issue
At Slough House—MI5's London depository for demoted spies—Brexit has taken a toll. The "slow horses" have been pushed further into the cold, Slough House has been erased from official records, and its members, past and present, are dying in unusual circumstances, at an unusual clip. No wonder Jackson Lamb's crew is feeling paranoid. But are they actually targets?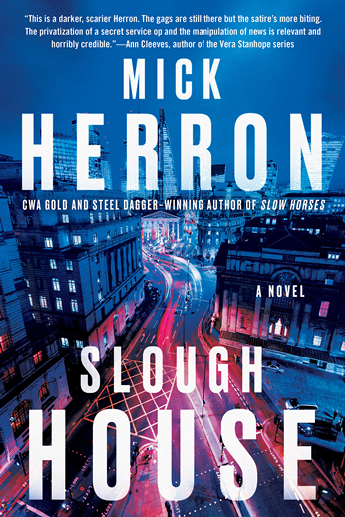 FINLAY DONOVAN IS KILLING IT by Elle Cosimano
Finlay Donovan is killing it . . . except, she's really not. She's a stressed-out single-mom of two and struggling novelist, Finlay's life is in chaos: the new book she promised her literary agent isn't written, her ex-husband fired the nanny without telling her, and this morning she had to send her four-year-old to school with hair duct-taped to her head after an incident with scissors.
When Finlay is overheard discussing the plot of her new suspense novel with her agent over lunch, she's mistaken for a contract killer, and inadvertently accepts an offer to dispose of a problem husband in order to make ends meet . . . Soon, Finlay discovers that crime in real life is a lot more difficult than its fictional counterpart, as she becomes tangled in a real-life murder investigation.
THE SURVIVORS by Jane Harper – reviewed in current issue
Kieran Elliott's life changed forever on the day a reckless mistake led to devastating consequences. The guilt that still haunts him resurfaces during a visit with his young family to the small coastal community he once called home. Kieran's parents are struggling in a town where fortunes are forged by the sea. Between them all is his absent brother, Finn. When a body is discovered on the beach, long-held secrets threaten to emerge. A sunken wreck, a missing girl, and questions that have never washed away.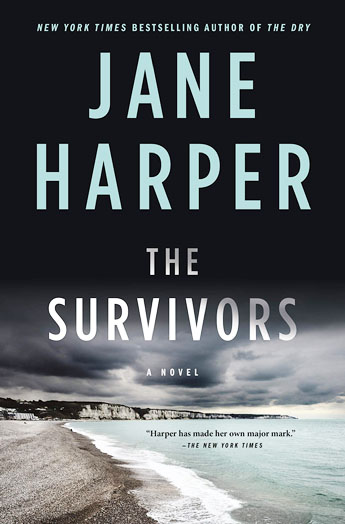 GOOD NEIGHBORS by Sarah Langan
Menace skulks beneath the surface of an exclusive Long Island enclave, making its residents prone to outrage. When the Wilde family moves in, they trigger their neighbors' worst fears. Dad Arlo's a gruff has-been rock star with track marks. Mom Gertie's got a thick Brooklyn accent, with high heels and tube tops to match. Their weird kids cuss like sailors. They don't fit with the way Maple Street sees itself. Fireworks ensue.
RELENTLESS by Mark Greaney – reviewed in current issue
Intelligence operatives around the world are disappearing. When a missing American agent re-appears in Venezuela, Court Gentry, the Gray Man, is dispatched to bring him in, but a team of assassins has other ideas. Court escapes with his life and a vital piece of intelligence.
Meanwhile, CIA agent Zoya Zakharova is in Berlin. Her mission: to infiltrate a private intelligence firm with some alarming connections. The closer she gets to answers, the less likely she is to get out alive.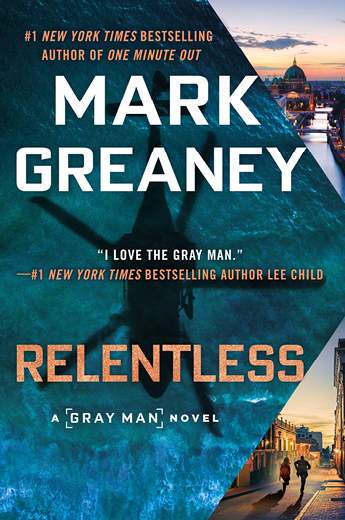 GIRL A by Abigail Dean
Lex Gracie doesn't want to think about her family. She doesn't want to think about growing up in her parents' House of Horrors. And she doesn't want to think about her identity as Girl A: the girl who escaped, the eldest sister who freed her older brother and four younger siblings. It's been easy enough to avoid her parents–her father never made it out of the House of Horrors he created, and her mother spent the rest of her life behind bars. But when her mother dies in prison and leaves Lex and her siblings the family home, she can't run from her past any longer. Together with her sister, Evie, Lex intends to turn the home into a force for good. But first she must come to terms with her siblings–and with the childhood they shared.
IF I DISAPPEAR by Eliza Jane Brazier
Sera loves true crime podcasts. They give her a sense of control in a world where women just like her disappear daily. She's sure they are preparing her for something. So when Rachel, her favorite podcast host, goes missing, Sera knows it's time to act. Rachel has always taught her to trust her instincts.
Sera follows the clues hidden in the episodes to an isolated ranch outside Rachel's small hometown to begin her search. She's convinced her investigation will make Rachel so proud. But the more Sera digs into this unfamiliar world, the more off things start to feel. Because Rachel is not the first woman to vanish from the ranch, and she won't be the last.
PRODIGAL SON by Gregg Hurwitz
As a boy, Evan Smoak was pulled out of a foster home and trained in an off-the-books operation known as the Orphan Program. He was a government assassin, perhaps the best, known to a few insiders as Orphan X. He eventually broke with the Program and adopted a new name—The Nowhere Man—and a new mission, helping the most desperate in their times of trouble. But the highest power in the country has made him a tempting offer—in exchange for an unofficial pardon, he must stop his clandestine activities as The Nowhere Man. Now Evan has to do the one thing he's least equipped to do—live a normal life.
But then he gets a call for help from the one person he never expected. A woman claiming to have given him up for adoption, a woman he never knew—his mother. Her unlikely request: help Andrew Duran—a man whose life has gone off the rails, who was in the wrong place at the wrong time, bringing him to the deadly attention of very powerful figures