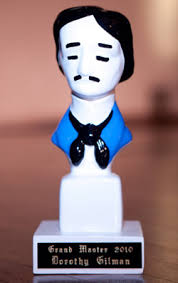 There are always surprises when it comes to each year's Edgar Award nominees. For instance, in many people's eyes the top mystery of 2020 was BLACKTOP WASTELAND by S. A. Cosby. No mention of it in the Edgar nominees. We compiled 50 "Best" Mysteries of the Year Lists and then made another list of how many times certain novels were found on those 50 lists. Larry Gandle was especially excited about that project because he felt that he should read the books that were on the top of the list (with the most appearances on the 50 Best Lists) in preparation for the Edgar nominations, which he reads and critiques every year (the Best Novel and Best First Novel categories). Surely most of the nominees would appear at the top of our compilation list. Not. It didn't turn out so well for him. He still has to read most of the novels in those two categories. He is not happy, but that's Larry for you.
I was particularly happy to see THE THURSDAY MURDER CLUB and WINTER COUNTS appear as Edgar nominees. Two of my favorite books of the year.
In the first three categories listed below you will see a number in parenthesis after each title. It refers to how many of the 50 Best Lists that the particular title appeared on.
Best Novel
DJINN PATROL ON THE PURPLE LINE by Deepa Anappara (Penguin Random House – Random House) (7)
BEFORE SHE WAS HELEN by Caroline B. Cooney (Poisoned Pen Press) (0)
THURSDAY MURDER CLUB by Richard Osman (Penguin Random House – Pamela Dorman Books) (12)
THESE WOMEN by Ivy Pochoda (HarperCollins Publishers – Ecco) (7)
THE MISSING AMERICAN by Kwei Quartey (Soho Press – Soho Crime) (4)
THE DISTANT DEAD by Heather Young (HarperCollins Publishers – William Morrow) (1)
Best First Novel
MURDER IN OLD BOMBAY by Nev March (Minotaur Books) (0)
PLEASE SEE US by Caitlin Mullen (Simon & Schuster – Gallery Books) (1)
CATHERINE HOUSE by Elisabeth Thomas (HarperCollins Publishers – William Morrow) (1)
WINTER COUNTS by David Heska Wanbli Weiden (HarperCollins Publishers – Ecco) (14)
DARLING ROSE GOLD by Stephanie Wrobel (Penguin Random House – Berkley) (2)
Best Paperback Original
WHEN NO ONE IS WATCHING by Alyssa Cole (HarperCollins Publishers – William Morrow) (9)
THE DEEP, DEEP SNOW by Brian Freeman (Blackstone Publishing) (0)
UNSPEAKABLE THINGS by Jess Lourey (Amazon Publishing – Thomas & Mercer) (3)
THE KEEPER by Jessica Moor (Penguin Random House – Penguin Books) (0)
EAST OF HOUNSLOW by Khurrum Rahman (HarperCollins Publishers – Harper 360) (0)
The Simon & Schuster Mary Higgins Clark Award
DEATH OF AN AMERICAN BEAUTY by Mariah Fredericks (Minotaur Books)
THE CABINETS OF BARNABY MAYNE by Elsa Hart (Minotaur Books)
THE LUCKY ONE by Lori Rader-Day (HarperCollins Publishers – William Morrow)
THE FIRST TO LIE by Hank Phillippi Ryan (Forge Books)
COLD WIND by Paige Shelton (Minotaur Books)
The G. P. Putnam's Sons Sue Grafton Memorial Award
THE BURN by Kathleen Kent (Hachette Book Group – Mulholland Books)
RIVIERA GOLD by Laurie R. King (Penguin Random House – Ballantine Books
VERA KELLY IS NOT A MYSTERY by Rosalie Knecht (Tin House Books)
DEAD LAND by Sara Paretsky (HarperCollins Publishers – William Morrow)
THE SLEEPING NYMPH by Ilaria Tuti (Soho Press – Soho Crime)
TURN TO STONE by James W. Ziskin (Start Publishing – Seventh Street Books)