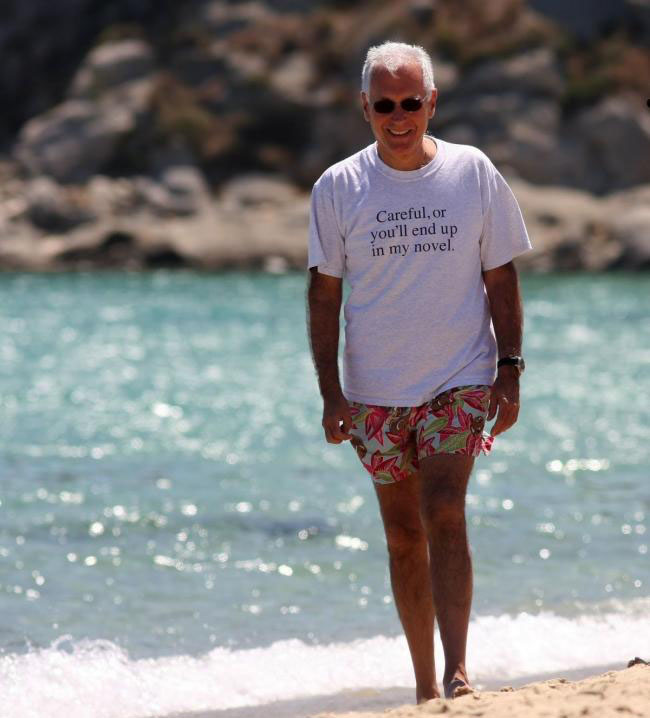 Exciting News for All You Jeff Siger Fans – a TV Deal to bring Andreas Kaldis to the Screen:
VIEWPARK is a virtual studio with a global reach and mandate to produce and distribute quality curated, provocative, self-aware and entertaining content.  VIEWPARK has optioned Jeffrey Siger's Andreas Kaldis book series for screen adaptation and plans to go into production in 2021, filming on location in Greece, and partnered with Dorian Productions to produce the series. 
VIEWPARK is excited to bring the Inspector Kaldis series to the screen. Siger's police thrillers are first-rate page turners set against the backdrop of some of the most scenic places in the world.  His characters are rich and entertaining and the thoroughly researched procedural dramas are the perfect source material for series adaptation.
About Jeff
Jeffrey Siger was born and raised in Pittsburgh, Pennsylvania, practiced law at a major Wall Street law firm, and later established his own New York City law firm where he continued as one of its name partners until giving it all up to write full-time among the people, life, and politics of his beloved Mykonos, Greece.
About the Andreas Kaldis Series
His series of Greek-centered mysteries feature Chief Inspector Andreas Kaldis, an incorruptible policeman who is married to a wealthy heir to a Greek fortune. He doesn't need the job to support his family. Andreas does it out of love for the work he accomplishes and out of loyalty to his country. Andreas' personal circumstances make him somewhat immune to political pressure and undue influence from his superiors. In other words, he is somewhat of a maverick, always stretching the limits, but trying to avoid doing something so egregious as to get himself fired. One of his obvious strengths is that of a loving husband and father to two small children – not your average police hero. Adding interest and spice to each story is the merry band of loyal friends and associates of Andreas.
For me, one of the aspects of Jeff's novels that I enjoy the most is his creation of intriguing and ruthless villains who are very challenging to overcome. Another is his beautiful depiction of the Greek settings and islands he uses. It's a cliche' to equate a setting to a character, but in this case, the cliche' is true.
Each novel treats some aspect of Greek lie or a problem facing Greece (for example, corruption, insolvency, immigration, or conservation vs. development). For instance, the 2018 title, AN AEGEAN APRIL, was probably the first mystery fiction novel to deal seriously with the flood of refugees (and the attendant problem of people trafficking) into the Greek Isles from the troubles in Syria and surrounding areas. It was very timely and informative.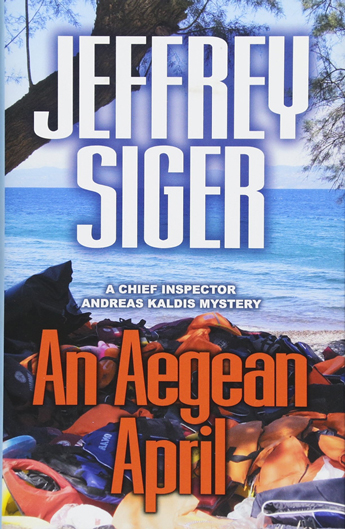 If you haven't read Jeff yet, you need to do so. You'll thank me.
Chief Inspector Andreas Kaldis Series
MURDER IN MYKONOS (2008)
ASSASSINS OF ATHENS (2009)
PREY ON PATMOS (2010)
TARGET: TINOS (2012)
MYKONOS AFTER MIDNIGHT (2013)
SONS OF SPARTA (2014)
DEVIL OF DELPHI (2015)
SANTORINI CAESARS (2016)
AN AEGEAN APRIL (2018)
THE MYKONOS MOB (ISLAND OF SECRETS)(2019)
THE NAXOS NETWORK (2020)
A DEADLY TWIST (2021)
Renowned author Thomas Perry has this to say about Jeffrey and his series, specifically his first novel, Murder in Mykonos, in the forward to the re-released version coming in January 2021: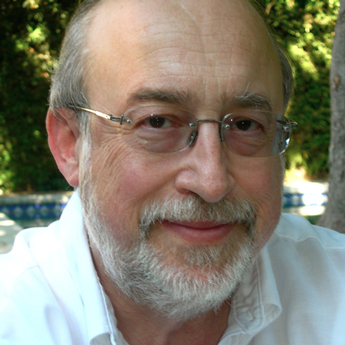 The brilliant careers of the fictional Greek police detective Chief Inspector
Andreas Kaldis and the writer Jeffrey Siger both began in 2009 with Murder in
Mykonos. Since then their adventures have continued, and now include nine
more novels written in the succeeding decade.
Murder in Mykonos did not come and go quietly, as most debuts do. The book
was soon the number-one bestselling English language book in Greece, and by
2012 was recommended in Fodor's Greek Islands Guide as a pleasurable literary
introduction to the island. In the United States the book quickly earned Siger a
collection of rave reviews and, with later books, led to a place of respect among
American and European mystery and thriller writers. The New York Times Book
Review has called him "Greece's thriller novelist of record."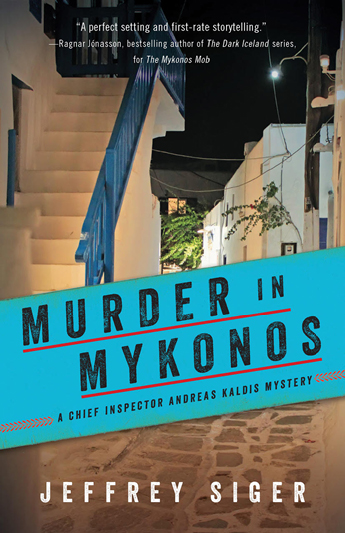 Part of the magic is the place. Mykonos is one of the most famously scenic spots
on the planet, the best known of the Aegean Cyclades, a sea-washed fragment
of land where many of the rich and sophisticated, the young and beautiful, the
untroubled and the unattached have come to celebrate the pleasures of being
alive.
The perfection is a challenge to a writer: How can we take it apart to examine it?
What if some of these visitors, all of them tall, attractive young women, began
dropping out of sight? Someone would have to look into this threat. Perhaps the
responsibility would fall to a newcomer, someone who has to learn about the
island as we do? The head of the local police could be new but experienced, a
man who had worked homicide cases in Athens until recently, when he asked too
many questions about the wrong people and was shipped away to be guardian
and defender of this idyllic dot of land where nothing dangerous ever happens.
Not only is Kaldis the right cop—intelligent, determined, shrewd, and
professional—but Siger is the right novelist. His rendering of the island and its
denizens is realistic and attentive, often almost photographic. The only times a
reader can't see the action is during terrifying scenes that play out in complete
darkness, and the reader can hear and feel every bit of it.
I can't help picturing Jeffrey Siger's days in Mykonos before the book appeared.
Over time, people would have grown accustomed to the sight of the tall, thin
American, probably sitting at a table outside a cafe´ nursing a drink of some sort,
staring enigmatically at the sea or watching the tourists and locals as they met
and mingled. But as his familiarity grew, it would have been the talk that engaged
him, the overheard impersonal greetings and seductive overtures, the wise
advice and self-serving deceptions, but most of all, the stories because stories
are the way that human beings in all societies introduce and reveal themselves
and their neighbors, friends, and enemies.
I like to imagine the day after Murder in Mykonos was published and proved that
the American had been looking and listening for a purpose. He had been learning
more about the island and its occupants than they could have suspected. All he
had admitted to being was a retired New York lawyer, a man at his well-earned
leisure. They should have known that such a man was up to something. Maybe a
few had known he was writing—but writing this?
Of course the book was fiction. Siger had invented the murderer and his victims,
the dreadful crimes, and the detectives, the hardship and the dangers, the
almost-too-late understanding, and the satisfying resolution. All that Mykonos
had supplied was Mykonos.
I've observed that one of the things that matters most about a writer is originality.
If any writer is to be remembered after he's gone, it will be for the things he
presented in his work that would never have existed without him. Jeffrey Siger
has, paradoxically, rediscovered one of the oldest regions and found it fertile
ground for ten pieces of first-rate, original fiction. But it all started with Murder in
Mykonos. Enjoy your trip.
Here's a sneak preview of his latest novel coming out in April, 2021.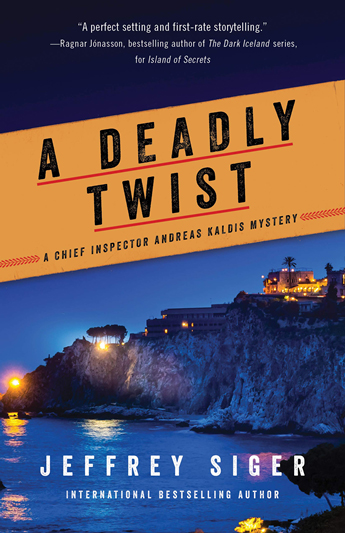 A DEADLY TWIST
by Jeffrey Siger
Sourcebooks, $26.99, April, 2021
Rating: A-
[Reviewed by George Easter]
Jeff Siger's latest Andreas Kaldis mystery takes us to the relatively untouched Greek island of Naxos, where investigative journalist Nikoletta Ellis has disappeared while researching two stories – one about a mysterious hit man who has chosen her to write about his life story; and two, a routine piece on the expanded tourism vs. nature preservation debate going on among Naxos inhabitants. Did someone kidnap Nikoletta because she uncovered something that put her life in danger?
When the body of an unidentified male is found at the base of a cliff where Nikoletta was last seen, Kaldis sends his chief deputy, Yianni, to investigate, using the reporter's notebooks as guides to his search. Yianni survives a near fatal automobile accident, when the car he and a fellow policewoman are in, is forced of a mountainous road. Kaldis and a couterie of associates, including his wife, rush to the island to continue what Yianni started, while his deputy recuperates.
The following investigation leads Kaldis and his cohorts into dangerous territory to discover some long-time secrets of illegal activity on Naxos, protected by very powerful people in Greece.
Reading a novel in this series is always a treat. There is so much to like: great characters,
and an intriguing story line and a wonderful setting. Enjoy.