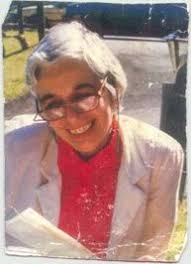 We are very sad to announce the passing of long-time DP Reviewer Sally Sugarman. I never met Sally but she came highly recommended as a reviewer of history mysteries by Sue Feder when Sue discontinued her history mystery newsletter. Sally wrote for us for many years. I had no idea she was as old as she was. Making it to 91 is quite an accomplishment (among many others as evidenced by the wonderful obituary below. She will be missed.
Sally's Obituary
Sally Sugarman 1929-2020
Sally Sugarman taught Childhood Studies at Bennington College for 35 years. She founded the Bennington College Early Childhood Center which continues as the Bennington Early Childhood Center. Impressed by the impact of the media on children, she also taught courses at Bennington in Media Studies. Previously she founded the Westport Cooperative Nursery School in Connecticut which is still in operation.
Sally believed strongly in community and in children and was involved in activities appropriate to them wherever she lived. She believed in organizations as instruments for doing good and creating fellowship starting in her high school in Brooklyn, New York where she was born. She often said that Brooklyn's Prospect Park and Morgan library were crucial to developing her lifelong interests.
She served as President of the Vermont Board of Education and was a member of New York's prestigious Sherlock Homes society, The Baker Street Irregulars. In Bennington she helped establish the local Sherlock Holmes Society, The Baker Street Breakfast Club, and served as its Gasogene (Chair.) She was President of the Bennington Rotary and for many years published its Newsletter that asked Rotarians the kind of questions she asked in her high school paper. She presented papers at the Popular Culture Association's Children's Literature Conferences. For many years she chaired Bennington's Hometown Fourth of July celebrations.
Ms. Sugarman loved theatre and with her husband developed the More Theatre Talk radio program on WBTN which later became a blog. It featured interviews and discussions of area theatres that encouraged people to find the excitement and pleasure in theatre she and her husband found. Previously, she served as Chair of the Board of the Oldcastle Theatre Company.
She wrote the books If Kids Could Vote: Children Democracy and the Media and How Shakespeare is Presented to Children. She edited collections of papers from the two Conferences held by the Baker Street Breakfast Club.
A woman of endless curiosity and optimism, she will be missed.
She is survived by her husband of 61 years, Robert; her sons Paul and David, and her grandchildren Kate and Marnie. Gifts in her memory to the Bennington Early Childhood Center would be a fitting memorial.