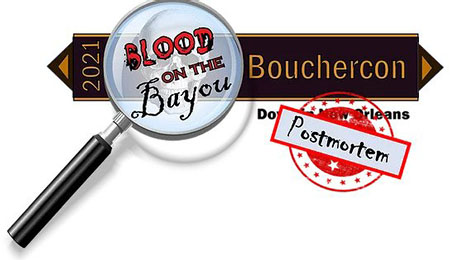 Will We Be Able to Attend New Orleans Bouchercon in 2021? A lot can happen between now (I'm writing this the third week of November, 2020) and August 25, 2021, the opening day of Bouchercon. As of right now it appears that effective Covid-19 vaccines will be available to the over-65 set (which is the major demographic of a typical Bouchercon) by March or April of 2021. I don't know what the timeline is for the general public under 65 receiving vaccinations, but I suspect it will be before August, 2021, especially if two or more different vaccines are approved by the FDA.
Once I'm vaccinated (twice) and a month has passed for the vaccine to become fully effective, then I'm good to go to New Orleans. I'm optimistic that we all will be able to attend. Some coming from foreign lands, such as DP contributor Jeff Popple, will have to see travel restrictions to and from the United States lifted.

Mystery Mike Bursaw is one of the Chairs for the convention. He tells me that he is prepared for any contingency. He has made alternative plans for a full, normal size convention (1,600 to 2,000 attendees), a scaled-down convention (800 attendees), or a virtual convention. In the event that the convention cannot be held in person, all membership fees will be returned to the fans who have signed up for the convention. Likewise the hotel will not hold you to reservations if you decide to cancel. So if you would like to attend Bouchercon next August, there is no financial risk if you sign up today at www.bouchercon2021.com It really helps the convention with start up costs if you do.
I've really missed seeing all my close mystery friends in 2020, so I hope and pray that my optimism turns into reality. The last Bouchercon in New Orleans was one of the best and most enjoyable and it would be a blast to replicate that experience.