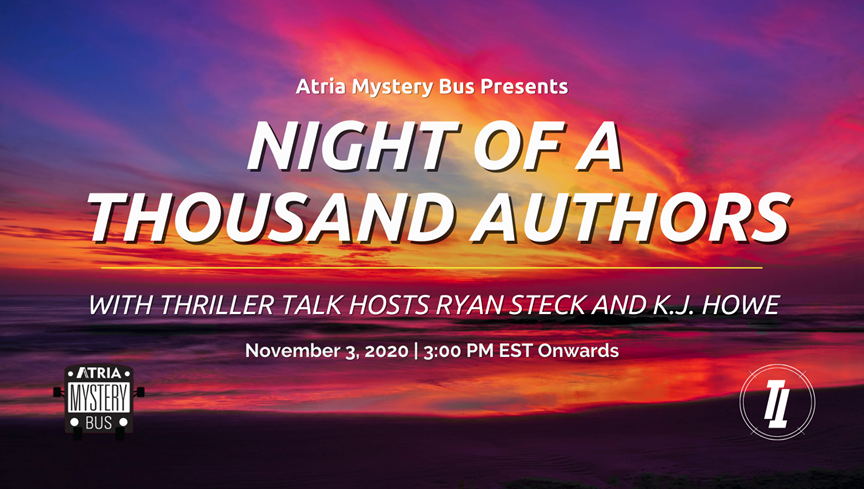 Vote, then Chill
After you vote, your responsibility is done. You're not obligated to watch them count. Instead, relax with talk of murder, mayhem and terror
David Brown, Deputy Director of Publicity at Atria Books and "driver" of the @AtriaMysteryBus twitter feed, has teamed up with the Executive Director of ITW and ThrillerFest, Kimberley Howe and influential book blogger Ryan "The Real Book Spy" Steck to create NIGHT OF A THOUSAND AUTHORS,election day counterprogramming for mystery, thriller and suspense fans to escape from the stress and anxiety of that day.
Beginning at 3pm ET on Tuesday November 3 and streaming from https://www.youtube.com/thrillertalk and International Thriller Writers facebook page, NIGHT OF A THOUSAND AUTHORS is being described as "The Jerry Lewis Telethon" meets "Dick Clark's Rockin' New Year's Eve" with the biggest names in crime fiction and NO TALK OF POLITICS.
Among the confirmed guests are Janet Evanovich, Brad Thor, Lisa Scottoline, Gregg Hurwitz, John Connolly, Kyle Mills, Kathy Reichs, Karin Slaughter, Jennifer Hillier, R.L. Stine, William Kent Krueger and Alafair Burke with many more committed (full list below) and still to come.
NIGHT OF A THOUSAND AUTHORS is a marathon of 10 minutes interviews hosted by Howe and Steck—the "special sauce" is that each author will share the first two minutes of their interview on the screen with the previous guest and the last two minutes of their interview with the next guest.
"How often do you get to see this many big name authors in one place over a short period of time?" Howe asked, "The magnitude of star power makes this program unique."
"This is going to be wild!" Steck said, "Wall to wall and back to back, rapid fire interviews complete with potential odd pairings overlapping and doing it live? It can only go right!"
Bookstores, libraries and review websites will be contacted and encouraged to embed and stream the program from their websites.
Complete guest list as of 10/22/2020
Alafair Burke
Alex Segura
Allison Brennan
Andrews & Wilson
Anthony Horowitz
Brad Taylor
Brad Thor
Chris Hauty
Christopher Rosow
David Morrell
Francesca Serritella
Gayle Lynds
Gregg Hurwitz
Hank Phillippi Ryan
J.D. Barker
Jack Carr
James Rollins
Janet Evanovitch
Jennifer Hillier
Jesse and Jonathan Kellerman
Joel C. Rosenberg
John Connolly
Karen Dionne
Karin Slaughter
Kathy Reichs
Kyle Mills
Linwood Barclay
Lisa Scottoline
Liv Constantine
Mark Greaney
Megan Miranda
Megan Collins
Mindy Mejia
Peter James
R.L. Stine
Rachel Howzell Hall
Ragnar Jonasson
Robert Dugoni
Shari Lapena
Steve Berry
Tosca Lee
William Kent Krueger