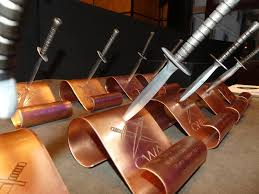 Please note — this column was written (and posted) prior to the award winners being announced later this week. So, my picks were made before the actual winners were named. Also, my reviews in all categories are listed from my favorite (my pick) to my least favorite in each category — Larry Gandle.
GOLD DAGGER for Best Crime Novel
This year's shortlist is a strong one. They are all very good to excellent, which made my reading experience much better than normal.
WHAT YOU PAY FOR
by Claire Askew
Hodder and Stoughton, $26.99
Rating: A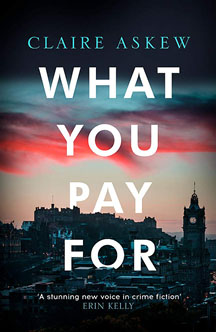 DI Helen Birch of the Edinburgh police is depressed in that she is remembering her brother's disappearance fourteen years ago. She is convinced he is dead but her mother, who has since passed away, was convinced he was still alive. Her mother was right. Charlie returns to Birch's home and she discovers that he is the source of a raid that took down a major mobster but without his evidence the crime lord will soon go free. It seems Charlie became a member of the mob many years ago and now has much to atone for. Birch must make a choice- arrest her long-lost brother, Charlie, or let the mob boss go free. There is a lot riding on this choice. Eventually both Birch's life, as well as Charlie's are at risk as the mobsters target them.
This is a brilliant second novel. Not only are the characters so well realized but they have a moral dilemma. Charlie should turn himself in and testify against his old boss but Helen should arrest him and arrange a deal to convince him to testify. Alternate chapter form keeps the plot buzzing along as we learn about Charlie's past and Helen's current problems. It is difficult to put down this excellent novel. Initially I thought it would be one of those dull dreary British police procedurals, but, it is far from that. Highly recommended and an excellent addition to the CWA Gold Dagger shortlist. It is my pick for the award.
NOVEMBER ROAD
by Lou Berney
Morrow, $26.99
Rating: A-
In November, 1963, Frank Guidry, a loyal henchman to New Orleans mobster, Carlos Marcello, is asked to drive a car to Houston. Kennedy is assassinated and he is again asked to go to Houston to pick up the car and drive it into the ocean. He quickly realizes that he is a potential leak in the assassination and finds himself in mortal danger as Marcello's hitman is sent after him. He flees west to Las Vegas where he hopes a rival of Marcello will help him out.
In the meantime, Charlotte Ray, a disgruntled housewife living in Woodrow, Oklahoma with a drunken husband, decides to leave with her two children giving them a chance at a better life. Broken down in Arizona, she meets Frank Guidry who quickly realizes that Charlotte and her two girls will be an excellent shield hiding him from Carlos loyalists and the hitman. But the mobster crowd is too clever for that and they soon close in on him with Charlotte and the two girls in the way. Things get bloody really quickly leading to the surprise ending.
This book has been raved about by many reviewers of crime fiction. I will join their ranks. The author is an excellent writer for the genre. His characters are well fleshed out. The story is clever and compelling. The length is not excessive, and the multiple points of view alternating chapters is an excellent technique to keep the reader's interest. Highly recommended.
JOE COUNTRY
by Mick Herron
Soho, $26.95
Rating: A
The disgraced MI5 spies at Slough House all have their own problems they must deal with. New recruit, Lech Wicinski, is trying to discover how he was found with child porn on his work computer. Louisa Guy feels an obligation to find the lost son of her now deceased ex-lover in Wales. When Jackson Lamb finds out a man responsible for killing a member of Slough House may be after the son Louise is searching for, he sends out the troops to possibly kill him.
I have not really liked the Slough House books before. This is the sixth book in the series and probably the fourth I have read or attempted to read. So many times our impression of a book can be determined by what we read immediately before this book and the expectation in that it is supposed to be a thriller. The style of writing is such that the plot moves along slowly and there are so many characters to keep straight that it makes the reading of the book initially quite demanding. In other words, to appreciate the books, the reader must work for it. Whenever I approached a Mick Herron book, I had most likely come off reading a few international thrillers and simply was not in the right frame of mind for the Slough House books. This time, knowing how slow these books are, I read several slow and dull books that were longlisted for the Booker Prize for literary fiction. They made JOE COUNTRY a pleasure to read. It is still a slow read and George emailed me a list with a description of each of the characters. I will say, initially, the characters can be confusing as there are probably up to six separate subplots involving each of them. However, as the book progresses, the subplots coalesce into perhaps two or three very much related plots and the pacing picks up to thriller pace. It is really a unique style of writing and with some concentration, at least initially, it really works. Jackson Lamb is one of the most comical characters I have read in quite some time. I laughed out loud on numerous occasions. I confess that by giving the book it's due, I really liked it as I do value originality. I fully understand why the Brits nominate Mick Herron every year. Consider me now transformed from a hater to a fan. This is a well-deserved member of the CWA shortlist for the Gold Dagger. Highly recommended.
FORCED CONFESSIONS
by John Fairfax
Little Brown, £18.99
Rating: B+
William Benson is an ex-con convicted of murder sixteen years ago. Despite his conviction, some powerful barristers supported him including Helen Camberly who is actively dying of cancer. Benson is now a member of the bar dedicating himself to the defense of others. His current case concerns the murder of Dr Menderez, a physician from Spain who was living in London. Menderez had apparently fallen in love with his therapist, Karen Lynwood, and it seems that her husband, John, has killed the doctor because of the relationship he had with his wife. Things are not what they appear to be, however. Benson, now with a brilliant reputation, will do all he can to defend Karen and her husband. This is if Benson's demons from his past don't take over completely.
This is an excellent legal novel with a compelling trial at its heart. The characters are well portrayed and complex creations. The problem is that there are so many characters that it is hard to keep track of them. I think reading the previous two novels in the series will help but I often found it confusing when trying to decipher exactly who the characters were. It is too much work for a crime fiction novel. A number of twists occurred at the end which appeared to be endless. I liked the book but it is about 50 pages too long.
GOOD GIRL, BAD GIRL
by Michael Robotham
Scribner, $27.00
Rating: B
Evie Cormac is the name given to a young teenager/woman found in a hidden room in a house where a man was brutally murdered. She won't tell anyone her name or her age. She remains unidentified living in a psych hospital as she has repeatedly run away from any foster home she was placed into. Cyrus Haven is a forensic psychologist who must evaluate Evie to determine if she can be released. He eventually agrees to foster care Evie in his own home. In the meantime, Jodie Sheehan, a high school skating champion is found dead in a park. She appears to be murdered. Cyrus is called to investigate. Evie appears to have a special talent. She could tell if anyone is lying by observing them speaking. Cyrus uses Evie to help solve the crime. This places them both into danger.
GOOD GIRL, BAD GIRL is a solid suspense novel. It is a bit too lengthy and slow in developing but once it hits its stride, the plot moves quickly to the exciting, but silly, climax. Evie and Cyrus are interesting and complex characters with tragic pasts. The story is clever and compelling enough to keep a reader's interest. This, not the best of the work we have seen from Michael Robotham, IMHO.
DEATH IN THE EAST
by Abir Mukherjee
Pegasus, $25.95
Rating: B-
In 1922, Calcutta police detective Captain Sam Wyndham is off to an ashrum in a small village in India in order to receive treatment to end his addiction to opium. At the same time, , in alternate chapter form, the story switches back to 1905 London where Sam is involved in the investigation of an ex-girlfriend of his. Slowly- excruciatingly slowly- the two stories merge together in a most improbable way leading to a locked room mystery.
This book is supposed to be an homage to Agatha Christie. I can't imagine she would be pleased with the result. There are three separate stories here- the London murder of 1905, the ashram treatment and finally Sam's recuperation in the local town where he comes upon a villain from his past. There are way too many impossible coincidences in this book. India is a very large country and it seems to be near impossible to randomly run into someone you have been seeking from the past especially in a remote tiny village. Characters are mostly cardboard cutouts. The pacing is languid, and the plot is way too long. The killer is easy to figure out and the technique of the murder is beyond idiotically complex. It is a wonder this book is shortlisted for the CWA Gold Dagger Award. It is easily the weakest book in the series. I did like the others for their authenticity to the time and place. This one is not recommended.

IAN FLEMING STEEL DAGGER For Best Thriller
This category has always been bewildering to me. When it was first established, George and I were elated that thrillers would get their own award. It seemed to us that thrillers never received the respect they deserved. There is a definite art to the thriller novel and they are prized due to their ability to keep the reader glued to the pages as opposed to their literary merit. Unfortunately, the judges in the CWA were given a vague classification that the book needed to be written in "the same vein as an Ian Fleming novel" Hence, literary, atmospheric and slow spy thrillers began to win the award with occasional years when Lee Child or Dan Silva would be shortlisted. In an.effort to clarify the criteria, the CWA defined the Steel Dagger books as,
"Ian Fleming said there was one essential criterion for a good thriller, 'one simply has to turn the pages'. Eligible books in this category are thrillers set in any period and include, but are not limited to, spy fiction, psychological thrillers and action/adventure stories."
So "not limited to" means they could fall anywhere in the genre. This year the book selection falls well into the category except for one of them as delineated below.
NOVEMBER ROAD
by Lou Berney. See above. This is my pick for the Steel Dagger.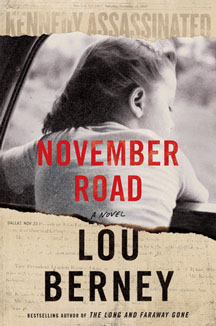 THE WHISPER MAN
by Alex North
CeladonBooks, $26.99
Rating: B+
Tom Kennedy and his son, Jake decide to have a fresh start after the death of Tom's wife. They move to another town and into a house that, unbeknownst to them, has a checkered past and is thought to be haunted. A six-year-old child disappears even after Frank Carter, a serial killer who lived in the town prying on the children there, has been imprisoned for years. Could it be a copycat killer? It seems that Jake may be next in that he hears a whispering man at night. When the missing child turns up dead, the stakes get much higher and Jake seems to be in imminent danger.
Alex North has created an eminently readable thriller written in multiple points of view. Using the different voices ratchets up the suspense. Characters are reasonably created but there are some stock comic book figures. The house is truly scary but the silly thing is that once it becomes apparent that Jake is seriously in danger, why stay in the house? This book has been shortlisted for the Ian Fleming Steel Dagger and it is certainly a compulsive enough thriller to be considered for the Award. Recommended.
BETWEEN TWO EVILS
by Eva Dolan
Raven Books, £7.99
Rating: B
Joshua Ainsworth, a physician who works at Long Fleet, an immigrant woman's detention center in Cambridgeshire, is found murdered in his home.DS Ferreira and DI Zigic are assigned the investigation. It appears that women might have been abused while being held in the facility but the administration is being closed mouthed about it. At the same time, Walton, accused of being a serial rapist and killer, has been released on a technicality. He is threatening DS Ferreira in that he is trying to locate his wife and child who are in witness protection. Dealing with these two cases will place both Ferreira and Zigic into danger as they must navigate violent family relationships and coverups.
I have several questions about this novel after having completed it. First of all, why is it so long? The book stands at a remarkable 468 small typed pages. I wonder if anyone edits this author who is not on the scale of a Stephan King or JK Rowling. What is more incredible and a testament to the author, is that I stuck with it and finished the novel. Only two plot points kept the narrative manageable and the characters are well developed. The book is far from perfect with way too much repetition and pointless episodes bulking up an already overlong book. The second question I have is why is this book on the shortlist for the Ian Fleming Steel Dagger? It is not at all written in the same vein as the Fleming work. It is a very long British police procedural. The book would be a much better fit in the Gold Dagger category. Despite the length, it is a compelling read and I would recommend it but not as a spy novel or thriller.
ONE WAY OUT
by A.A. Dhand
Transworld, £7.99
Rating: B-
On a beautiful Sunday afternoon in Bradford, UK, in the city's center, a message goes up on the movie screen to flee the area as a bomb will go off in 20 minutes. The crowds flee and a bomb levels the city center. It turns out the local right-wing militia wants four of the organizers of a radical Muslim group to be killed or another bomb will go off in a random mosque killing over a thousand Muslims. DCI Harry Vardee is called upon to find the four organizers of the radical Muslims. It turns out that his wife is in the mosque to be demolished if he fails, heightening the personal cost. He must find a way to locate the four before another disaster occurs.
There is a lot that occurs with the characters in the previous three novels making the reading a bit more complex. The book is okay but highly forgettable. The writing is somewhat stilted with awful dialogue and cardboard characters- almost all are quite boring. The plot will keep the reader's interest and the length is manageable. Obviously, I didn't love the book and found it overlong in spite of its brief length. It is forgettable fluff.
THIS IS GOMORRAH
(US Title: THE GOMORRAH GAMBIT)
by Tom Chatfield
Mulholland, $27.00
Rating: C+
Azi Bello is a brilliant computer hacker working out of a shed in his backyard. He is very adept at getting into all types of sites- the more difficult, the better. When he enters into the dark networks, he comes across a fellow hacker named Munir who has information on terrorist activity throughout Europe by the Islamic State. When Munir puts her life into his hands, Azi is suddenly confronted by a shadowy organization that recruits him whether he likes it or not. The goal is to infiltrate the network and to discover exactly what the Islamic State is up to and to stop them. However, nothing is truly what it seems to be.
This is an interesting concept that simply got way too technical for me. If the reader is adept and familiar with technical jargon, the book might work better for you. The plot is compelling enough to keep the pages turning, in spite of, the confusing depictions of hacking. The climactic scene is downright idiotic with the villain holding the gun divulging all. Characters are stock figures, overall, and the actual plot way over the top. I really can't recommend this book and I am confused as to why it is honored by appearingon the Crime Writer's Association shortlist of the Ian Fleming Steel Dagger Award for best thriller.
COLD STORAGE
by David Koepp
Ecco, $27.99
Rating: C-
A horrific fungus is found in the western desert of Australia. A team from the United States investigates and they discover the town empty of life and every resident on the roof of their house eaten away to their bones. When one of the team is killed, the town is firebombed and a sample is placed into a huge Midwestern United States government storage facility. A couple of young people, hired to watch the facility, break into the cold storage area where the fungal samples are kept setting off a comedy of errors.
I am totally disappointed in this book. The first chapter set up a potential situation where the world could have been at stake. The suspense could have been intense. Instead, the author went onto an in-depth character study of several of the most uninteresting people you would ever want to meet. Rather than a global crisis it became personal and totally idiotic. Deers and cats and rats and cockroaches are killed but coming alive from the fungus. It is way past suspending belief. The author could have made this a suspenseful and compelling book throughout. Instead it is a crushing and totally stupid bore. Avoid!

THE JOHN CREASEY (NEW BLOOD) DAGGER for Best First Crime Novel
This category is supposed to feature first time authors. The rules state,
"This award is for the best crime novel by a first-time author of any nationality first traditionally published in the UK in English during the Judging Period. 'Best crime novel by a first-time author' means that the author must not have had a novel of any sort traditionally published before under any name whatsoever. In the case of novels with more than one author, all the authors must meet this requirement."
It is an astounding oversight that both the judges and the CWA committees failed to notice that Steph Cha has written three previous novels before having real success with her latest, YOUR HOUSE WILL PAY. I brought this issue up to the chair of the daggers and he had no problem with it after reading the first sentence of the above description. However, when I told him to read the next sentence, the problem became apparent. I was contacted by the secretary of the CWA who informed me that it is too late to remove the book from the list as it would embarrass the author. My response was to not remove the book but just inform the committee members so they will be aware of it. I would hope they would do the right thing and award an actual first novel with the Creasey Dagger. This in no way should be interpreted as a disparagement of YOUR HOUSE WILL PAY, which I consider a fine novel.
MY LOVELY WIFE
by Samantha Downing
Berkeley, 26.00
Rating: B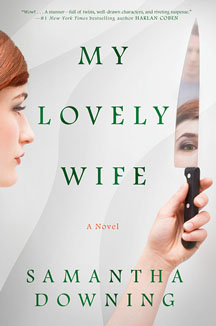 Millicent and her husband have been married for fifteen years. They are raising two children and appear, on the surface, to be a hard-working normal family. Yet, they have a secret hobby or passion. The two of them like killing young women and have done so four times already. It appears as if they will never be caught- that is- until they make a mistake which might bring them down unless they could figure out something ingenious.
This is truly a remarkable debut effort. There are plenty of surprises and twists in store. The story is about two serial killers, so, assume the narrator (the unnamed husband) is totally unreliable. It is hard to identify with this couple, as they are both monsters. Expect major twists and turns- some of which you won't see coming while others are obvious. The book is totally entertaining and the fact that this is a debut author is kind of exciting, especially, if she has more plots like this one in mind.
THE MAN ON THE STREET
by Trevor Wood
Quercus, $19.61
Rating: B
Jimmy Mullen is a homeless veteran of the Falklands War who still has nightmares related to the trauma he suffered at that time. Now, in 2012, while sleeping on a bench, he witnesses what appears to be a murder. Initially, he is not willing to get involved but when the victim's daughter asks the public for help, Jimmy reluctantly steps forward. This places him directly into the crosshairs of the killer.
This is a solid first novel. Jimmy is absolutely pulverized throughout the book making his subsequent recoveries increasingly unrealistic. The plot is reasonably compelling with the characters being somewhat stereotypic. Reality must be suspended in numerous instances- especially with the heroics at the end. The book is silly but entertaining. As a first effort, it is commendable.
THE WRECKAGE
by Robin Morgan-Bentley
Orion, $19.62
Rating: B
Ben, a private school teacher, is on his way to work as he does every workday, when a man jumps in front of his car and Ben hits him. This sets off a chain of events which will change the life of the man's wife Alice, her son, Max and Ben, himself. Yet nothing is truly how it appears to be.
This domestic suspense novel moves at an agonizingly lethargic pace. Everything the characters do is described in exact detail which can be quite frustrating. The author slowly sets up every scene and every interaction between Ben and Alice. There is, eventually, a twist but not one that will truly surprise the reader and, by the time it comes, has little bearing on the actual plot. The chapters are told in alternate character perspective which heightens interest as so many of the same events are looked at completely differently by Ben and Alice. The book is entertaining but isn't really a superior novel in the domestic suspense subgenre. A mild recommendation.
LITTLE WHITE LIES
by Philippa East
Harper Collins, $16.99
Rating: B-
Anne White looked away from her daughter for a second seven years ago while on a train and hasn't seen her since then. However, her daughter, Abigail, inexplicably reappeared in a police station. She is brought back to her family. She disappeared when she was eight years old but is now fifteen. Of course, she is not the same person as before the disappearance. She is a brooding secretive teenager and resentful, for some reason. Yet, she appears physically healthy and well educated for her age. Eventually, the reader discovers exactly what happened all those years ago and the family must come together and heal.
This is an excruciatingly slow novel but always fascinating. There are many questions that need to be answered and eventually they all are. There are a number of twists and surprises near the end making the last fifty pages fly by. The pacing, however, was way too slow and for most of the book the story was tedious. This is a mild recommendation.
YOUR HOUSE WILL PAY
by Steph Cha
Ecco, $26.99
Rating: B
Just following the riots in Los Angeles after the beating of Rodney King, Jung-Ja Han, a Korean woman, argues with a sixteen-year-old black woman and kills her. In an apparent miscarriage of justice, Han receives no jail time. Now decades later, Han is shot as she is leaving the pharmacy she works at. Undoubtedly, the crime is related to the prior shooting but who actually did it. The book follows the younger generation of both Han and the young black girl as they deal with the latest shooting.
The book has had a lot of buzz. It is well written with some reasonably realistic characterizations but in many ways, the plot dragged. The reaching out between the two families, I did not buy at all. It was extremely unrealistic, IMHO. Some call this book an instant classic. I will say it is quite forgettable. And somewhat dull. It is also a fourth novel and should not be eligible for the Creasey Dagger.