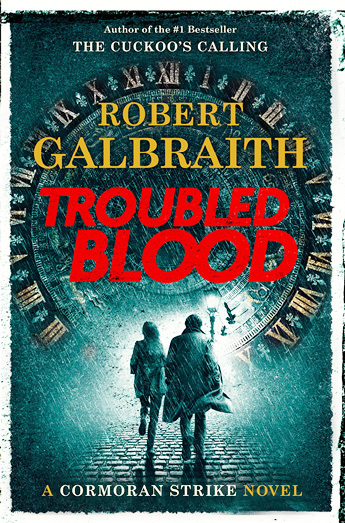 There has been much stated in recent news about the Twitter blowup over J.K. Rowling's comments about transgender issues. TROUBLED BLOOD has been apparently "blackballed" by some because of that virulent backlash. The last book in the series, LETHAL WHITE, was prominently marketed in local bookstores, with large displays and discounted pricing. Recently I went to a large Barnes & Noble in Salt Lake City. There was no display of TROUBLED BLOOD, nor was there even a copy of it on the tables and shelves showing recently released fiction. I then went upstairs to the mystery fiction section and found one copy of the book (spine out – not cover out) on its shelves. This is simple cowardice on the part of a major bookseller that apparently fears the Twitter mob and fails to appropriately market what is a very good book – and by the way, a book which has been mischaracterized as being "transphobic." There is one very brief mention of a character who imitates a woman so he can get close to other women. That's it. No moralizing or criticizing. There is no indication that this character may lean transgender. So while many pinheads who have not read the book undeservedly bash it so as to be seen as virtue signalers, take it from someone who has read it – IT'S GREAT!
TROUBLED BLOOD
by Robert Galbraith (J.K. Rowling)
Mulholland, $29.00, 927 pages
Rating: A
The private investigation agency run by Cormoran Strike and his business partner Robin Ellacott is thriving. They have added a full-time secretary/receptionist and three more private detectives. With the addition of more personnel come more cases to follow. Hence, the 927 pages. But the main case is an almost impossible one to solve, which both Strike and Robin find intriguing. The client is a woman whose mother, Dr. Margot Bamborough, went missing forty years ago. An exhaustive, yet troubled police investigation revealed no trace of her. It was widely thought at the time that convicted serial killer Dennis Creed was responsible, but Creed never confessed to this crime nor was there ever any credible evidence that he was the perpetrator.
So Strike and Robin begin all over again, interviewing witnesses or relatives of deceased witnesses. Some prove difficult to find or reluctant to talk, but the investigation grinds slowly forward, revealing hidden motives and lies.
On the personal front, Strike is dealing with the impending death of a beloved aunt who helped raise him, while Robin is frustrated by the delaying tactics of her soon-to-be ex-husband in finalizing their divorce. It is due to the brilliance of the author that the romantic tension between the two (whom everyone around them recognize as perfect for each other) is suspended over such a long story arc (five books so far). I read the books in this series as much to read about the inch forward progress in the Strike/Robin relationship as to read the excellent mystery.
For some, this novel at 927 pages may seem too long. Yet, as I read and thoroughly enjoyed it, I couldn't think of how one would edit it down to make it shorter. It is a long, well-told story and I had absolutely no trouble with it keeping my interest throughout. I hope her next one is 1,200 pages (write fast).
There are so many red herrings that I stopped trying to guess the outcome and just let it unroll.

Tip: this series must be read in order of publication. Another tip: if it uncomfortable for any of you to handle a large book that is nearly 3 lbs, then it may be advisable to get the e-book edition and read it on a tablet. And by all means, read it and then spread the word.