Set your calendars for September 22nd as a wonderful mystery will be published on that date.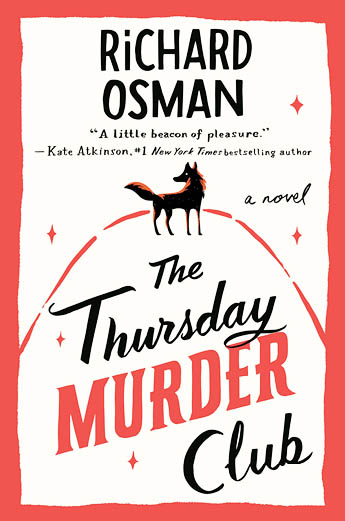 Here is my review, with an author interview to follow.
THE THURSDAY MURDER CLUB
by Richard Osman
Pamela Dorman Books/Viking, $26.00
Rating: A

The Thursday Murder Club is group formed by Penny, a police detective (retired) and four of her friends who are residents of Coopers Chase, one of the U.K. nicest retirement communities set in rural Kent. They meet each week to discuss some of Penny's cold cases and come up with new avenues for investigation. Then Penny suffers a debilitating stroke and is no longer able to communicate. But the other four continue on without her. There is the exuberant Elizabeth, who hints of her background with British Intelligence, and who is able to talk herself into or out of any situation. Recent addition Joyce is a former nurse and has such a pleasant personality that one might underestimate her talents and abilities. She is the Dr. Watson of the group and chronicles their actions. Big Red Ron is an infamous labor agitator and when forceful speech is required, he's their man. Joining him on the male side is former psychiatrist/therapist Ibrahim, the stat geek of the Thursday Murder Club.

The owners of Coopers Chase, the unscrupulous Ian Ventam, and his builder/junior partner Tony Curran have acquired adjoining land and plan to build an addition to Coopers Chase. Just one problem – there is a cemetery there full of bodies of the nuns who lived on property where Coopers Chase now sits. Permission has been granted to move the bodies, but locals and residents are up in arms about it.

When a murder occurs The Thursday Murder Club springs into action and inveigles their way into the police investigation. DCI Chris Hudson and his enthusiastic partner PC Donna De Freitas don't seem to know what hit them until it is too late. The four amateurs out-investigate the police at every turn.

The first half of the book had me chuckling out loud quite often with its subtle and not-so-subtle British humor. But things get serious in the second half, which is time for some brilliant detection by our lovely band of retirees.

I predict that this first mystery will be a big hit. It is a perfect book to read anytime, but especially during a pandemic. It lifts the spirit with its ingenuity, wit and warm characters. The author is a famous TV celebrity in the U.K., but he's also a darned good writer. Richard Osman seems to be channeling his inner Edmund Crispin or Colin Watson.

Here's hoping we'll see more of this august group of amateur sleuths in follow-up traditional mysteries.
A Conversation with Richard Osman: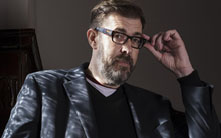 How did this novel come to be?
I have a good friend whose Mum lives in a retirement village, and we went to visit her for lunch one day. This place was so beautiful, and so serene. Rolling green hills, woods, lakes, wildlife everywhere–even the llamas who make a cameo appearance in the book. It was so calm and peaceful, miles from anywhere, no mobile phone reception, just heaven. I'm not sure what it says about me, but, as I sat there, drinking a G&T in the sunshine, my first thought was 'well this would be a perfect place for a murder.'
A little later we were having lunch in the restaurant, and I found myself surrounded by this incredible group of people. Almost all over 70, almost all laughing and joking with friends, and almost all with a drink in their hand. I chatted to a few people, heard a few stories, and realised the extraordinary range of skills on display. And then I had the thought, 'well if there was a murder here, you can be pretty sure that this lot would solve it.'
Just like that. The perfect place for a murder. The perfect people to solve it. I started writing the next day.
To what extent did it differ from your original conception?
That's a good question. I think as soon as I had this idyllic setting, and this team of detectives in their seventies, I thought, well this is a cosy setting, but I really, really don't want to write a cosy book. A book where the wily underdogs take on the bad guys, and everything gets wrapped up nicely in time for a lovely cup of tea.
So instead I really set about throwing as much trouble as I could at my gang of senior citizens. Forget the fact that they're older, just keep confronting them with the raw reality of the outside world, and let them meet it on their own terms. That's when the whole thing really came to life.
What appealed to you about having your amateur sleuths be elderly?
Having four characters in their seventies was an absolute joy from the very start. The idea that we underestimate older people is the key to The Thursday Murder Club. The absolute joy of writing it, was that my four detectives might look gentle and harmless on the outside, but they are far from that on the inside. And, as people will read in the book, all four of them are overlooked and underestimated throughout–by suspects, by cops, by everyone. They use this to their advantage in a number of ingenious ways.
They also have a lifetime of experience to draw on, so their former jobs were very useful in this respect. Their former jobs were very useful in this regard. Elizabeth used to be a spy, so there is nothing she hasn't seen, no trick anyone can pull which will get past her. She is utterly ruthless. Joyce used to be a nurse, so she has spent her life around death, and pain, and grief. Ron is a former labor activist, and he will argue about anything with anyone, and will never back down. And Ibrahim is a psychiatrist, a thinker, an organiser, and the type of man who will always spot things that others might miss.
They are not self-conscious, they are not frightened by death, and, they are not frightened about the consequences of their actions.
Why set it in Kent?
It is set in Kent simply because that's not where the real retirement village is. Some of the residents of the real village were worried that the book might be a hit, and then they would have to deal with coachloads of tourists. Disturbing all that beautiful peace. So I promised I would set it somewhere else.
The truth is, they would love it if tourists came to visit. I guarantee it. They'd be selling t-shirts and refreshments. You wait. If the book takes off, they'll have a sign put up within a month. 'You Are Now Entering Thursday Murder Club Country.' They'll be charging for entry.
Your editor was quoted as saying "Richard captures an essence of Britishness, in the same way that Agatha Christie did in her day." What do you consider that "essence"?
The three rules every British person is told at school are… 1) Never send a meal back in a restaurant, just let it quietly ruin your evening instead. 2) Apologise if someone bumps into you. 3) Mumble like Hugh Grant if you ever receive a compliment.
But really, we are a country that operates on good humour, on not taking ourselves too seriously, and of simultaneously being deeply embarrassed but incredibly proud of being British. We're creative, tolerant, and shy, awkward and loyal. And we have a cute accent. That was all true in Agatha Christie's day, and it is still is now.
You've been quoted as stating, "I've always known how hard it is to write a crime novel and I have such respect for people who do it." Was it harder than you expected? In what way?
Writing any novel is incredibly hard. It's been far and away my proudest creative achievement. The crime-writing community is an incredibly supportive one, and that makes the process easier. And the US crime-writing community seems equally supportive. Since writing the book I've had such lovely chats with people like Harlan Coben and Shari Lapena. Everybody genuinely seems to wish each other well. Does that happen in other genres too? Does Margaret Attwood ring up Salman Rushdie and say 'cool novel bro!' Actually, Margaret Attwood probably does, she seems lovely.
In what way has your work on quiz shows influenced your writing fiction?
I have not thought about this before, but it's a very interesting one. In television formats you have to grab people's attention, and you have to keep it. They could switch over at any second. People will read maybe 30 pages of a new book before making their mind up. They'll probably watch about 30 seconds of a new TV show, before switching over to Grey's Anatomy reruns.
So in a TV quiz, you grab people quickly, you explain the rules quickly, you give viewers a reason to stay to the end (Who's going to win??? How much???), and then you give them a host and contestants who they want to spend a bit of time with.
I suppose that's naturally how I went about writing. Grab them, then entertain them, and then give the answer they were looking for. I worry that if I started described the colour of the sky for a page and a half, people would simply put the book down and watch Judge Judy instead. And I wouldn't blame them.
Your Grandfather was a police officer; to what extent did that shape your interest in writing a mystery series?
Well my Grandfather will always be my hero. He was a hard man, who did a hard job. But he was much more than that. I grew up without a father and my Grandfather was around a lot. If I think about what it means to be a man, I would think of my Grandfather. He was very tough, but very gentle, kind, loving and thoughtful. He was very secure in who he was. Those are all the things I would like to be as a man. There is a lot of him in Ron.
As he was my hero, I always wanted to be a cop. That would be my dream job. But I'm visually impaired, and it was impossible. So writing crime fiction is a little nod to my hero. A little thank you. I would give anything to have him read it.
What was your approach to integrating humour into a whodunit plot?
I love that The Thursday Murder Club is making people laugh so much. But there is not a single 'joke' in the whole book. Anything that is funny comes from the characters, and the unusual, but real, situations they find themselves in.
I think jokes can take you outside the story, especially in a crime book, but I hope the laughter in this book comes from truth and recognition. And those sort of laughs strengthen a story.
That's my theory at least. If anyone finds an actual joke then I apologise.