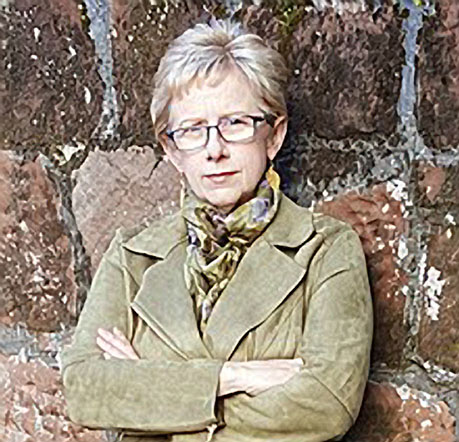 Margaret Murphy is one of my favorite British writers. Larry Gandle and I think back very fondly to a lunch we shared with her and fellow author Cath Staincliffe at a long-ago Toronto Bouchercon. Since then, Margaret and Cath have been loyal supporters of Deadly Pleasures and I have greatly appreciated that support.
Margaret has written under her own name and under two collaborative pen names, A. D. Garrett and Ashley Dyer. Margaret is not as well known in the U.S. as she should be, but hopefully that is about to change with the re-publication of her first nine novels written under her own name in Kindle editions both here in the U.S. and in the U.K.
Her new Kindle edition DARKNESS FALLS (my favorite of all her books) is the first to be released and is just 99¢ in the U.S.!!! An astounding bargain. Run, don't walk to get a copy for your e-book reader.
Here is some other news about Margaret to help you get to know her better– in her own words.
I've since been designated 'extremely vulnerable' to COVID-19 and advised to 'shield' from the virus until mid-July at the earliest. I have lupus, so it wasn't entirely unexpected, but I was shaken by the urgency of the message and the rather draconian measures advised by the government website. I know I'm not alone in this – it's natural that we will all feel vulnerable to some degree in such extraordinary circumstances – and I hope that you and yours are taking care to look after your mental and physical wellbeing at this testing time.
It's no secret that I pen novels under two pseudonyms, but today I'm writing to you in my own name. Between 1996 and 2005 I wrote nine psychological thrillers. All of them have since gone out of print. That is, until now . . . I am excited to tell you that Joffe Books have begun relaunching my backlist in digital format and will also publish two brand new Margaret Murphy novels over the next twelve months. I carefully edited each book before sending them in and was fascinated by how much the world had changed in the intervening years. My debut novel, Goodnight, My Angel, was written in the early years of the World Wide Web, when very few people had internet access from home, and those that did used a MODEM – remember those? They would load web pages line . . . by agonising . . . line. Unless the line dropped, and then you'd have to start over again. Back then, well-equipped offices had sleek fax machines, CCTV was recorded on VCRs, and urgent police messages were relayed via pagers. It made me quite nostalgic!
My fabulous webmaster, Steve Bennett, has completely redesigned my website in readiness for the relaunch. You have an open invitation to drop in (day or night!) for updates at www.margaret-murphy.co.uk. I'm on Facebook under my own name, if that's your preferred platform, and I've changed my Twitter handle to @murphy_dyer.
The first book to relaunch is Darkness Falls.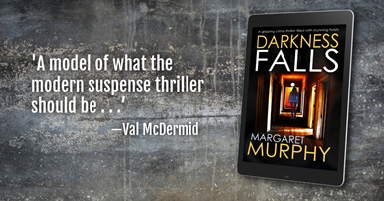 Here's how my publisher describes it:
CLARA PASCAL HAS IT ALL
She's beautiful, successful and a devoted mother. People want to be her.

THEN IT'S SNATCHED AWAY
Robbed of everything that gives her life meaning, she lies chained to the stone wall of a dark cellar – without food, warmth, or sleep, without even the most basic communication.

WHY HAS HE TAKEN HER?
As the police team frantically investigates, knocking on doors, following up wisps of leads, bullying, cajoling, begging witnesses for help, it seems that Clara Pascal has disappeared without trace.

Meanwhile, in her dark prison, Clara begins to suspect why her kidnapper has kept her alive. And the reason is terrifying.
I've been delighted to see Darkness Falls rise up the charts on both sides of the pond. In the USA, Booklist gave it a starred review, calling it 'A first-rate chiller.'
Click the link to buy Darkness Falls at 99p on AmazonUK
Readers in the USA can buy Darkness Falls for 99c at this link on Amazon.com
Weaving Shadows (Clara Pascal book 2) will follow soon, so I hope you keep an eye out for it!