The Mysterious Bookshop in New York City (Otto Penzler, Proprietor) was forced by Covid-19 to shut it's doors for two+ months. It's now open on a limited basis for business and curb-side pickup. I'm sure it could use your mail-order business. In times like this we need to support independent bookstores.
In order to sell something from where the employees were working off-site, Otto called on his many author (and a non-author, like me) friends to publish lists of favorite mysteries/crime novels. These lists would be sent out by emails and I found them very interesting. Mystery readers seem to love lists and these are some really good ones.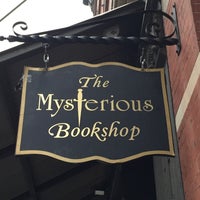 I thought you would be interested to see what some famous writers came up with on their short lists.
Here is a list of links to see each list.
Nelson DeMille
Thomas Perry
Lawrence Block
Robert Crais
Joyce Carol Oates
Charles Perry
Lee Child
Otto Penzler
Louise Penny
Charles Todd
George Easter
Max Allan Collins
Carolyn Hart
Reed Farrel Coleman
Ragnar Jonasson
C.J. Box
Anne Perry
Tasha Alexander
Martin Cruz Smith
Wallace Stroby
A.J. Finn
Charles Ardai
Lorenzo Carcaterra
Jonathan Santlofer
Andrew Gulli
Peter Robinson
Robert Goldsborough
James Sallis
James Ellroy
James Grady
Brendan DuBois
Laurie King
Andrew Gross
Lyndsay Faye
Stephen Hunter
F. Paul Wilson
Mary Anne Kelly
Dennis Lehane
Andrew Klavan
Joseph Kanon
Susan Isaacs