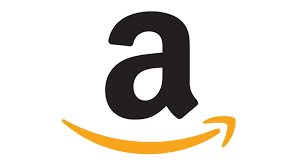 Why I post Amazon's Monthly "Best" Lists. My perception of amazon.com was not that of a site populated by knowledgeable booksellers, the kind you would find in a good independent bookstore. But I have changed my mind. Last year's Best Mystery List was very well put together and Larry Gandle and I are finding the same applies to Amazon's Best Mystery and Thriller Monthly Lists. And of course, you can always purchase these books from a favorite independent bookstore or bookseller – if that is what you prefer. This is NOT an attempt to promote amazon sales.
Here are the "Editors" diverse choices for the best of the month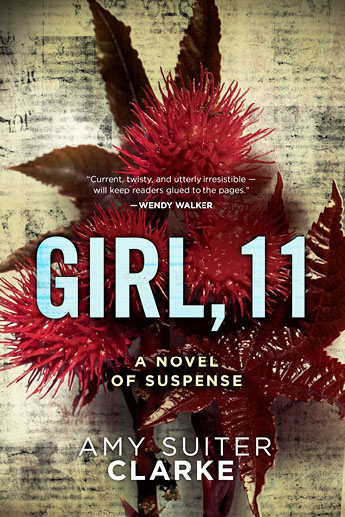 GIRL, 11, Amy Suiter Clarke (Houghton, Mifflin, $25.00). Elle Castillo once trained as a social worker, supporting young victims of violent crime. Now she hosts a popular true crime podcast that focuses on cold cases of missing and abducted children. After four seasons of successfully solving these cases in Minnesota's Twin Cities, Elle decides to tackle her white whale: The Countdown Killer. Twenty years ago, TCK was terrorizing the community, kidnapping and ritualistically murdering three girls over seven days, each a year younger than the last. Then, after he took his eleven-year-old victim, the pattern—and the murders—abruptly stopped. No one has ever known why.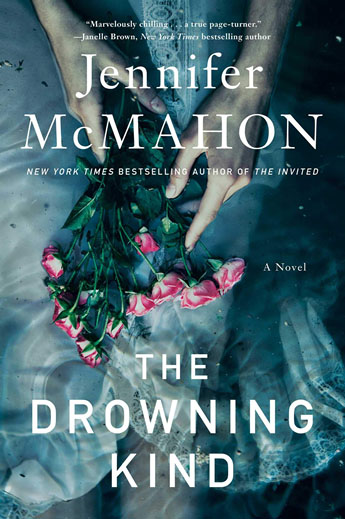 THE DROWNING KIND, Jennifer McMahon (Gallery, $27.00). When social worker Jax receives nine missed calls from her older sister, Lexie, she assumes that it's just another one of her sister's episodes. Manic and increasingly out of touch with reality, Lexie has pushed Jax away for over a year. But the next day, Lexie is dead: drowned in the pool at their grandmother's estate. When Jax arrives at the house to go through her sister's things, she learns that Lexie was researching the history of their family and the property. And as she dives deeper into the research herself, she discovers that the land holds a far darker past than she could have ever imagined.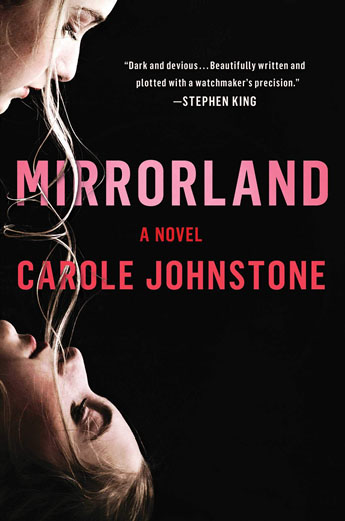 MIRRORLAND, Carole Johnstone (Scribner, $27.00). Cat lives in Los Angeles, far away from 36 Westeryk Road, the imposing gothic house in Edinburgh where she and her estranged twin sister, El, grew up. As girls, they invented Mirrorland, a dark, imaginary place under the pantry stairs full of pirates, witches, and clowns. These days Cat rarely thinks about their childhood home, or the fact that El now lives there with her husband Ross. But when El mysteriously disappears after going out on her sailboat, Cat is forced to return to 36 Westeryk Road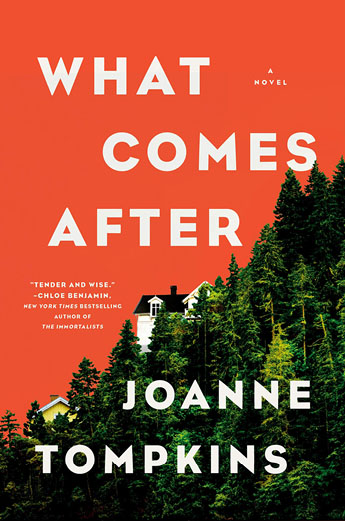 WHAT COMES AFTER, Joanne Tompkins (Riverhead, $28.00). In misty, coastal Washington State, Isaac lives alone with his dog, grieving the recent death of his teenage son, Daniel. Next door, Lorrie, a working single mother, struggles with a heinous act committed by her own teenage son. Separated by only a silvery stretch of trees, the two parents are emotionally stranded, isolated by their great losses—until an unfamiliar sixteen-year-old girl shows up, bridges the gap, and changes everything.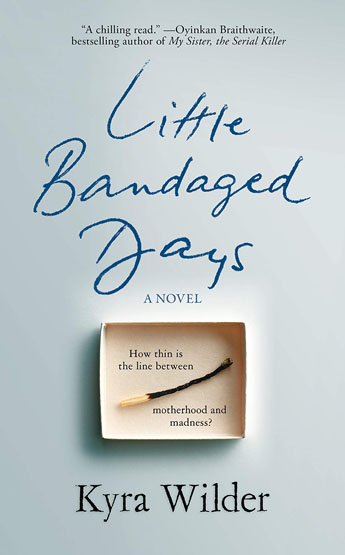 LITTLE BANDAGED DAYS, Kyra Wilder (Overlook, $25.00). A mother moves to Geneva with her husband and their two young children. In their beautiful new rented apartment, surrounded by their rented furniture, and several Swiss instructions to maintain quiet, she finds herself totally isolated. Her husband's job means he is almost never present, and her entire world is caring for her children—making sure they are happy and fed and comfortable, and that they can be seen as the happy, well-fed, comfortable family they should be. Everything is perfect. But, of course, it's not. The isolation, the sleeplessness, the demands of two people under two are getting to Erika. She has never been so alone, and once the children are asleep, there are just too many hours to fill until morning . .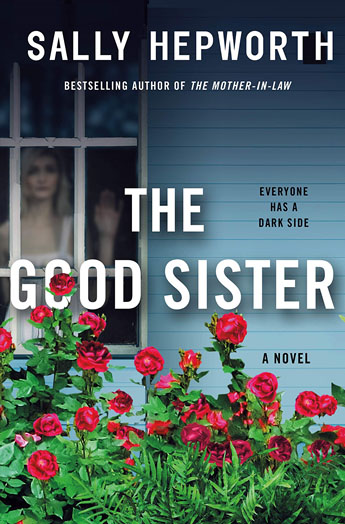 THE GOOD SISTER, Sally Hepworth (St. Martin's, $27.99). Fern Castle works in her local library. She has dinner with her twin sister Rose three nights a week. And she avoids crowds, bright lights and loud noises as much as possible. Fern has a carefully structured life and disrupting her routine can be…dangerous. When Rose discovers that she cannot get pregnant, Fern sees her chance to pay her sister back for everything Rose has done for her. Fern can have a baby for Rose. She just needs to find a father. Simple.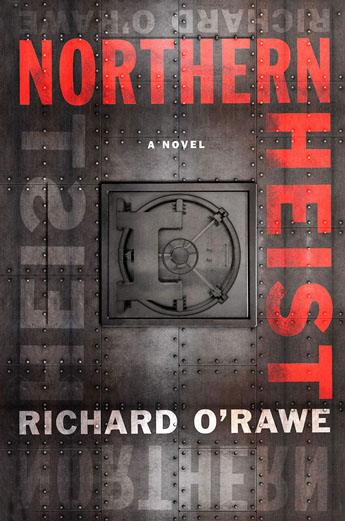 NORTHERN HEIST, Richard O'Rawe (Melville House, $26.99). Nobody robs banks in Belfast without the IRA getting a cut — not even former Provo James 'Ructions' O'Hare. But when word gets around O'Hare may be up to something, the pressure from the IRA begins. Ructions' trusts his crack squad of former paramilitary compadres, and has full confidence in his audacious plan: To literally empty the biggest bank in Belfast by kidnapping the families of two employees – known as a "tiger" kidnapping — in order to force them to help Ructions and his crew get into the bank's vault. But keeping the plan — and the money — from the IRA is another plan entirely, one requiring all Ruction's cunning and skill.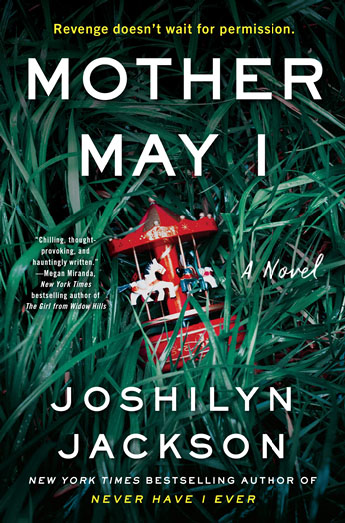 MOTHER MAY I, Joshilyn Jackson (William Morrow, $27.99). Growing up poor in rural Georgia, Bree Cabbat was warned that the world was a dark and scary place. Bree rejected that fearful outlook, and life has proved her right. Having married into a family with wealth, power, and connections, Bree now has all a woman could ever dream of. Until the day she awakens and sees someone peering into her bedroom window—an old gray-haired woman dressed all in black who vanishes as quickly as she appears. It must be a play of the early morning light or the remnant of a waking dream, Bree tells herself, shaking off the bad feeling that overcomes her.
Later that day though, she spies the old woman again, in the parking lot of her daugh-ters' private school . . . just minutes before Bree's infant son, asleep in his car seat only a few feet away, vanishes. It happened so quickly—Bree looked away only for a second. There is a note left in his place, warning her that she is being is being watched; if she wants her baby back, she must not call the police or deviate in any way from the instructions that will follow.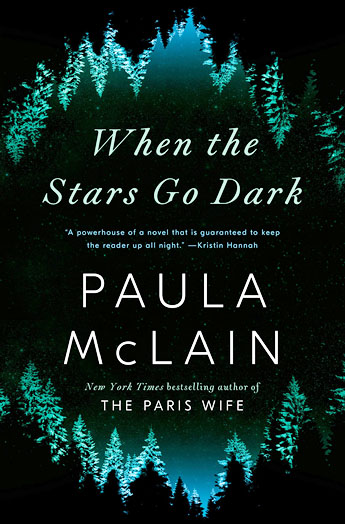 WHEN THE STARS GO DARK, Paula McLain (Ballantine, $28.00). Anna Hart is a seasoned missing persons detective in San Francisco with far too much knowledge of the darkest side of human nature. When tragedy strikes her personal life, Anna, desperate and numb, flees to the Northern California village of Mendocino to grieve. She lived there as a child with her beloved foster parents, and now she believes it might be the only place left for her. Yet the day she arrives, she learns that a local teenage girl has gone missing.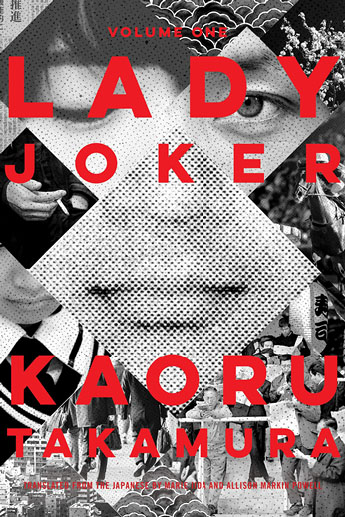 LADY JOKER, Volume 1, Kaoru Takamura (Soho Crime, $28.95). Tokyo, 1995. Five men meet at the racetrack every Sunday to bet on horses. They have little in common except a deep disaffection with their lives, but together they represent the social struggles and griefs of post-War Japan: a poorly socialized genius stuck working as a welder; a demoted detective with a chip on his shoulder; a Zainichi Korean banker sick of being ostracized for his race; a struggling single dad of a teenage girl with Down syndrome. The fifth man bringing them all together is an elderly drugstore owner grieving his grandson, who has died suspiciously after the revelation of a family connection with the segregated buraku community, historically subjected to severe discrimination. Intent on revenge against a society that values corporate behemoths more than human life, the five conspirators decide to carry out a heist: kidnap the CEO of Japan's largest beer conglomerate and extract blood money from the company's corrupt financiers.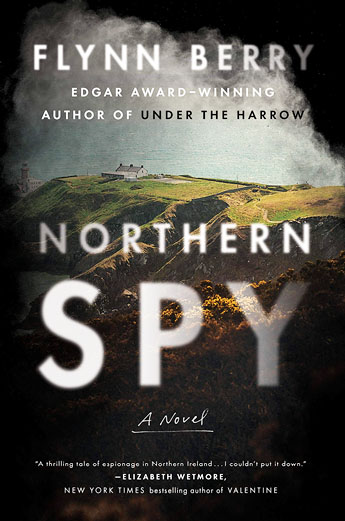 NORTHERN SPY, Flynn Berry (Viking, $26.00). A producer at the BBC and mother to a new baby, Tessa is at work in Belfast one day when the news of another raid comes on the air. The IRA may have gone underground in the two decades since the Good Friday Agreement, but they never really went away, and lately bomb threats, security checkpoints, and helicopters floating ominously over the city have become features of everyday life. As the news reporter requests the public's help in locating those responsible for the robbery, security footage reveals Tessa's sister, Marian, pulling a black ski mask over her face.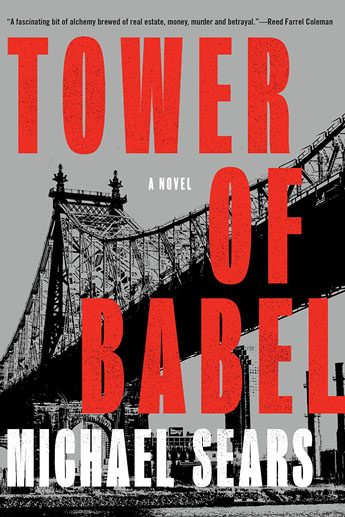 TOWER OF BABEL, Michael Sears (Soho Crime, $27.95). Queens, New York—the most diverse place on earth. Native son Ted Molloy knows these streets like the back of his hand. Ted was once a high-powered Manhattan lawyer, but after a spectacular fall from grace, he has found himself back on his home turf, scraping by as a foreclosure profiteer. It's a grubby business, but a safe one—until Ted's case sourcer, a mostly reformed small-time conman named Richie Rubiano, turns up murdered shortly after tipping Ted off to an improbably lucrative lead.