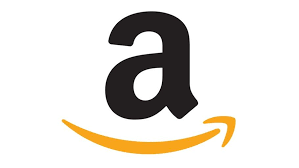 Why I post Amazon's Monthly "Best" Lists. My perception of amazon.com was not that of a site populated by knowledgeable booksellers, the kind you would find in a good independent bookstore. But I have changed my mind. Last year's Best Mystery List was very well put together and Larry Gandle and I are finding the same applies to Amazon's Best Mystery and Thriller Monthly Lists. And of course, you can always purchase these books from a favorite independent bookstore or bookseller – if that is what you prefer. This is NOT an attempt to promote amazon sales.
Here are the "Editors" diverse choices for the best of the month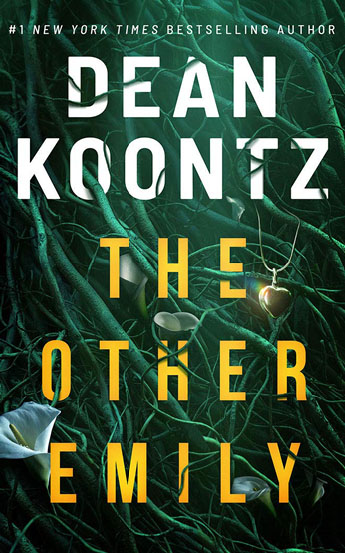 THE OTHER EMILY, Dean Koontz (Thomas & Mercer, $28.99) – A decade ago, Emily Carlino vanished after her car broke down on a California highway. She was presumed to be one of serial killer Ronny Lee Jessup's victims whose remains were never found.
Writer David Thorne still hasn't recovered from losing the love of his life, or from the guilt of not being there to save her. Since then, he's sought closure any way he can. He even visits regularly with Jessup in prison, desperate for answers about Emily's final hours so he may finally lay her body to rest. Then David meets Maddison Sutton, beguiling, playful, and keenly aware of all David has lost. But what really takes his breath away is that everything about Maddison, down to her kisses, is just like Emily. As the fantastic becomes credible, David's obsession grows, Maddison's mysterious past deepens?and terror escalates.
Is she Emily? Or an irresistible dead ringer? Either way, the ultimate question is the same: What game is she playing? Whatever the risk in finding out, David's willing to take it for this precious second chance. It's been ten years since he's felt this inspired, this hopeful, this much in love…and he's afraid. Booklist Starred Review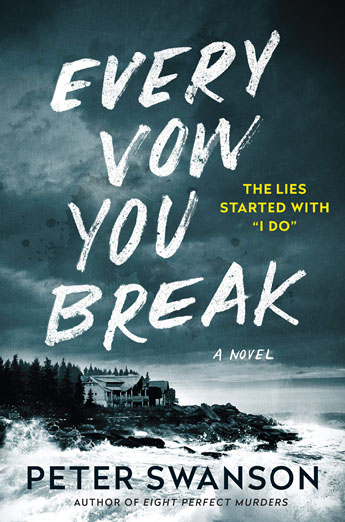 EVERY VOW YOU BREAK, Peter Swanson (Morrow, $27.99) – Abigail Baskin never thought she'd fall in love with a millionaire. Then she met Bruce Lamb. He's a good guy, stable, level-headed, kind—a refreshing twist from her previous relationships.
But right before the wedding, Abigail has a drunken one-night stand on her bachelorette weekend. She puts the incident—and the sexy guy who wouldn't give her his real name—out of her mind, and now believes she wants to be with Bruce for the rest of her life.
Then the mysterious stranger suddenly appears—and Abigail's future life and happiness are turned upside down. He insists that their passionate night was the beginning of something much, much more. Something special. Something real—and he's tracked her down to prove it.
Does she tell Bruce and ruin their idyllic honeymoon—and possibly their marriage? Or should she handle this psychopathic stalker on her own? To make the situation worse, strange things begin to happen. She sees a terrified woman in the night shadows, and no one at the resort seems to believe anything is amiss… including her perfect new husband.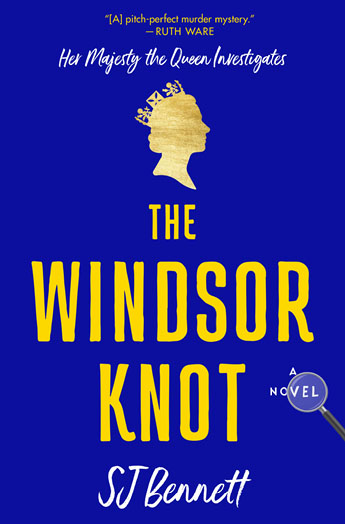 THE WINDSOR KNOT, S. J. Bennett (Morrow, $27.99) – It is the early spring of 2016 and Queen Elizabeth is at Windsor Castle in advance of her 90th birthday celebrations. But the preparations are interrupted when a guest is found dead in one of the Castle bedrooms. The scene suggests the young Russian pianist strangled himself, but a badly tied knot leads MI5 to suspect foul play was involved. The Queen leaves the investigation to the professionals—until their suspicions point them in the wrong direction.
Unhappy at the mishandling of the case and concerned for her staff's morale, the monarch decides to discreetly take matters into her own hands. With help from her Assistant Private Secretary, Rozie Oshodi, a British Nigerian and recent officer in the Royal Horse Artillery, the Queen secretly begins making inquiries. As she carries out her royal duties with her usual aplomb, no one in the Royal Household, the government, or the public knows that the resolute Elizabeth will use her keen eye, quick mind, and steady nerve to bring a murderer to justice.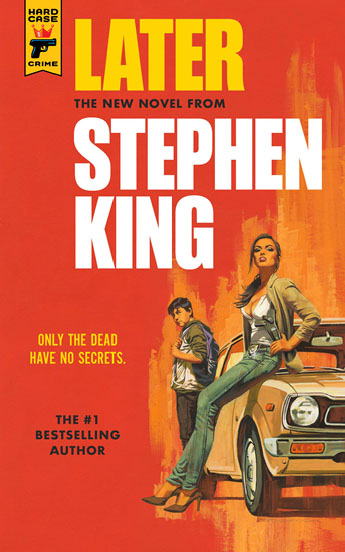 LATER, Stephen King (HardCase Crime, $14.95) – The son of a struggling single mother, Jamie Conklin just wants an ordinary childhood. But Jamie is no ordinary child. Born with an unnatural ability his mom urges him to keep secret, Jamie can see what no one else can see and learn what no one else can learn. But the cost of using this ability is higher than Jamie can imagine – as he discovers when an NYPD detective draws him into the pursuit of a killer who has threatened to strike from beyond the grave.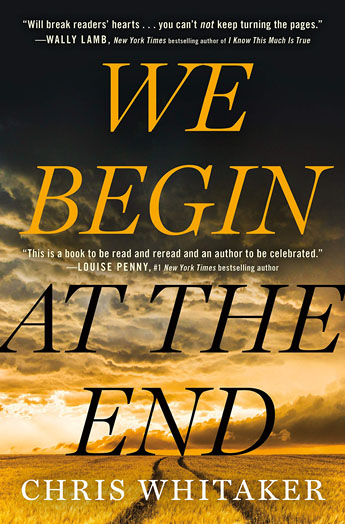 WE BEGIN AT THE END, Chris Whitaker (HenryHolt, $27.99) – Duchess Day Radley is a thirteen-year-old self-proclaimed outlaw. Rules are for other people. She is the fierce protector of her five-year-old brother, Robin, and the parent to her mother, Star, a single mom incapable of taking care of herself, let alone her two kids.
Walk has never left the coastal California town where he and Star grew up. He may have become the chief of police, but he's still trying to heal the old wound of having given the testimony that sent his best friend, Vincent King, to prison decades before. And he's in overdrive protecting Duchess and her brother.
Now, thirty years later, Vincent is being released. And Duchess and Walk must face the trouble that comes with his return. Kirkus & Publisher's Weekly Starred Reviews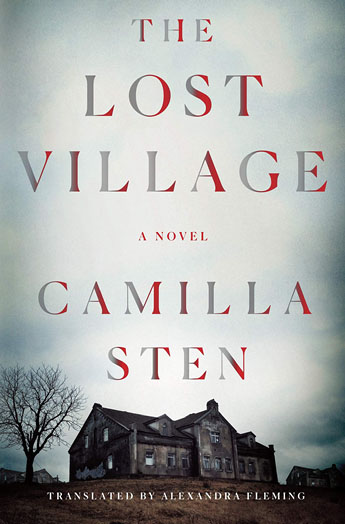 THE LOST VILLAGE, Camilla Sten (Minotaur, $26.99) – Documentary filmmaker Alice Lindstedt has been obsessed with the vanishing residents of the old mining town, dubbed "The Lost Village," since she was a little girl. In 1959, her grandmother's entire family disappeared in this mysterious tragedy, and ever since, the unanswered questions surrounding the only two people who were left?a woman stoned to death in the town center and an abandoned newborn?have plagued her. She's gathered a small crew of friends in the remote village to make a film about what really happened.
But there will be no turning back.
Not long after they've set up camp, mysterious things begin to happen. Equipment is destroyed. People go missing. As doubt breeds fear and their very minds begin to crack, one thing becomes startlingly clear to Alice:
They are not alone.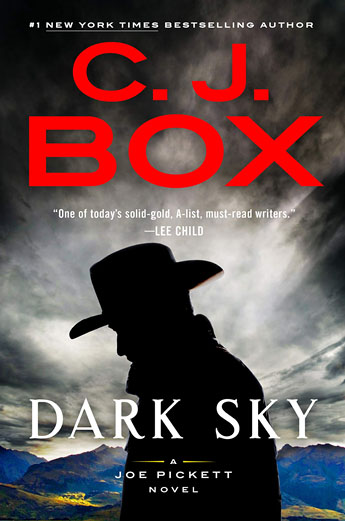 DARK SKY. C. J. Box (Putnam, $28.00) – When the governor of Wyoming gives Joe Pickett the thankless task of taking a tech baron on an elk hunting trip, Joe reluctantly treks into the wilderness with his high-profile charge. But as they venture into the woods, a man-hunter is hot on their heels, driven by a desire for revenge. Finding himself without a weapon, a horse, or a way to communicate, Joe must rely on his wits and his knowledge of the outdoors to protect himself and his companion.
Meanwhile, Joe's closest friend, Nate Romanowski, and his own daughter Sheridan learn of the threat to Joe's life and follow him into the woods. In a stunning final showdown, the three of them come up against the worst that nature–and man–have to offer.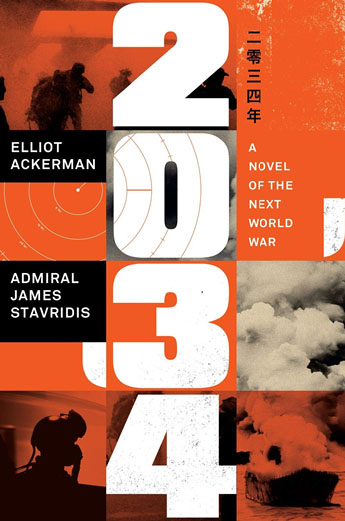 2034: A Novel of the Next World War, Elliot Akerman & James Stavridis (Penguin Press, $27.00) – On March 12, 2034, US Navy Commodore Sarah Hunt is on the bridge of her flagship, the guided missile destroyer USS John Paul Jones, conducting a routine freedom of navigation patrol in the South China Sea when her ship detects an unflagged trawler in clear distress, smoke billowing from its bridge. On that same day, US Marine aviator Major Chris "Wedge" Mitchell is flying an F35E Lightning over the Strait of Hormuz, testing a new stealth technology as he flirts with Iranian airspace. By the end of that day, Wedge will be an Iranian prisoner, and Sarah Hunt's destroyer will lie at the bottom of the sea, sunk by the Chinese Navy. Iran and China have clearly coordinated their moves, which involve the use of powerful new forms of cyber weaponry that render US ships and planes defenseless. In a single day, America's faith in its military's strategic pre-eminence is in tatters. A new, terrifying era is at hand. Kirkus & Booklist Starred Reviews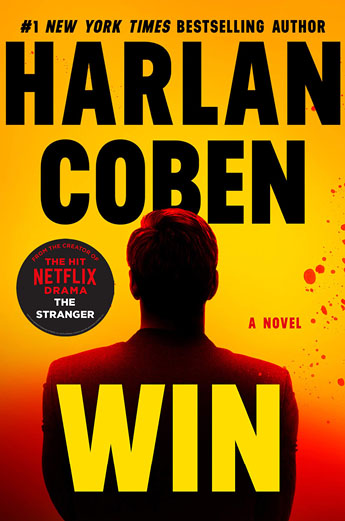 WIN, Harlan Coben (Grand Central, $29.00) – Over twenty years ago, the heiress Patricia Lockwood was abducted during a robbery of her family's estate, then locked inside an isolated cabin for months. Patricia escaped, but so did her captors — and the items stolen from her family were never recovered.
Until now. On the Upper West Side, a recluse is found murdered in his penthouse apartment, alongside two objects of note: a stolen Vermeer painting and a leather suitcase bearing the initials WHL3. For the first time in years, the authorities have a lead — not only on Patricia's kidnapping, but also on another FBI cold case — with the suitcase and painting both pointing them toward one man.
Windsor Horne Lockwood III — or Win, as his few friends call him — doesn't know how his suitcase and his family's stolen painting ended up with a dead man. But his interest is piqued, especially when the FBI tells him that the man who kidnapped his cousin was also behind an act of domestic terrorism — and that the conspirators may still be at large. The two cases have baffled the FBI for decades, but Win has three things the FBI doesn't: a personal connection to the case; an ungodly fortune; and his own unique brand of justice.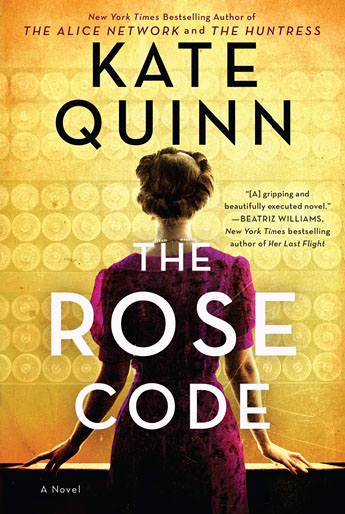 THE ROSE CODE, Kate Quinn (Morrow simultaneous hardcover/trade paperback, $27.99/$17.99) – 1940. As England prepares to fight the Nazis, three very different women answer the call to mysterious country estate Bletchley Park, where the best minds in Britain train to break German military codes. Vivacious debutante Osla is the girl who has everything—beauty, wealth, and the dashing Prince Philip of Greece sending her roses—but she burns to prove herself as more than a society girl, and puts her fluent German to use as a translator of decoded enemy secrets. Imperious self-made Mab, product of east-end London poverty, works the legendary codebreaking machines as she conceals old wounds and looks for a socially advantageous husband. Both Osla and Mab are quick to see the potential in local village spinster Beth, whose shyness conceals a brilliant facility with puzzles, and soon Beth spreads her wings as one of the Park's few female cryptanalysts. But war, loss, and the impossible pressure of secrecy will tear the three apart.
1947. As the royal wedding of Princess Elizabeth and Prince Philip whips post-war Britain into a fever, three friends-turned-enemies are reunited by a mysterious encrypted letter–the key to which lies buried in the long-ago betrayal that destroyed their friendship and left one of them confined to an asylum. A mysterious traitor has emerged from the shadows of their Bletchley Park past, and now Osla, Mab, and Beth must resurrect their old alliance and crack one last code together. But each petal they remove from the rose code brings danger–and their true enemy–closer… Publisher's Weekly Starred Review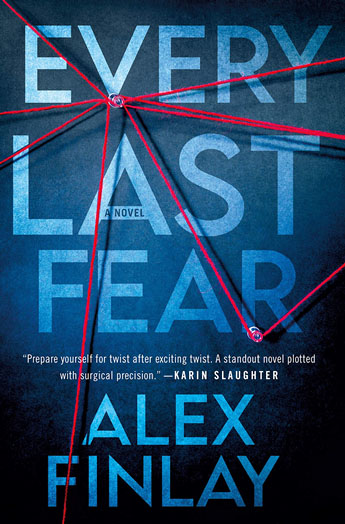 EVERY LAST FEAR, Alex Finlay (Minotaur, $26.99) – "They found the bodies on a Tuesday." So begins this twisty and breathtaking novel that traces the fate of the Pine family, a thriller that will both leave you on the edge of your seat and move you to tears.
After a late night of partying, NYU student Matt Pine returns to his dorm room to devastating news: nearly his entire family—his mom, his dad, his little brother and sister—have been found dead from an apparent gas leak while vacationing in Mexico. The local police claim it was an accident, but the FBI and State Department seem far less certain—and they won't tell Matt why.
The tragedy makes headlines everywhere because this isn't the first time the Pine family has been thrust into the media spotlight. Matt's older brother, Danny—currently serving a life sentence for the murder of his teenage girlfriend Charlotte—was the subject of a viral true crime documentary suggesting that Danny was wrongfully convicted. Though the country has rallied behind Danny, Matt holds a secret about his brother that he's never told anyone: the night Charlotte was killed Matt saw something that makes him believe his brother is guilty of the crime.
When Matt returns to his small hometown to bury his parents and siblings, he's faced with a hostile community that was villainized by the documentary, a frenzied media, and memories he'd hoped to leave behind forever. Now, as the deaths in Mexico appear increasingly suspicious and connected to Danny's case, Matt must unearth the truth behind the crime that sent his brother to prison—putting his own life in peril—and forcing him to confront his every last fear.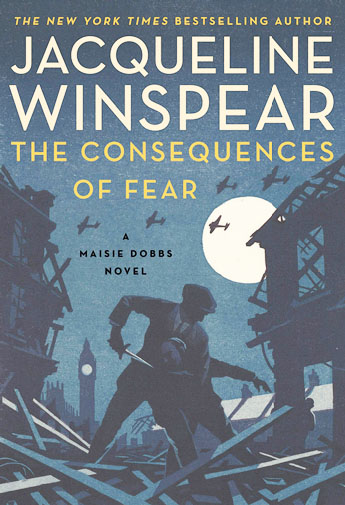 THE CONSEQUENCES OF FEAR, Jacqueline Winspear (Harper, $27.99) – October 1941. While on a delivery, young Freddie Hackett, a message runner for a government office, witnesses an argument that ends in murder. Crouching in the doorway of a bombed-out house, Freddie waits until the coast is clear. But when he arrives at the delivery address, he's shocked to come face to face with the killer.
Dismissed by the police when he attempts to report the crime, Freddie goes in search of a woman he once met when delivering a message: Maisie Dobbs. While Maisie believes the boy and wants to help, she must maintain extreme caution: she's working secretly for the Special Operations Executive, assessing candidates for crucial work with the French resistance. Her two worlds collide when she spots the killer in a place she least expects. She soon realizes she's been pulled into the orbit of a man who has his own reasons to kill—reasons that go back to the last war. Publisher's Weekly & Booklist Starred Reviews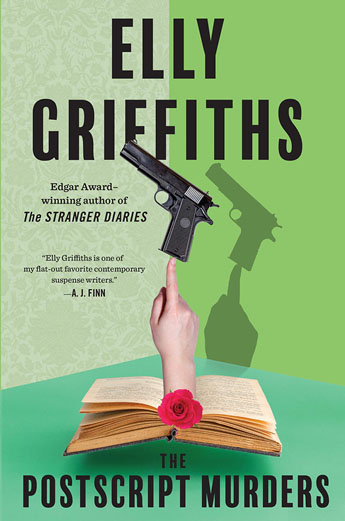 POSTSCRIPT MURDERS, Elly Griffiths (Houghton Mifflin, $25.00) – The death of a ninety-year-old woman with a heart condition should not be suspicious. Detective Sergeant Harbinder Kaur certainly sees nothing out of the ordinary when Peggy's caretaker, Natalka, begins to recount Peggy Smith's passing.
But Natalka had a reason to be at the police station: while clearing out Peggy's flat, she noticed an unusual number of crime novels, all dedicated to Peggy. And each psychological thriller included a mysterious postscript: PS: for PS. When a gunman breaks into the flat to steal a book and its author is found dead shortly thereafter—Detective Kaur begins to think that perhaps there is no such thing as an unsuspicious death after all.
And then things escalate: from an Aberdeen literary festival to the streets of Edinburgh, writers are being targeted. DS Kaur embarks on a road trip across Europe and reckons with how exactly authors can think up such realistic crimes . . . Booklist Starred Review