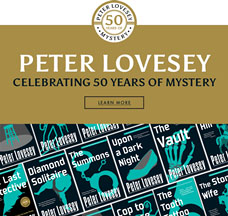 Fifty years ago Peter Lovesey, then a schoolteacher, had one book to his name, a nonfiction title about long distance runners. Then he found an advertisement in the Times for a novel-writing contest. The prize for a first mystery novel? A not-so-paltry £1,000 and the promise of the publication.

The result was Wobble to Death, a droll Victorian-era mystery set within the real sport of wobbling, or competitive walking. Five decades, forty novels, and six story collections later, with dual Grand Master standing (in both the CWA and MWA—a rare achievement and an honor currently only shared with John le Carré and Sara Paretsky), and numerous BBC and radio adaptations aired, Lovesey stands as one of the greatest practitioners of the craft.
Nearly all of Lovesey's books are currently in print, and they comprise the blueprint for the modern mystery novel. Lovesey has not so much evolved with the fashions of the genre as dictated them with his own craft, refined over half a century. His is the standard to which other practitioners are held; from his ever-surprising puzzles and punctilious plotting to his uncompromising adherence to fair play rules, from his dashes of laugh-out-loud wit to his stirring psychological insights, Peter Lovesey typifies the label Grand Master.

This fall Soho Crime will publish two hardcover books from Peter Lovesey. The first is a new installment in his Peter Diamond series, The Finisher (Soho Crime | August 4, 2020). The other is a special commemorative hardcover 50th Anniversary edition of his mystery debut, Wobble to Death (Soho Crime | October 6, 2020), to capstone what we hope will be a year of appreciation for a legend still at the top of his game.

The Finisher
A Peter Diamond Investigation
On Sale August 4, 2020

2020 marks the Gold Anniversary of Peter Lovesey's storied career as a mystery author, and in a display of true mastery he brings it all back to where it began: on a racetrack with a murder.
Soho Crime • Hardcover/eBook PUB DATE: August 4, 2020 • PRICE: $27.95
Page Count: 360 • ISBN: 9781641291811 • eISBN: 9781641291828
Through a particularly ill-fated series of events, couch potato Maeve Kelly, an elementary school teacher whose mother always assured her "curvy" girls shouldn't waste their time trying to be fit, has been forced to sign up for the Other Half, Bath's springtime half marathon. The training is brutal, but she must disprove her mother and collect pledges for her aunt's beloved charity. What Maeve doesn't know is just how vicious some of the other runners are.

Meanwhile, Detective Peter Diamond is tasked with crowd control on the raucous day of the race—and catches sight of a violent criminal he put away a decade ago, and who very much seems to be up to his old tricks now that he is paroled. Diamond's hackles are already up when he learns that one of the runners never crossed the finish line and disappeared without a trace. Was Diamond a spectator to murder?
Wobble to Death
50th Anniversary Collector's Edition
On Sale October 6, 2020

50 years since it's first publication, Peter Lovesey's debut mystery Wobble to Death is available in a handsomely bound hardcover edition perfect for collectors and new readers alike!
Soho Crime • Hardcover/eBook PUB DATE: October 6, 2020 • PRICE: $24.95
Page Count: 304 • ISBN: 9781641292245
London, 1879. Crowds have gathered at Islington's chilly Agricultural Hall to place their bets on who will become the next world champion in a six-day, 500-mile speedwalking race, the "wobble." When one of the highly favored contenders dies under suspicious circumstances, Sergeant Cribb also has a race on his hands—to pursue a ruthless murderer.

Fifty years ago, Wobble to Death launched the writing career of one of the world's greatest crime fiction writers. Since its initial publication, Peter Lovesey has written forty novels and six short story collections, and has become one of three living writers to receive both the Mystery Writers of America Grand Master Award and the Crime Writers Association Diamond Dagger for Lifetime Achievement. There is no better place to dive into Lovesey's legendary oeuvre than with this sparkling debut.